Rheinhessen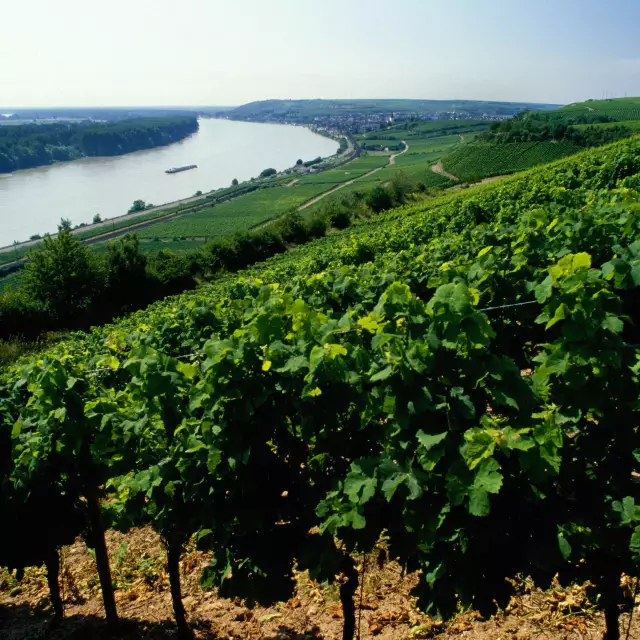 A thousand hills and vines as far as the eye can see - that is Rheinhessen, Germany's largest wine-growing region.
Facts
26.860 ha

Vineyard area 2019

414

Einzellagen
Rheinhessen - Land of a Thousand Hills
Germany's largest wine region, Rheinhessen, lies in a valley of gentle rolling hills. While vines are virtually a monoculture in the Rheingau or along the Mosel, they are but one of many crops that share the fertile soils of this region's vast farmlands. Wine has been grown here on the left bank of the Rhine since the Romans, and the oldest document about a German vineyard location - the Niersteiner Glöck - concerns a wine location in Rheinhessen.
Varied soils and the favorable climate make it possible to grow many grape varieties, old and new. In fact, many of Germany's aromatic, early-ripening new crossings were bred in Rheinhessen by Professor Georg Scheu, after whom the Scheurebe grape is named. The region also boasts the world's largest acreage planted with the ancient variety Silvaner, which is again making a name for itself, known among other things under the abbreviation RS. Other white wine varieties are also on the rise, particularly Pinot Gris and Pinot Blanc.
In earlier times, it was a blend of whites that were popular, and some may remember Rheinhessen as the birthplace of Liebfraumilch, the soft, mellow white wine originally made from grapes grown in vineyards surrounding the Liebfrauenkirche, or Church of Our Lady, in Worms. Now, a new, young generation of local winegrowers, appreciating the ideal working conditions in these gentle slopes, have drawn attention to themselves in recent years for their excellent wines, amongst them, high quality Rieslings.
Another recent trend is the boom in red wine, particularly supported by the Dornfelder grape variety. The surface area for red varieties has more than doubled within a decade and now a third of Rhinehessen's vineyards are planted with red grapes.
Rheinhessen winegrowers produce modern, uncomplicated wines as well as top-quality products. The Selection Rheinhessen has been around since the 1990s - an ambitious class of fine, dry wines. This initiative is to promote authentic wines at the highest level. Rheinhessen vintners are also sparkling wine specialists. They launched the first sparkling wine on the market 25 years ago and in recent years a remarkable sparkling wine culture has developed in the region in recent years.
The gastronomy in Rheinhessen has as much diversity as the range of grape varieties grown in the region. The most uncomplicated variants can be found in the Straußwirtschaften (wine taverns) and local wine bars and the most refined cuisine can be savoured in Michelin restaurants. There are many exciting culinary discoveries to be made within this vast range, most with lashings of local color and all accompanied by delicious local wines of course.
There are also many other types of discoveries, for example, a vineyard hike past Mediterranean-style huts (trulli), or a bike tour from winery to winery or a hike along the Herbal Trail of Rheinhessen's Switzerland.
Overview Rheinhessen
Geographical location: The Rhine Valley, bordered by the Nahe River on the west and by the Rhine on the north and east
Major town(s): Mainz, Worms, Alzey, Bingen
Climate: Mild; the region is surrounded by protective hills and forests; in the west: the forested, hilly countryside known as "Rheinhessen's Switzerland"; in the north: the Taunus Hills; in the east: the Oden Forest.
Soil types: Loess, limestone and loam, often mixed with sand or gravel, are the main soil types. "Rotliegendes" is a red, slaty-sandy clay soil in the steep riverfront vineyards of Nackenheim and Nierstein and near Bingen, there is an outcropping of quartzite-slate.
Vineyard area 2019: 26,860 ha · 3 districts · 24 collective vineyard sites · 400+ individual sites
Grape varieties 2019 [white 71.7% · red 28.3%]: Riesling (18.1%), Müller-Thurgau (15.2%), Dornfelder (12.5%), Silvaner (7.8%), Pinot Gris (7.3%), Pinot Noir (5.5%), Pinot Blanc, Portugieser and Kerner
Marketing: There are a large number of part-time wine-growers in the region who sell grapes or bulk wine to commerical wineries and producer associations who produce and/or bottle and market the wine. Because of the large number of individual sites, about half the region's wine is marketed under the name of a few collective sites (e.g. Niersteiner Gutes Domtal, Oppenheimer Krötenbrunnen). About one third of all Rheinhessen wine is exported, not least because it is the primary supplier of the components for "Liebfrauenmilch".
Signposted routes through wine country: There is no officially signposted Rheinhessen Wine Road. (One explanation is that nearly every village in the region is involved with wine and hence, all roads are "wine roads.") The road parallel to the Rhine (B-9) from Mainz to Worms is known as the "Liebfrauenstraße".
RHEINHESSEN
Rheinhessenwein e.V.
Otto-Lilienthal-Straße 4
55232 Alzey
Tel: +49 6731 / 89328-0
Quotes
Winegrower stories

"This is the gateway to the Eternal, the righteous will enter there"

"This is the gateway to the Eternal, the righteous will enter there"

Winegrower stories

My motto is to be open to new things, to try everything at least once and to never stop learning.

Weingut Hamm GbR
Highlights of wine culture in Rheinhessen
Highlight

Kupferberg Sekt Museum in Mainz

The Pleasures of Sparkling Wine

Learn more

Highlight

Wasems Kloster Engelthal

Wasems Kloster Engelthal: House of Wine in the Cloister Walls

Learn more

Highlight

Niersteiner Glöck

Niersteiner Glöck - Then famous vineyard at "Roter Hang"

Learn more
Winesights
Wine views

Ruhkreuz Zornheim

Rheinhessen

Learn more

Wine views

Winzeralm, Siefersheim

Rheinhessen

Learn more

Wine views

Brudersberg

Rheinhessen

Learn more
Wine hike
Hiwweltour Heideblick
When hiking, the path is ultimately the goal, particularly for circular hiking trails. This Heideblick tour around Siefersheim and Neu-Bamberg leads to breathtaking views and right into the middle of a magnificent heath landscape, the Heidetraum.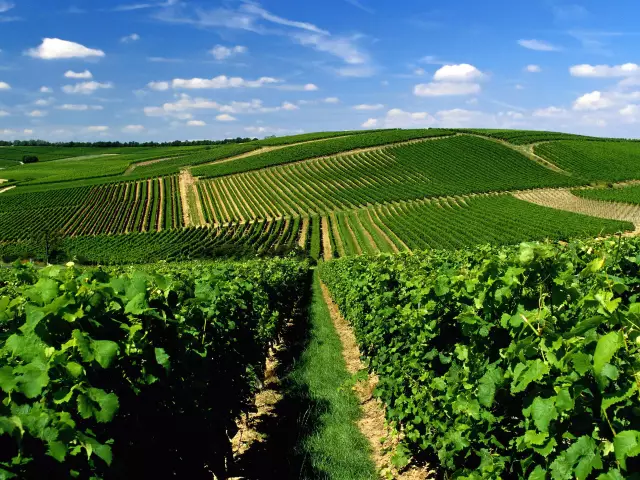 Contact
Rheinhessenwein e.V.

55232 Alzey-Industriegebiet Ost Otto-Lilienthal-Straße 4 Germany