Silvaner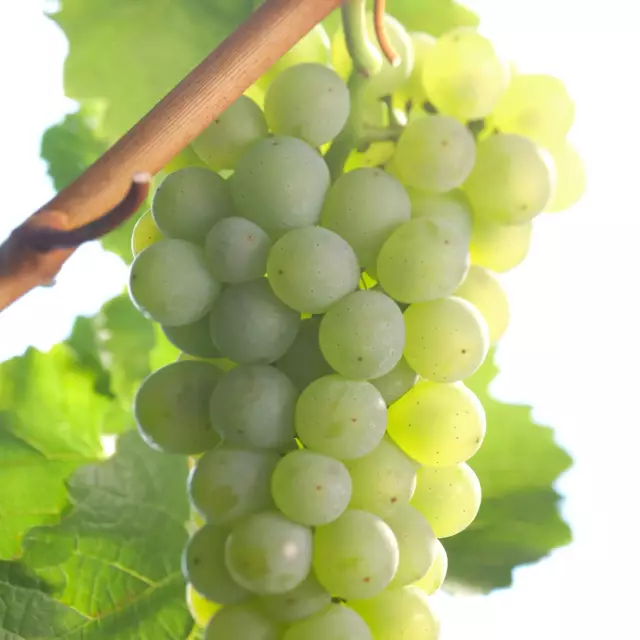 The Silvaner probably found its way to Franconia thanks to the Cistercian monks more than 350 years ago.
Facts
1st

in the Franconian Grape Variety Index since 2019

25

percent of white grape varieties in Franconia
Cultivation

Silvaner has been grown in Germany for more than 350 years. Currently, 4,419 hectares are planted with Silvaner in the German wine-growing regions (2022), which corresponds to a share of just under 4.3% of the total vineyard area. Silvaner is particularly popular in Rheinhessen with 1,932 ha and Franconia with 1,559 ha, followed by the Palatinate with 468 ha.

Significance

Silvaner vines were first planted in Castell near Würzburg as early as 1659. Word of its merits spread quickly. The largest Silvaner region is Rheinhessen, where the grape variety covers about 8 percent of the area. Silvaner is considered one of the leading grape varieties in Rheinhessen, and its quality potential is explored year after year.

The growing region with the highest proportion of Silvaner is Franconia, where the grape variety grows on about a quarter of the vineyard area. In the region's list of grape varieties, Silvaner is back in first place for the first time since 2019. Depending on the terroir and microclimate, however, Silvaner has a much higher ranking in the individual Franconian vineyards, because the Franconian flagship grape variety produces very special wines on the shell limestone and Keuper soils.

Vinification and taste

Silvaner is diversity. An uncomplicated summer wine, a soft, creamy barrique wine, a well-developed, elegant and lively Großes Gewächs or an intense, long-lasting noble sweetness. Everything is possible. The grape variety perfectly reflects its terroir and combines earthy tones with delicate fruity aromas and mild acidity.

Characteristic of Silvaner wines is a fine fragrance reminiscent of herbs or gooseberries, sometimes accompanied by the aroma of fresh hay. As a rule, these are light wines with a discreet, fragrant aroma that are highly appreciated, not least because of their mild acidity. Quality measures in the vineyard also produce polished and elegant wines in higher quality grades, which harmonise very well not only with asparagus and fish. On heavy soils, Silvaner can develop into a full-bodied wine with a certain opulence and a distinct aroma of ripe pears and artichokes, making it a welcome accompaniment to more substantial dishes.

History

For years, scientists had puzzled over the origin of the grape variety. Does it come from Transylvania or from Silvan, a small town in Central Asia, or does the name suggest a Roman origin? Today, genetic studies show that Silvaner is a cross between Traminer, one of the oldest known grape varieties, and the autochthonous grape variety "Austrian White". Thus, its origin from the Alpine region seems to be assured.

The Silvaner is Austrian

Silvaner probably found its way to Franconia thanks to the Cistercian monks. The most famous monastery in the region, Ebrach, maintained trade relations all the way to Austria. At that time, no one could have guessed that this Austrian import would become the flagship of Franconian wine.

New home

Microclimate, orientation and composition of the soil influence the development and growth of the grapes. Silvaner's new home, with its heavy loamy-gypsum soils, gave the largely unknown grape variety its own profile. The Silvaner became a true Casteller, for which not only signposts were erected, but even a monument. Together with Riesling, it is the German grape variety par excellence. Until the 1970s, it was the most widespread variety in Germany. Today, planted in the best sites in Franconia, it is also attracting more and more interest from wine journalists and critics worldwide.

At a glance
Most planted variety in Germany until the 70s
high-yielding with medium ripening time
Aroma: discreetly fragrant, reminiscent of herbs or gooseberries
When was the Silvaner first mentioned?
As early as the first century AD, Gaius Plinius Secundus reported on a grape variety with analogous properties in the "Naturalis Historia". In the 17th century, Silvaner then came to Germany via monks from the Alpine region.
This might also interest you
Tips from Asian cuisine
CHINA : Dumpling
German wines have a natural advantage when it comes to entering into perfect harmony with select Asian dishes. With a lower alcohol content, sometimes crisp acidity, moderate residual sweetness or soft tannins in red grape varieties, they are a perfect match for a variety of styles of Asian cuisine.