Kerner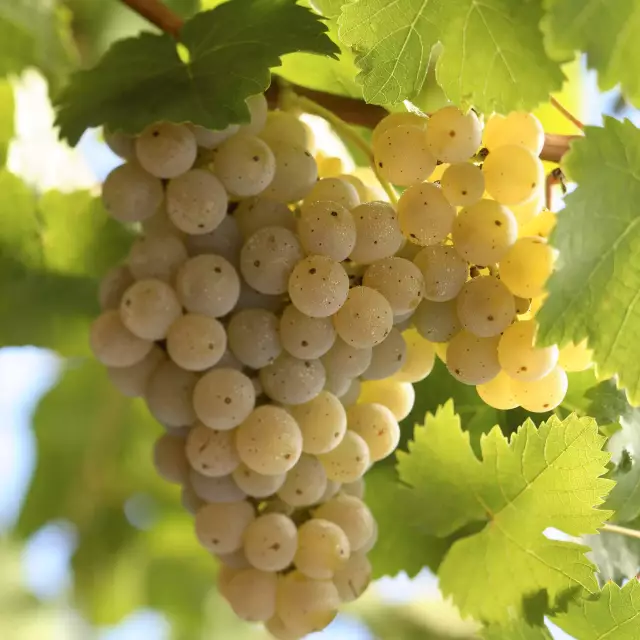 This pithy wine from an illustrious family was created in 1929 by crossing red Trollinger x white Riesling.
Facts
2.032

hectares planted vinyard area in Germany 2022
Cultivation
The Kerner vine loves soils that are neither too wet nor too dry. A long ripening period until late autumn allows must weights above those of Riesling. Wood ripeness and frost hardiness are good, but the foliage work is labour-intensive. The robust, hardy vine with thick-skinned, yellow-green berries is, however, considered susceptible to oidium infestation; in addition, a few years of Kerner death was observed due to the Arabis mosaic virus. The variety produces good, fairly continuous yields with must weights that are usually sufficient for Prädikat wines.
Significance
At the beginning of the 1970s, winegrowers and consumers became friends with the distinctive new variety. Starting in the Palatinate, it spread to all German growing regions and is also cultivated abroad for experimental purposes. In 1992, Kerner reached the peak of its popularity with a cultivation area of 7,800 hectares; since then, cultivation has shown a strong downward trend. Currently (2022 ), there are still about 2,032 hectares planted with this grape variety in Germany, the majority in Rheinhessen with 606 hectares and the Palatinate with about 615 hectares, followed by Württemberg, Mosel, Nahe and Franconia, but with much smaller quantities.
Vinification and Taste
Kerner is offered in all quality levels up to Auslese and is matured accordingly. Thus, there is the pithy Schoppen wine as well as the Spätlese, sometimes also sparkling wine, mostly in the (extra-) dry flavour. The colour of Kerner is usually between light yellow and straw yellow. The bouquet is somewhat more aromatic than that of Riesling, it is acidic, finely aromatic and fruity (pear, orange jam, green apple, redcurrant, apricot, iced candy) and sometimes has a slight muscat note.
The juicy Schoppen wines are drunk as thirst quenchers; the lively acidity of the Kerner is also suitable for a spritzer. Dry or semi-dry wines of higher quality go well with light and discreet starters such as fish or vegetable terrines, summer salads, fish, poultry and veal, asparagus dishes, mild semi-hard cheeses and fresh cheeses. Fruity sweet Spätlese wines go particularly well with apple-based desserts.
History
Vine breeder August Herold from the branch (Lauffen am Neckar) of the "Staatliche Lehr- und Versuchsanstalt für Wein- und Obstbau" (State Teaching and Research Institute for Viticulture and Fruit Growing) in Weinsberg was the intellectual father of the new variety at the time.
Therefore, at the beginning, the grape variety was called "white herald", later it was renamed Kerner with reference to the Swabian poet Justinus Kerner, who had lived in Weinsberg. Kerner has become important in all German wine-growing regions, and is particularly fruity in Württemberg around Heilbronn. The grape variety was granted plant variety protection in 1969.
Plantations are known in the northern part of South Tyrol (Eisacktal - Valle Isarco) around Brixen, in Switzerland (18.5 hectares, as of 2007, source: Office fédéral de l'agriculture OFAG) and in South Africa. In 1974, a mutation of the Kerner was found, the new grape variety Kernling.
At a glance
It was named after the Weinsberg poet and medical officer Justinus Kerner (1786-1862).
crossbreed of red Trollinger x white Riesling
reached the peak of its popularity in 1992, since then declining trend
robust, hardy vine with a long ripening period
Aroma: aromatic-fruity, reminiscent of apples, peaches, ice candy
Who gave the Kerner its name?
It was named after Justinus Kerner (1786-1862), a poet and chief medical officer from Weinsberg.
This might also interest you