Saale-Unstrut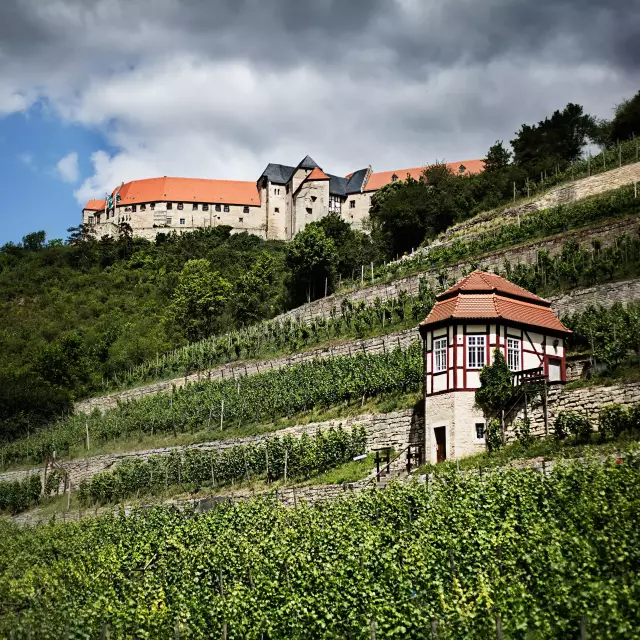 Two rivers give the growing region its name, as the mostly terraced vineyards are mainly located in the narrow river valleys of the Saale and Unstrut rivers.
Facts
798 ha

Vineyard area 2019

34

Einzellagen

1.600

Sunshine hours / year
Saale-Unstrut - Experience Wine in Pristine Nature
The rivers Saale and Unstrut run through an old cultural landscape which is characterised by steep terraces, stone walls, orchards and river meadows. Vines have been cultivated here since AD 998.
Situated on the 51st parallel latitude, it is among the northernmost of Europe's traditional wine regions and the most northern quality wine-growing region in Germany. Due to the location and the cooler climate, the weather is more variable, therefore cultivating vines on stoned terraces that can release heat at night, can help temper this. Of course, deep frosts lurk in winter or late frosts in spring, and the average temperature is comparatively low so the local viticulture needs protected vineyards and most are south-facing.
Thankfully, in the river valleys, heat islands are generated whose microclimate allows the grapes to flourish beautifully, along with the 1,600 hours average of sunshine a year. However, there is only around 500 mm of annual rainfall, making it one of the driest regions in Germany. These climatic conditions lead to a kind of natural reduction in yield, so the harvest amount at Saale-Unstrut averages only 50 hectolitres per hectare.
Pristine landscapes can be found here: steep terraces, centuries-old stone walls and vineyard houses, in between orchards and floodplains. Defiant castles and palaces stand high above. Culture and history, nature, romance and wine are all naturally intertwined. The vines have been giving the river landscape its distinctive character for over a thousand years.
The "Romanesque Road" and the "Skywalk" run along the Saale-Unstrut Wine Route. Castles and palaces such as Neuenburg or Rudelsburg, important buildings like Naumburg Cathedral, and mystical sites such as the place where the Bronze Age Sky Disk of Nebra was found in 1999 (considered the oldest celestial representation of the world) tells of the country's cultural history. Freyburg an der Unstrut is considered the secret wine capital of the area. Every year on the second weekend in September, the largest wine festival of the region is held here.
Exploring this wine-growing region and its wines, vineyards, wine taverns and seasonal vintners wine bars is a lot of fun as there is a well-developed network of cycle paths, walking tracks and waterways. The largest part of the region is located in the Saale-Unstrut-Triasland conservation area.
Traditionally dry wines with typical, finely nuanced fruitiness and liveliness are the hallmarks of the area, which with 798 hectares is one of the smaller wine regions in Germany. Most of the vineyards are located south of Saxony-Anhalt, as well as a few hectares in Thuringia and Brandenburg.
There are around 30 grape varieties to taste and compare. The most planted grape is Müller-Thurgau, which, thanks to the low yield, reveals surprising delicacy. Local winemakers are particularly proud of their Pinot Blanc, and Silvaner and Riesling are also considered classics in the region. Red wine varieties account for a quarter of all vineyards, particularly Portugieser, Dornfelder, Pinot Noir and Zweigelt. They are rarities that usually sell out quickly.
Overview Saale-Unstrut
Geographical location: Located on the 51° of latitude, in the valleys of the Saale and the Unstrut rivers between Weimar and Leipzig. About 30 km to the north is a small island of vines near Eisleben, where Martin Luther was born and where he died.
Major towns: Freyburg, Naumburg, Bad Kösen
Climate: Continental, with warm, dry summers and cold winters
Soil types: Shell-limestone and colored sandstone
Vineyard area 2019: 798 ha · 2 districts · 4 collective vineyard sites · 18 individual sites
Grape varieties 2019 (white 74.7%, red 25.3%): Müller-Thurgau (15.2%), Weißburgunder (13.7%), Riesling (8.9%), Dornfelder (6.8%), Bacchus (6.4%), Silvaner (6.1%)
Marketing: Most of the region's vines are tended by part-time wine-growers who deliver their crop to the regional cooperative cellars in Freyburg. There are 14 private wine estates that produce and sell their own wine. The state-owned cellars "Kloster Pforta," named after the 12th-century monastery between Bad Kösen and Naumburg, is the region's largest estate. The amount of wine produced annually varies tremendously, depending on weather conditions, and nearly all of it is consumed by locals.
Signposted routes through wine country: Weinstraße (driving) [sections of the wine road are identical with the Romanesque Road, with signs leading to historical castles and churches] · Wanderweg (hiking) · Radwanderweg (cycling)
SAALE-UNSTRUT
Weinbauverband Saale-Unstrut
Querfurter Straße 10
06632 Freyburg
Tel: +49 34464 / 26110
Fax: +49 34464 / 29416
Varietals
Quotes
Winegrower stories

In terror he grabbed his half-drunk bottle and fled down to the estate house.

Weingut Prof. Wartenberg

Winegrower stories

And when I sit with a glass of wine in our estate's outdoor wine restaurant and look out over the lake, a dusty open pit mine is really the last thing I think of.

Weinbau am Geiseltalsee
Highlights of wine culture in Saale-Unstrut
Highlight

Kloster Pforta

Landesweingut Kloster Pforta

Learn more

Highlight

A Stone Picture Book

A Photo Album for Wine

Learn more

Highlight

Rotkäppchen sparkling wine cellar

150 Years Creating Sparkling Wine

Learn more
Winesights
Wine views

Viticulture at the Geiseltalsee

Saale

Learn more

Wine views

Vineyard of Max-Klinger, Naumburger Blütengrund

Saale-Unstrut

Learn more

Wine views

Höhnstedter Kreisberg

Saale-Unstrut

Learn more
Vinotheques
Wein- und Sektgut Hubertus Triebe

Würchwitz

Show
Wine hike
Hiking and Cycling Trail
Saale-Unstrut, Germany's northernmost wine-growing region, offers hikers an impressively long network of trails of almost 700 kilometers.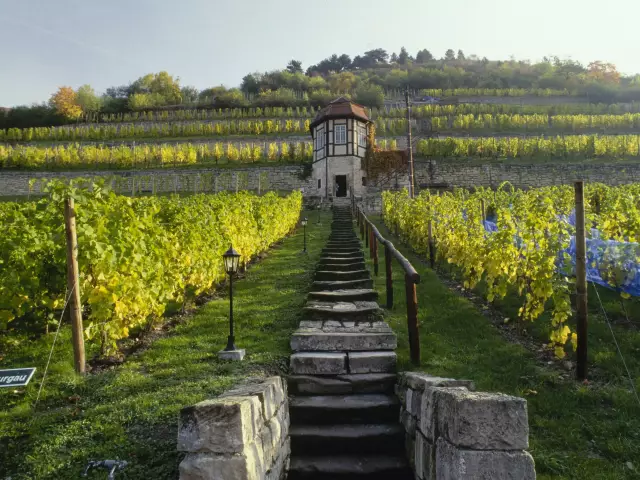 Contact
Weinbauverband Saale-Unstrut

06632 Freyburg (Unstrut)- Querfurter Straße 10 Germany