Wasems Kloster Engelthal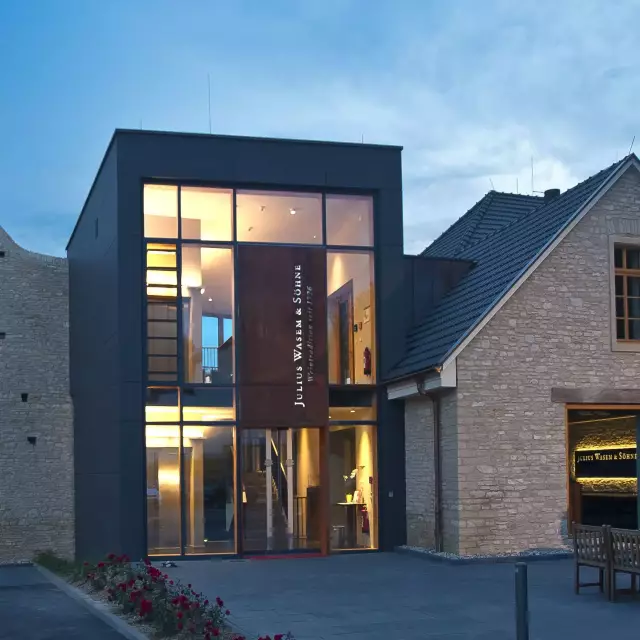 Bringing new life to old walls was the goal of the Wasem's House of Wine in Ingelheim. The family has succeeded with their modern glass-concrete addition to the heritage-listed ruins of the Cistercian Engelthal convent.
Not much was left of the monastery itself after its destruction in the mid-1600s, only the west wing on Edelgasse and a farm building with a yard, almost at right angles to it. These buildings had to be renovated and connected to one another by an extension. The new building created at the interface connects the historic existing buildings like a central portal or hinge.
While the preservation of the historically protected facades was a top priority, the connecting building was created as a cubic block. Its flat roof and the materials used - above all concrete, steel and glass - deliberately contrast with the flanking late medieval buildings and their massive stone walls, cross and barrel vaults, oak beam ceilings or trusses. Monumental glass facades, in which corroded corten steel is incorporated, make the new building transparent and create an open, serene atmosphere. It is used as a central gatehouse. He opens up all levels of the ensemble via stairs and elevators.
In the historic buildings there is a vinotheque with tasting rooms, a wine bar, a wine hut with attached vineyard, event and conference rooms. The Julius Wasem winery complex, which started in 2010 and was completed in summer 2013, was realized by the Ingelheim-based architecture firm Hille and interior designers Cornelia Schroff-Graf and Willi Hubor from Gottmardingen and Mettendorf. "Preserve, insert and subordinate" were keywords that were taken into account in the renovation and new construction measures, the architects emphasize. The prizes and awards that Wasems Kloster Engelthal received within a short time show that they have managed to strike a balance between old and new and have established a modern but unobtrusive link between the existing historic buildings. Awards include the "Great Wine Capital 2012 Global Award", 1st place in the Ingelheim City Design Award, the "International Wine Tourism Award 2012", the "Best of Wine Tourism Award 2013" ​​also a nomination for the "Wine Architecture Award 2013".