Ruhkreuz Zornheim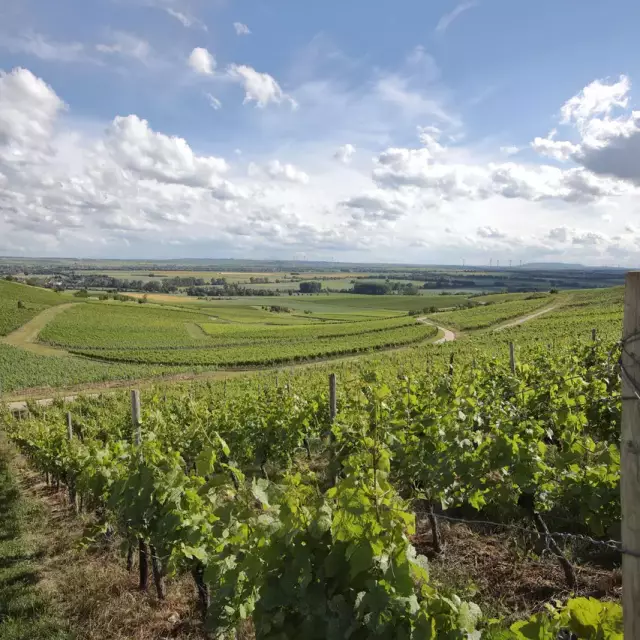 The view from the Zornheimer Ruhkreuz stands at the starting point of the Hiwweltour Zornheimer Berg. The certified circular hiking trail leads through orchards and vineyards. With its panorama, the view opens up a wide vista over the Rhine-Hessian hill country all the way to the Odenwald and Donnersberg.
Facts
7 km

Distance

2 hours

Duration

medium

Difficulty level
Ruhkreuz Zornheim
Beginning at the imposing Three Graces Fountain at the Lindenplatz parking area in Zornheim, follow the path to the Ruhkreuz Zornheim, taking time to read the entertaining and interesting information boards along the 6.8 km circular hike.
The first highlight of the trail is the Hasenberg, which offers beautiful panoramic views of the Taunus mountains. You can take a short break at the Jubilee Forest rest area amongst the 200 trees that were planted here in 2016, in honor of Rheinhessen's 200th birthday. These now grow and thrive alongside a local artist's sculpture. We continue through wide fields and undulating meadows, past grazing herds of cows and through the lush community orchard of Zornheim. From cherries to apples and pears to mirabelles, there is a lot to marvel at along the way, depending on the season.
From there, the hike leads comfortably downhill to the Rohrwiesen biotope, a habitat rich with flora and fauna, that you can hear before you see, the soundscape is so intense. This 'cry of nature' slowly abates as you transition into the vineyards.
The ascent to the vintner's hut "Auf dem Winkel" is quickly forgotten, as you enjoy the wonderful views of the Taunus and, on a clear day, even the skyline of Frankfurt am Main. Now the hiking trail leads to the Selzer Berg, where, alongside rows of grapevines, you pass the former Selztal position from the First World War and thus gain an exciting insight into the history of the region.
The vintner's hut "Am Hohberg" marks the final ascent of the Hiwweltour hiking trail. Before the circuit finishes, the last information board explains the development of the landscape you have just journeyed through before returning to the outskirts of Zornheim am Ruhkreuz. Relax on the comfortable lounges and enjoy the splendid view.