Nahe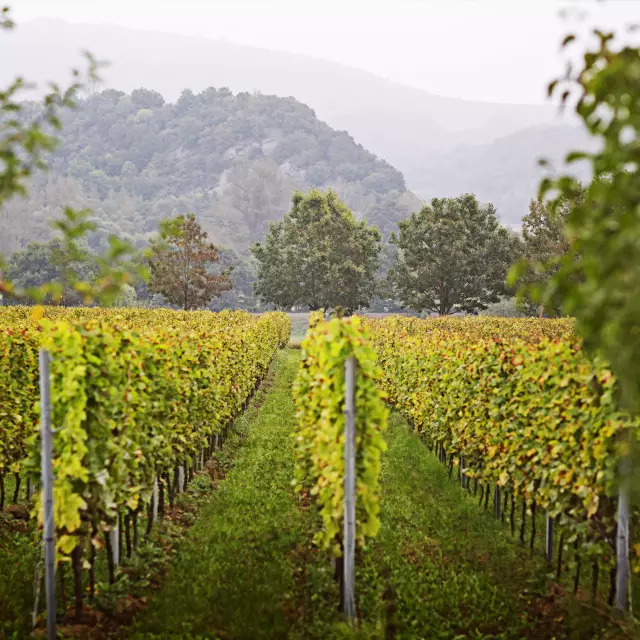 On the Nahe, visitors can expect gentle greenery, romantic river valleys and dramatic rock formations and also hospitable winegrowers and their diverse wines.
Facts
4.237 ha

Vineyard area 2019

310

Einzellagen

2.000

Years of winemaking tradition
Nahe - A Multi-faceted Jewel
The Nahe region is named after the river that traverses the valleys of the forested Hunsrück Hills as it gently flows toward Bingen on the Rhine. It is a peaceful landscape of vineyards, orchards and meadows interspersed with cliffs and striking rock formations.
The wine-growing region on the Nahe and the tributaries Glan and Alsenz has 2,000 years of wine-making tradition. Protection against cold winds by the high Hunsrück, mild temperatures and lots of sunshine create an excellent climate for winegrowing in this sunny valley with low-rain. Although the Nahe is one of the smaller German wine regions, its extraordinary range of soil types is second to none. This is because of its turbulent geological history. For this reason, the region is able to grow a range of varieties and produce a large diversity of wine styles.
The steeper sites of volcanic or weathered stone, and those with red, clayish slate seem predestined for elegant, piquant Riesling wines of great finesse and a light spiciness. More than a quarter of the vineyard area of 4239 hectares is planted with it. Flatter sites of loam, loess and sandy soils yield lighter, fragrant Müller-Thurgau (Rivaner) wines with a flowery note, whilst Silvaner thrives in a number of soils and produces full-bodied, earthy wines. Pinot Gris and Blanc are being increasingly cultivated. Dornfelder and Pinot Noir also find a good home here.
There is always something going on at the Nahe and whether listening to some lively jazz during a festive wine-culinary evening or devouring a hearty snack after hiking, the local wine will be a good companion.
The Nahe has also made a name for itself in wellness: Bad Kreuznach, Bad Münster am Stein and Bad Sobernheim are popular places for relaxation. Guests not only enjoy the healing water from the natural springs, but can also indulge in a sauna, mud bath, Felke treatment or vinotherapy.
You can get a good insight into the growing region on the idyllic Naheweinstraße or the local cycle path. For hikers there is the wonderful 100 km long "Rhine-Nahe Wine Trail" in the Soonwald Nahe Nature Park. Bad Kreuznach with its historic bridge houses and numerous remnants of the Roman era is always worth a visit. Bad Münster am Stein-Ebernburg, romantically situated in the valley basin, is known for its medieval market, castle and its Knights' Games. And anyone who has seen Rotenfels, the highest steep face cliff north of the Alps, knows why the people here are proud of their home.
You can discover the wines of the Nahe at one of the numerous wine festivals on the Naheweinstraße, which mostly take place in late summer. Anyone who has enjoyed a drop of this wine shimmering in a glass will know the fresh fruit, fine acidity, mineral notes and rich aromas it embodies. No wonder Nahe wine is an insider tip among connoisseurs, a true jewel from the southwest.
Overview Nahe
Geographical location: In the Hunsrück Hills between the Rhine and Mosel valleys. Vineyards are on or near the banks of the Nahe River and its tributaries, the Glan and the Alsenz, as well as the streams north and west of Bad Kreuznach (Gräfenbach, Guldenbach, Trollbach and Ellerbach).
Major town(s): Bad Kreuznach, Bad Münster am Stein-Ebernburg, Bad Sobernheim
Climate: Mild and balanced, with little frost
Soil types: The entire rock cycle of igneous (volcanic), sedimentary (sandstone, clay, limestone) and metamorphic (slate) rocks is present in the Nahe.
Vineyard area 2019: 4,239 ha · 1 district · 7 collective vineyard sites · 300+ individual sites
Grape varieties 2019 [white 76.2% · red 23.8%] : Riesling (29%), Müller-Thurgau (12%), Pinot Gris (8.2%), Pinot Blanc (7.4%) as well as Dornfelder (9.7%) and Spätburgunder (6.7%).
Marketing: A high proportion of the region's wine is sold directly to consumers by individual estates. The portfolio of the world's largest direct marketing winery, WIV in Burg Layen, includes Nahe wine. There are cooperative cellars in Meddersheim and Bretzenheim (the latter receives members' grapes; the wines are produced and marketed by the Mosel's regional cooperatives cellars), but their role in the Nahe is less significant than that of cooperative cellars in other regions (e.g. Baden, Württemberg, Franken).
Signposted routes through wine country: Nahe-Weinstraße (driving) · Weinwanderweg Nahe (hiking) · Radweg Nahe (cycling)
NAHE
Weinland Nahe e.V.
Burgenlandstraße 7
55543 Bad Kreuznach
Tel: +49 671 / 83405 - 0
Fax: +49 671 / 83405 - 25
Highlights of wine culture in Nahe
Highlight

Bad Sobernheim Open Museum

The living history of viticulture

Learn more

Highlight

The Ruins of Disibodenberg

The Ruins of the Monastery of Disibodenberg: Where the oldest grapevines grow

Learn more

Highlight

Gut Hermannsberg

From Semi-Precious Metals to Liquid Gold

Learn more
Winesights
Wine views

Kertzer Woodlands

Niederhausen

Learn more

Wine views

Meddersheim vineyards

Nahe

Learn more

Wine views

Friedensbrücke Bad Münster am Stein-Ebernburg

Nahe

Learn more
Wine hike
Rhine-Nahe Wine Hiking Trail
Not only the wines of the Nahe offer variety and diversity, but also the Rhine-Nahe wine hiking trail. The approx. 90 km route from Bingen to Kirn, traverses lush green meadows, forests, striking rock clusters, deep valleys, castles, vineyards and villages.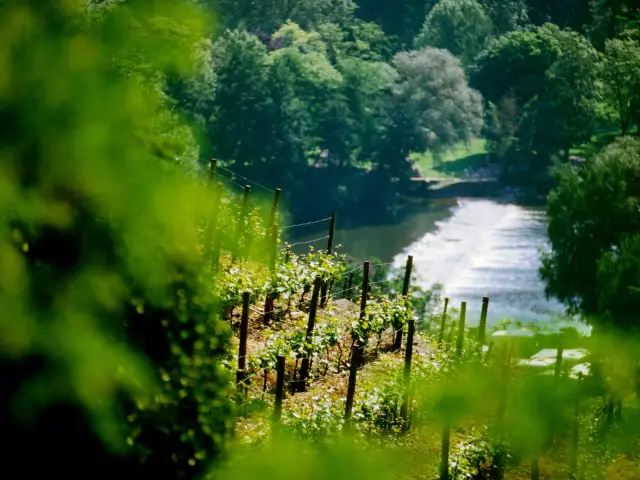 Contact
Weinland Nahe e.V.

55543 Bad Kreuznach- Burgenlandstraße 7 Germany