ה רעשה הוהיל םיקידצ ואבי וב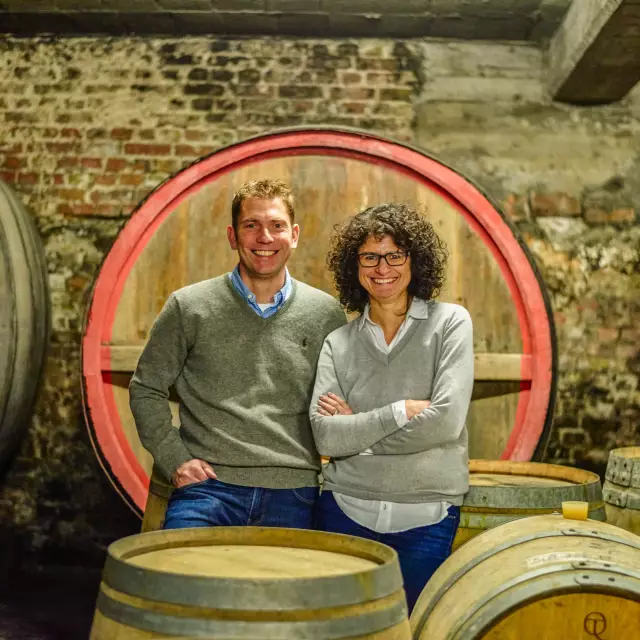 Anyone who stands in front of the gate of our wine press and reads these lines, may suspect that this is a very special place.
Quotes
Winegrower stories

"This is the gateway to the Eternal, the righteous will enter there"

"This is the gateway to the Eternal, the righteous will enter there"
Initially - if you follow the writing - hardly anything is unusual except for the Hebrew tablet. But that place, where our wines are stored and ripened today, is where the first synagogue in our community was built in 1744, in the heart of Guntersblum. For almost 200 years, ceremonies were held here in this place of worship and the Kiddush recited. This is the name of the blessing in honour of wine, which traditionally begins the Sabbath and is the epitome of piety in the Jewish home and synagogue.
This practice was abruptly interrupted by the National Socialists. After a last service took place in the synagogue on October 5, 1938, my great-grandfather Georg Friedrich Schmitt bought the building. This saved the synagogue, because less than a month later, pogroms set fire to Jewish places of worship across the country.
After the Second World War, the destroyed roof was repaired and the former synagogue was converted into a wine press. In 1984 it was placed under a heritage preservation order. Today there is no more praying in the former synagogue, but we regularly meet here for wine tastings and cellar tours. The place has been a little misused, but still remains a house of assembly, where celebrations, learnings and discussions can take place. L'Chaim!
Contact
Weingut Domhof

67583 Guntersblum Bleichstr. 14 Germany