Portugieser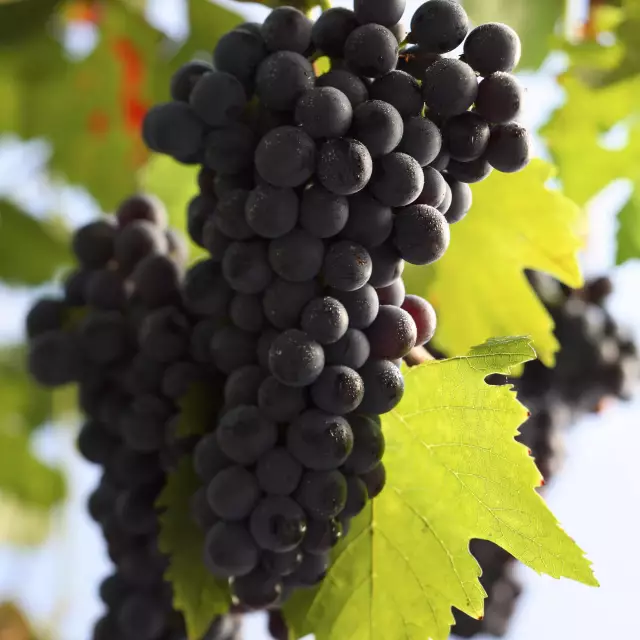 Over time, the blue Portugieser has become the third most important red wine variety in Germany. Its uncomplicated, light ruby-red wines offer versatile enjoyment.
Facts
9°-13°

Drinking temperature as rosé

2,295 ha

Vineyard area 2022
Cultivation and significance
The variety has low soil and site requirements, but is less suitable for moist and heavy soils. The vines also cope well with nutrient-poor sandy soils. If no damage occurs due to winter frosts, the Portugieser is considered to be vigorous and reliable in terms of yield. The grapes ripen early and can sometimes be harvested as a quality wine in the first half of September.
In terms of acreage, Portugieser is the third most important red wine grape variety in Germany after Pinot Noir and Dornfelder. The area under cultivation is 2,295 hectares (2022), which is around 2 per cent of the German vineyard area. There are clear regional focuses of Portugieser cultivation in the Palatinate (1,086 hectares), Rheinhessen (926 hectares), Württemberg (89 hectares) and the Ahr (13 hectares). After many winegrowers abandoned Blauer Portugieser in the 1970s, the area under cultivation increased again in the following decade and has largely stabilised since the 1990s.
Vinification and flavour
In many cases, the grape must is pressed immediately or after a short standing time and vinified into Weißherbst. The light red colour suggests that it is used as Weißherbst. The red wines from Portugieser, usually light ruby red in colour, are usually lighter in alcohol than other red wines.
Portugieser is considered an uncomplicated, pleasant, full-bodied, drinkable and fresh wine. Without too much tannin, it develops quickly and is already a harmonious, easy-to-drink wine in spring. It can then also be served slightly cooler (rosé 9 - 13° C and red wine 14 - 16° C). This enhances the refreshing character of the light rosé or red wine, which usually has an invigorating acidity. In the restrained bouquet we find hints of berry flavours such as redcurrant, raspberry or strawberry, sometimes also sour cherry or a peppery note. The Portugieser can be a frugal accompaniment to many dishes, and the Weißherbst in particular has many friends as a summer wine.
History
According to new scientific findings, the origin of the Blauer Portugieser lies in what is now north-east Slovenia. The Portugieser came to Germany (19th century) via Austria (18th century). Johann Philipp Bronner took over the conservation breeding of the Portugieser, which is thought to have originated in Austria-Hungary. The variety displaced many old vine stocks as early as the 19th century. According to the latest findings of the Julius Kühn Institute, Blaue Zimmettraube and Grüner Silvaner are the parents of Blauer Portugieser. A grandparent is the Blauer Gänsfüßer.
At a glance
Third most important red wine variety in Germany
Low soil and site requirements
Early ripening and reliable yield
Flavour: red currant, strawberry, sour cherry, peppery note
What is an important growing country for Portugieser besides Germany and Austria?
A third important growing country for the Portugieser is not Portugal, as the name suggests, but Hungary. Here, there are only slightly fewer areas planted with the grape variety than in Austria.
This might also interest you