Sachsen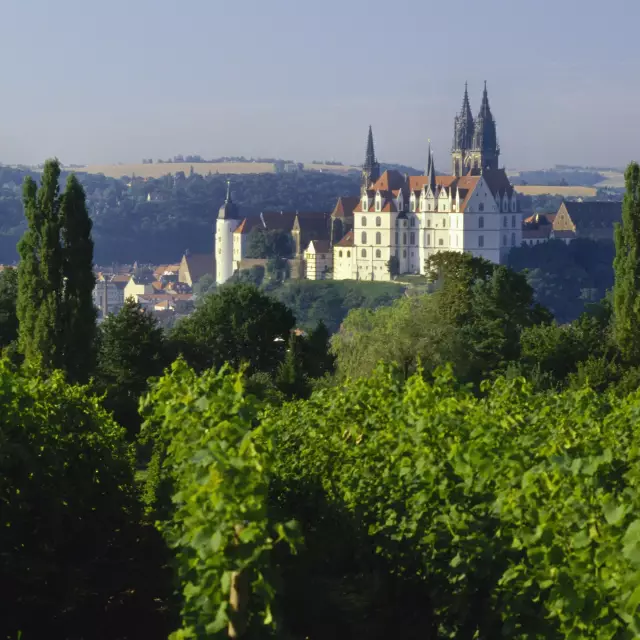 Sachsen is the easternmost and, with 493 hectares, one of the smallest wine-growing regions in Germany. The vineyards only begin near Dresden, at 51 degrees north latitude.
Facts
493 ha

Vineyard area 2019

17

Einzellagen

800

Years of winemaking tradition
Sachsen - Specialties and Rarities
Sachsen is Germany's easternmost and one of the smallest wine-growing regions, with only 493 hectares, beginning at Dresden, at 51 degrees north latitude. Winegrowing has a tradition of over 800 years here. It was first mentioned in 1161 and, in its heyday in the 17th century, covered an area of ​​5000 hectares.
The town of Meißen, famous for its porcelain, is considered the cradle of Sachsen viticulture and the largest wine festival in the region is still celebrated there today. The connection between architecture and viticulture that typifies the region, developed over the centuries as religious and secular authorities cultivated vines. Castles, mountain retreats and pleasure houses emerged, as did vintner houses, vineyard churches and wine taverns.
The fact that top quality grapes can still be pressed here in the north-east, especially when it comes to white varieties, is thanks to a special climate pattern. Where the rainfall is still sufficient, the continental climate, with its 1,600 hours of sunshine, creates ideal conditions for the growing and slow ripening of the grapes. The constant alternation of daytime warmth and nighttime coolness ensures the development of rich aroma and bouquet substances in the wines.
The wine from Sachsen is a rarity. You find it predominantly in the region itself - in cozy wine taverns and fine restaurants, in stylish wine shops and at autumn wine festivals - and of course directly from the winegrowers themselves. They are at home on the 55-kilometer Sachsen Wine Route which extends from Pirna via Dresden, Radebeul and Meißen to the idyllic Elbe wine villages around Diesbar-Seußlitz. Here cultural and historical sights are intertwined with the charming wine landscape.
The typical steep slopes terraced with quarry stone walls add a special character to viticulture here, because the great wines of this region, such as Pinot Blanc, Pinot Gris and above all Traminer, thrive on the steep slopes of the Elbe. The 90-kilometer Sachsen Wine Hiking Trail also connects the many pearls of the area, leading to the most beautiful vineyards, viewpoints and wine cellars.
Several Straußwirtschaften (seasonal wine taverns) invite you to a glass of wine and a hearty meal. These rustic refreshments, mostly operated by small and part-time winemakers, are extremely popular. If you want to learn more about working in the vineyard and maturing the wine in the cellar, you can book a holiday with a winegrower or visit the Sachsen Winery Open Days on the last weekend in August, when more than 25 wineries invite you to cellar visits, vineyard tours and tastings.
In addition to Müller-Thurgau, Riesling and Pinot Blanc, you can also try rarities from the Elbe Valley of around two dozen lesser-known varieties, for example, an Elbling or Gutedel, or a Goldriesling that is only grown here in Sachsen.
Overview Sachsen
Geographical location: In the upper Elbe Valley, along the 51° of latutide. The region extends about 55 km/ 34 miles north and south of Dresden. About 100 km/62 miles to the north there are a few patches of vines not far from Wittenberg, where Martin Luther posted his famous theses in 1517.
Major towns: Dresden, Meissen, Radebeul
Climate: Continental, with warm, dry summers and cold winters
Soil types: The steepest slopes are of weathered granite and gneiss, with loess or sand deposits in some of the vineyards.
Vineyard area 2019: 493 ha · 2 districts · 4 collective vineyard sites · 17 individual sites
Grape varieties 2019 (white 81.9%, red 18.1%): Müller-Thurgau (14.2%), Riesling (12.6%), Pinot Blanc (12.4%), Pinot Gris (9.5%), Pinot Noir (7.9%)
Marketing: Most of the region's vines are tended by part-time wine-growers who deliver their crop to the regional cooperative cellars in Meissen. There are a handful of private wine estates that produce and sell their own wine. The state-owned cellars in historic Schloss Wackerbarth (1730) in Radebeul and the region's oldest estate at Schloss Proschwitz (privately owned) are Sachsen's largest estates. Sachsen wines are rarities, available in very limited quantities, and nearly all are consumed by locals.
Signposted routes through wine country: Sächsische Weinstraße (driving), which is also the starting point for the hiking trail through the vineyards · Elberadweg (cycling road)
SACHSEN
Weinbauverband Sachsen e.V.
Dresdner Straße 7
01662 Meißen
Tel: +49 3521 / 7635 - 30
Quotes
Winegrower stories

The Elbe flooding of 2002 caught us absolutely unawares.

Weingut Lehmann

Winegrower stories

The freedom and the ability to work outside throughout the year drives us forward.

Weinbau Frédéric Fourré
Highlights of wine culture in Sachsen
Highlight

Weingut Drei Herren: Art in the Vineyard

Weingut Drei Herren: Art in the Vineyard

Learn more

Highlight

Hoflößnitz

The Saxon Club and the Elector's Notorious Wine Feasts

Learn more

Highlight

Staatsweingut Schloss Wackerbarth

The Oldest Sparkling Wine Cellar in Saxony

Learn more
Winesights
Wine views

Proschwitz

Sachsen

Learn more

Wine views

Belvedere, Wackerbarth Castle

Sachsen

Learn more

Wine views

The bend in the Elbe river at Diesbar-Seußlitz

in Diesbar-Seußlitz

Learn more
Wine hike
Wine Hiking Trail
Describing the cultural significance of Dresden with its rich history and its many precious art treasures goes far beyond our scope here, but know that we will be walking through areas steeped in history.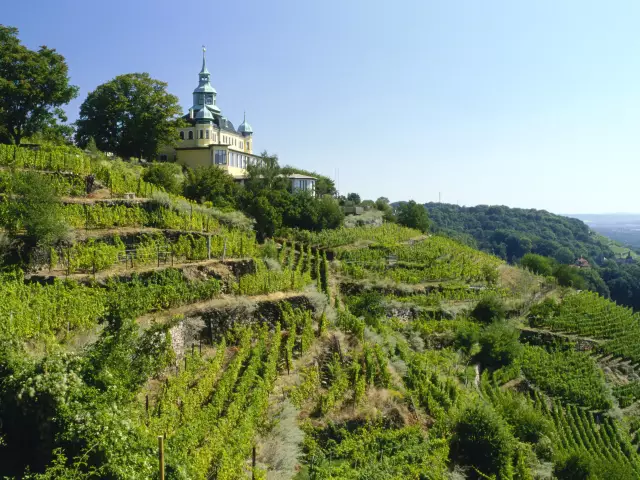 Contact
Weinbauverband Sachsen e.V.

01662 Meißen- Dresdner Straße 7 Germany