In the German wine regions, charming landscapes, culture, hospitality and enjoyment form a wonderful combination.
Facts
13

Growing areas

11.806 ha

Vineyard area

20.000

Vinotheques

15.200

Wine producers
Ahr
With 562 hectares of vineyards, the Ahr is one of the smallest wine-growing regions in Germany. Mainly red wines thrive on the steep slopes above the river.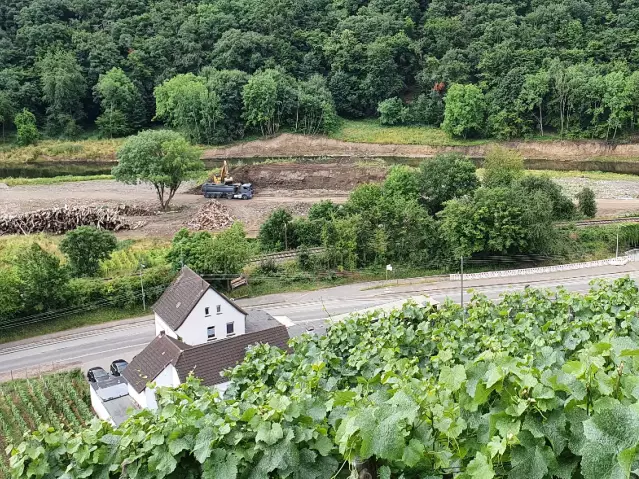 Baden
The Baden winegrowing region, with 15,836 hectares of vineyards the third largest in Germany, extends in a north-south direction over a length of about 400 kilometers.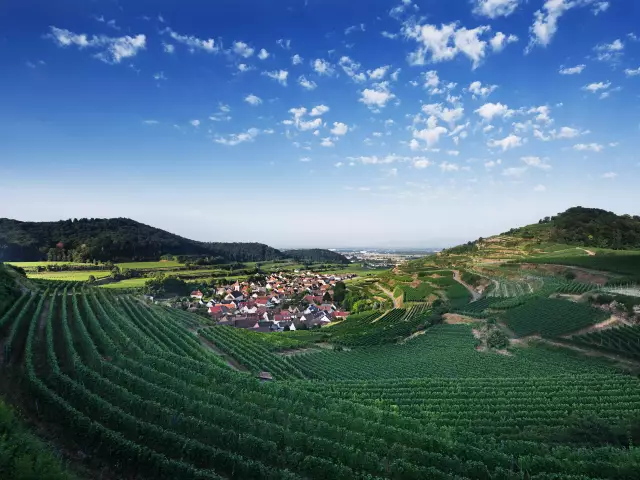 Franken
The Bocksbeutel is the trademark of Franconian wine, which has been cultivated for over 1200 years, especially along the Main River. Franconian wine country is bordered by the Rhön Mountains to the north, the Steigerwald Forest to the east, the Tauber Valley to the south and the Spessart Mountains to the west.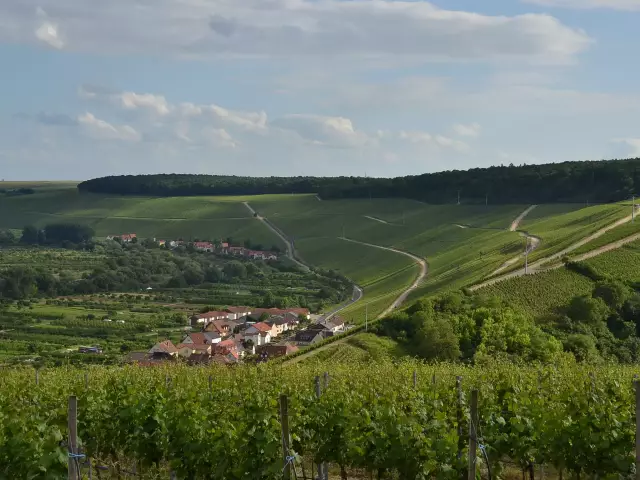 Hessische Bergstraße
When it is still cool in March or April in some places, the almond blossom already begins on the Hessian Bergstrasse. Spring usually starts a few days earlier.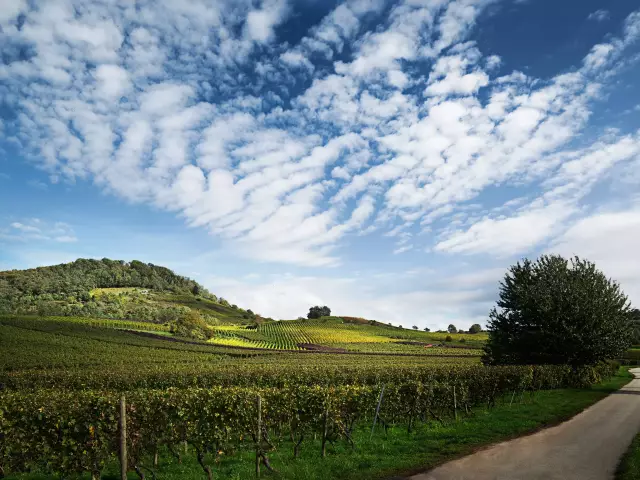 Mittelrhein
The Rhine Valley between Bingen and Bonn offers a picturesque backdrop. Vineyards crowned by castles and medieval towns adorn the banks of the Rhine.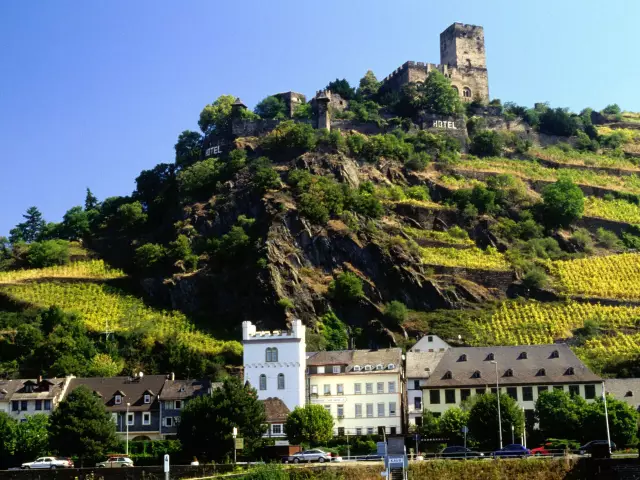 Mosel
The wine-growing region along the Moselle, Saar and Ruwer rivers is considered Germany's oldest wine region. The Romans brought viticulture to the Moselle on a grand scale.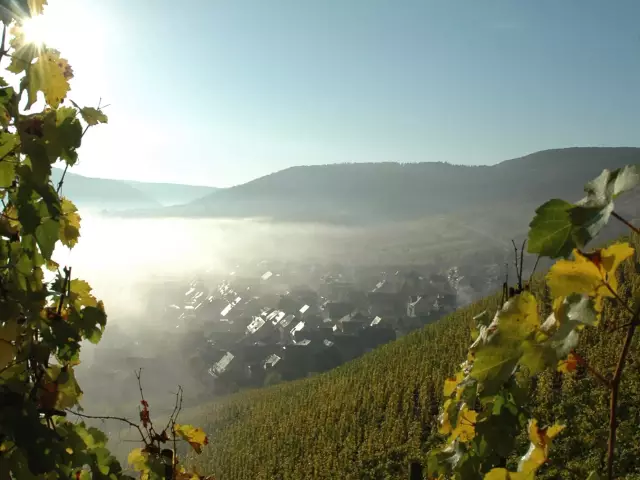 Nahe
On the Nahe, visitors can expect gentle greenery, romantic river valleys and dramatic rock formations and also hospitable winegrowers and their diverse wines.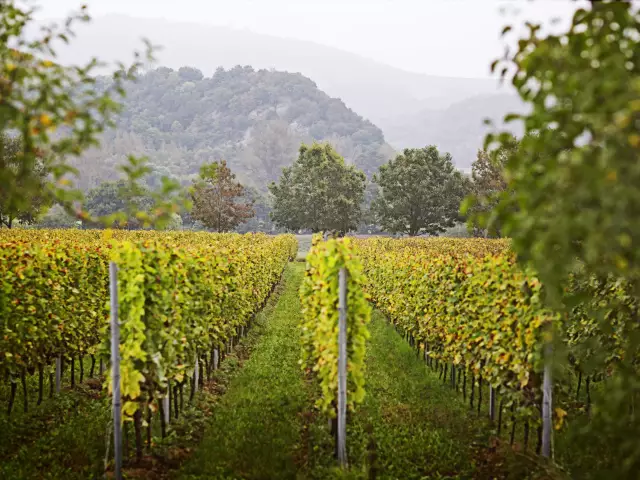 Pfalz
the Palatinate has many superlatives: the largest wine festival in the world in Bad Dürkheim, but also the first and most famous wine street, the German Wine Street.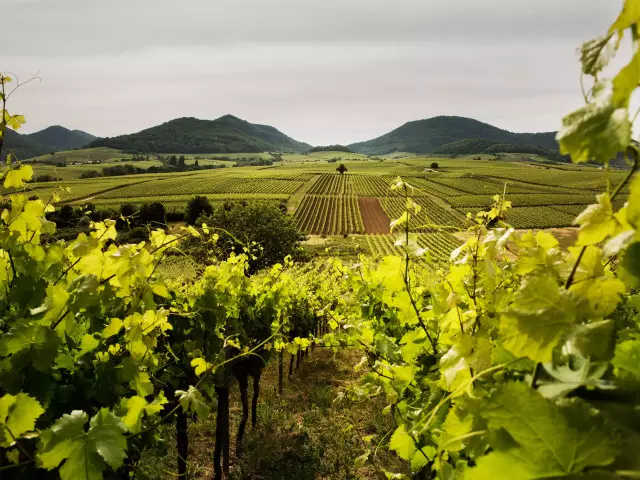 Rheingau
It is thanks to a freak of nature that the Rhine, which otherwise flows in a northerly direction, turns almost at right angles to the west at Wiesbaden, only to flow north again just 30 kilometers later at Rüdesheim am Rhein.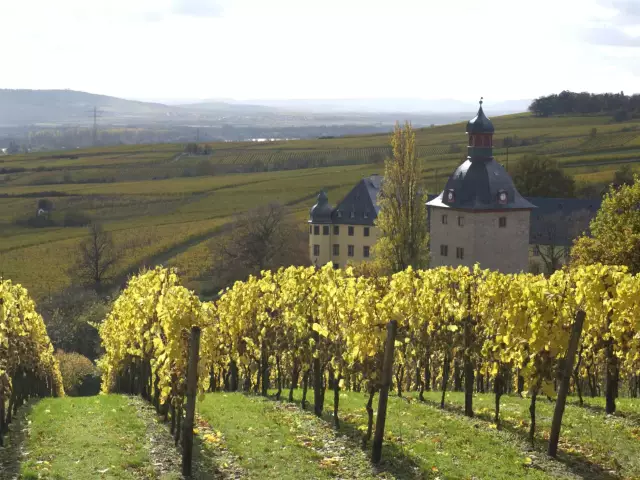 Rheinhessen
A thousand hills and vines as far as the eye can see - that is Rheinhessen, Germany's largest wine-growing region.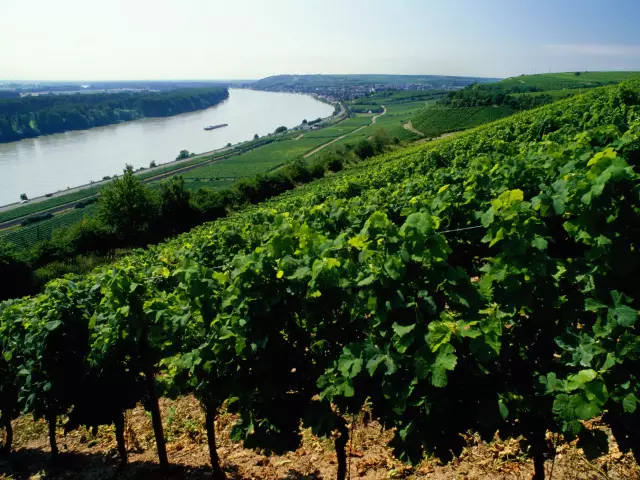 Saale-Unstrut
Two rivers give the growing region its name, as the mostly terraced vineyards are mainly located in the narrow river valleys of the Saale and Unstrut rivers.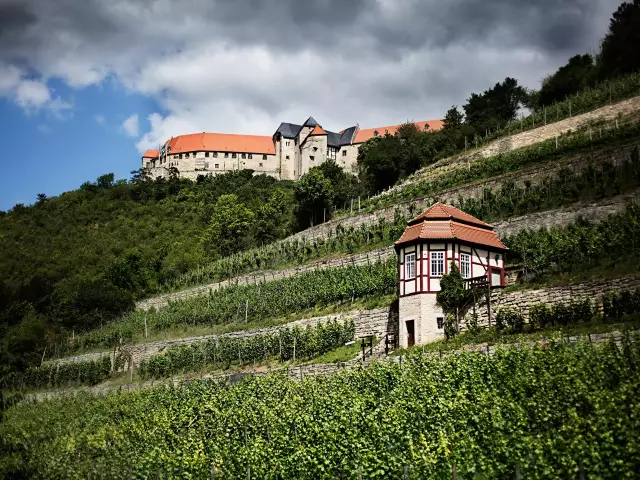 Sachsen
Sachsen is the easternmost and, with 493 hectares, one of the smallest wine-growing regions in Germany. The vineyards only begin near Dresden, at 51 degrees north latitude.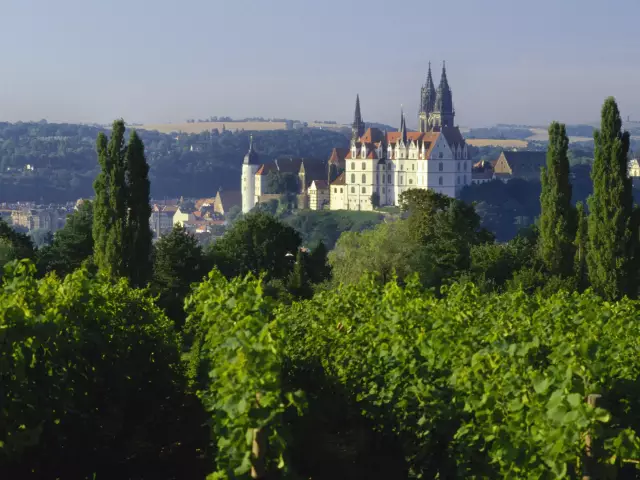 Württemberg
Among the major German wine-growing regions, Württemberg ranks fourth with 11,461 hectares. Here, red grape varieties dominate the vineyards with almost 70 percent.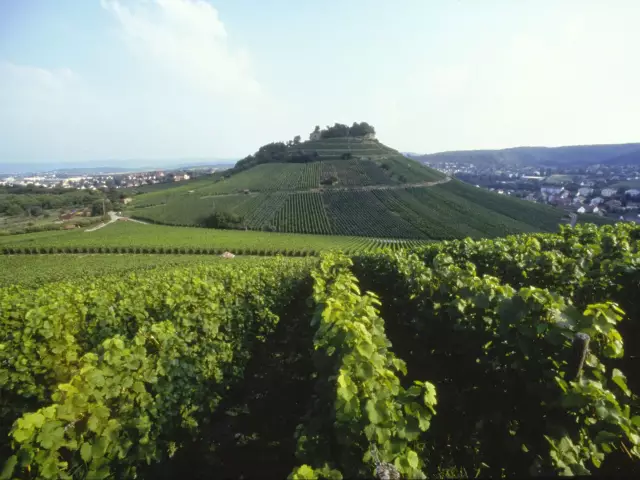 Beautiful winesights
Wine views

Hessigheimer Felsengärten

Württemberg

Learn more

Wine views

The bend in the Elbe river at Diesbar-Seußlitz

in Diesbar-Seußlitz

Learn more

Wine views

Zummethöhe, Trittenheim

Mosel

Learn more
Quotes
Winegrower stories

"This is the gateway to the Eternal, the righteous will enter there"

"This is the gateway to the Eternal, the righteous will enter there"

Winegrower stories

At some point, a new challenge was needed.

VDP Weingut Kaufmann

Winegrower stories

Even today, we like to cross borders to broaden our horizons.

Weingut Margarethenhof

Winegrower stories

For me as a nun, the biggest challenge of the wine business every year is the interplay between what nature gives us and our own ability and knowledge.

Benediktinerinnenabtei St. Hildegard

Winegrower stories

"Blanc de Noirs as a wine name is not permitted in Germany. Please contact a higher authority. "

Wilhelmshof Wein- & Sektgut

Winegrower stories

They say New York is the city where anything can happen

Weingut Peter Lauer

Winegrower stories

The pair of examiners had been standing right behind me and were also now dripping wet and befuddled.

Weingut Sturm

Winegrower stories

Winning that contest served as powerful affirmation for our approach.

Weingut Paulushof

Winegrower stories

The Elbe flooding of 2002 caught us absolutely unawares.

Weingut Lehmann

Winegrower stories

My motto is to be open to new things, to try everything at least once and to never stop learning.

Weingut Hamm GbR

Winegrower stories

Tradition can bind us — but sometimes it can be confusing as well.

Weingut Reuscher-Haart

Winegrower stories

We had to start from scratch.

Wein von 3 Alexander von Halem, Heiko Niedermeyer, Christian Werr GbR

Winegrower stories

A full recounting of our estate's history must, however, also account for the wine.

Winzerhof Löwener Mühle

Winegrower stories

As a young winemaker with no family background in wine, the mere act of going independent itself took strength and courage.

Weinkellerei Meimberg

Winegrower stories

"Life is too short to drink mediocre wine!"

Vier Jahreszeiten Winzer eG

Winegrower stories

Three generations live together under one roof, working together to build the perfect wine.

Weingut Baldes

Winegrower stories

They say that hands-on experience is better than book learning, and so back at the start of my studies in the international wine business I tried to put all that theory into practice.

Weingut Dr. Kauer

Winegrower stories

The freedom and the ability to work outside throughout the year drives us forward.

Weinbau Frédéric Fourré

Winegrower stories

As a young person that was one of the most fascinating aspects of the winegrowing life for me.

Weingut Schenk

Winegrower stories

In terror he grabbed his half-drunk bottle and fled down to the estate house.

Weingut Prof. Wartenberg

Winegrower stories

And when I sit with a glass of wine in our estate's outdoor wine restaurant and look out over the lake, a dusty open pit mine is really the last thing I think of.

Weinbau am Geiseltalsee

Winegrower stories

German Riesling and Turkish cuisine may sound like an odd combination — until you try it!

Weingut Mohr
Highlights of wine culture
Highlight

Rotkäppchen sparkling wine cellar

150 Years Creating Sparkling Wine

Learn more

Highlight

Wine and rock

Where wine and art come together?

Learn more

Highlight

Juliusspital

Home of the Embossed Bocksbeutel

Learn more
Wine hike
Hiking and Cycling Trail
Saale-Unstrut, Germany's northernmost wine-growing region, offers hikers an impressively long network of trails of almost 700 kilometers.