Bioland Wein - Rothe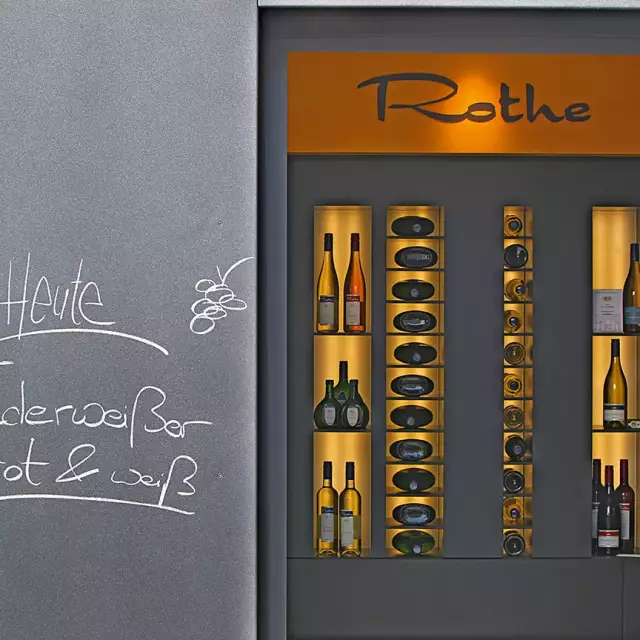 Bioland Wine-Rothe - Outstanding vinotheque in Franken
Healthy soil, healthy plants, healthy people. These are the three pillars on which the philosophy of the Rothe winery rests. The winery is located in the winegrowing village of Nordheim, 15km east of Würzburg on the so-called Wine Island, which is formed by a natural loop of the river and the Main Canal.
Nothing is artificial at Weingut Rothe, everything here is natural. When Manfred Rothe and his wife Christine took over the winery from their parents more than 30 years ago, they made a conscious decision in favor of purely organic cultivation. At that time, they were still considered exotic, even outsiders, in winegrowing circles.

From today's perspective, it was a courageous but correct step, a pioneering achievement as forerunners in the field of organic wine. "Who would want to deny today that really good wine can only be created in harmony with nature," says Manfred Rothe. The well-deserved reward: in 2015, the winery was named Germany's best producer of organic wine at the "Berlin Wine Trophy".
The vineyards where the grapes are harvested are located on the slopes above the Mainschleife. On the wind-open edges in Nordheimer Vögelein and Sommeracher Katzenkopf, shell limestone shapes the character of the Silvaner, while the more nutrient-rich soils produce fruit-driven wines in Müller-Thurgau, Bacchus and Domina. Since 2011, Manfred and Christine Rothe have also dedicated themselves to the fourth color of wine, Orange Wine. The skins, pulp and seeds of the grapes are here in fermentation for weeks. Tannins and phenols characterize the young wines, which are aged in wooden barrels. Since 2013, these wines have been made in clay amphorae according to a millennia-old tradition from Georgia. Two of these originals, called Kvevri and holding 1,200 liters, have found a place in the cellar.
The vinotheque, which was furnished two years ago to match the organic ambience, offers a pleasant atmosphere for a maximum of 25 guests with its manageable size. An ideal place to relax in the afternoon hours after a hike through the cultural landscape with vineyards and wide orchards along the old course of the Main River and to stop for a glass of wine and a snack. There are no menus, but - as they say in New German - regional Slow Food. In short: good bread, butter, cheese, sausage. Everything that the Rothes buy and eat themselves. And that's all it takes.
Maria Hör offers overnight stays as well as guided tours of the Nordheim wine region and the winery, including tastings, in her guesthouse on Zehnthofstraße, and her guest rooms, like the vinotheque, are architecturally furnished in a timeless modern style with lots of wood. The similarity is no coincidence: Maria Hör is the daughter of Manfred and Christine Rothe.
Opening hours of the Vinothek
Monday - Sunday: 10:00 - 12:00 h; 13:00 - 18:00 h
And by telephone agreement
Contact
Bioland Wein - Rothe

97334 Nordheim am Main Hauptstrasse 14 Germany