Black Riesling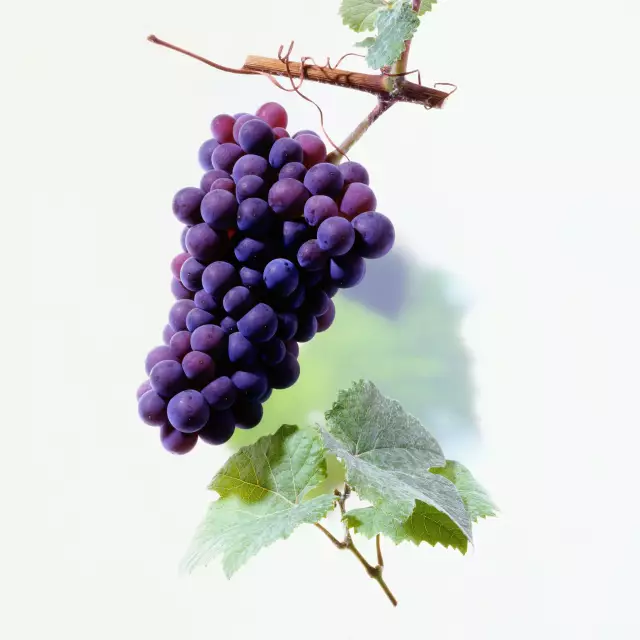 Although the name literally means "black Riesling," this variety is not related to Riesling at all.
Facts
1.698 ha

Planted vineyard area 2022
Cultivation and significance
Compared to Pinot Noir, Schwarzriesling is less demanding in terms of location and soil. This less complex variety thrives well on strong loess-loam soils. Due to its late budding, it is not particularly endangered by the May frosts. Yields and must weights are at a medium level. The yields thus correspond to the relatively low yields of Pinot Noir, but the must weight does not match its quality. After all, 70 to 80 degrees Oechsle are achieved in normal years. The acidity values are sometimes quite low.
Schwarzriesling only has growth, shape and part of its name in common with Riesling. Originating from Burgundy and known as Pinot Meunier in Alsace and Champagne, this grape variety is a cuvée partner of Champagne, especially in France, where it is vinified in white. In Germany, the cultivation of Schwarzriesling, also known as Müllerrebe, is largely limited to Württemberg. Nevertheless, the variety accounts for just under 2 per cent of the German vineyard area. In 2022, around 1,698 hectares were planted with the grape variety, with 1,201 hectares in the Württemberg growing region. Schwarzriesling is also of secondary importance in North Baden, the Palatinate, Rheinhessen and Franconia.
Vinification and flavour
Schwarzriesling wines have a ruby red to brick red colour, a fruity aroma similar to that of Pinot Noir and a rather delicate body. Both dry and fruity-sweet varieties are produced. The range is dominated by quality wines, but there are also Kabinett wines and Spätlese wines. Somewhat stronger varieties are an excellent accompaniment to pork or lamb dishes as well as mild cheeses.
History
In fact, the name of the variety can lead to the erroneous assumption that Schwarzriesling is a relative of Riesling. However, it only has late ripening and grape shape in common with Riesling. Its ancestors can be found in Burgundy. The heavily hairy (on the underside of the leaves) mutation of the Blauer Spätburgunder was probably selected centuries ago. The German synonym for Schwarzriesling is "Müllerrebe". This name refers to the hairiness of the leaves and shoot tips, which look as if they have been dusted with flour. In France, the name is "Pinot Meunier". Vine breeding in Heilbronn and Weinsberg further developed the quality of the variety, allowing it to become more widespread.
At a glance
Low soil and site requirements
Late budding, late ripening
Flavour: currants, cherries, raspberries, blackberries
What else is the black Riesling called?
Synonyms for the Black Riesling include Müllerrebe, because of its whitish shoots and leaves dusted like flour. Under the name Pinot Meunier, it can even be found in the classic Champagne cuvée together with Pinot Noir and Chardonnay.
This might also interest you