Regent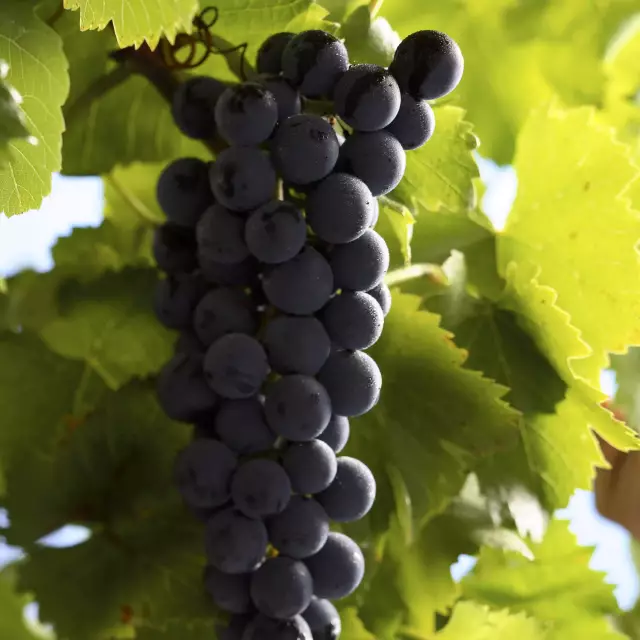 The fungus-resistant Regent variety is a new variety that was authorised in 1996 and has experienced a steady upswing since then.
Facts
1.681 ha

Vineyard area

since 1996

approval for quality wine production
Cultivation and significance
Early ripeness, an above-average must weight and high resistance to winter frosts allow the Regent to be grown even in marginal red wine locations. However, the fungus-resistant variety does not like cold, windy locations - here it tends to drizzle. Resistance to downy mildew, oidium and botrytis is good; Many chemical plant protection measures can therefore be omitted. The leaves are just as resistant to phylloxera infestation as conventional grape varieties, but the roots are susceptible, so the variety must be grafted. While the first Regent vines were still in numerous experimental vineyards, the new variety can now be found in almost all growing areas. The variety statistics show that there is great interest in planting among winegrowers. From 1997 to 1998 alone, the Regent vineyard area increased from 70 to 178 hectares. In 2002 the cultivated area was already 950 hectares and in 2006 the largest cultivated area was reached at almost 2,200 hectares. Today (2022) it is still 1,618 hectares. This means that around 1.6 percent of the German vineyard area is planted with Regent. The main areas of cultivation are in Rheinhessen, the Palatinate, Baden and Franconia.
Vinification and flavour
Although Regent wines have only been on the market for a few years, a wine style can already be identified. They are usually well-fermented, full-bodied, almost southern wines with a tasty tannin structure. The aromas of cherries or currants are reminiscent of other renowned red wine varieties. High-quality grapes are also aged in barriques. The wines are ready to drink relatively early and, depending on their quality, accompany the hearty snack platter, for example with salami sausages and well-ripened mountain cheese, as well as intensely tasting meat dishes with concentrated sauces, a leg of lamb, an oxtail ragout or a game dish.
History
Sometimes researchers manage to breed a promising grape variety. The Regent variety is one of the few successful breeds that are predicted to have a rosy future. The Institute for Vine Breeding at Geilweilerhof near Siebeldingen in the Southern Palatinate succeeded in crossing (Silvaner x Müller-Thurgau) x Chambourcin in 1967. The French variety, which is around 100 years old, provides the resistance component. The first crosses had to be selected over the years and the best individual stocks had to be propagated. The first plantings in the experimental wine farms began in 1985. Variety protection was granted in 1993, entry into the variety list took place two years later, and approval for quality wine production was granted the following year.
At a glance
Cross of (Silvaner x Müller-Thurgau) x Chambourcin from 1967
Early ripeness, above average must weight High resistance to winter frosts
Fungus-resistant variety
What fungal diseases is the Regent resistant to?
The main fungal diseases to which Regent is resistant are peronospora (downy mildew) and oidium (powdery mildew).
This might also interest you