Winery Bihlmayer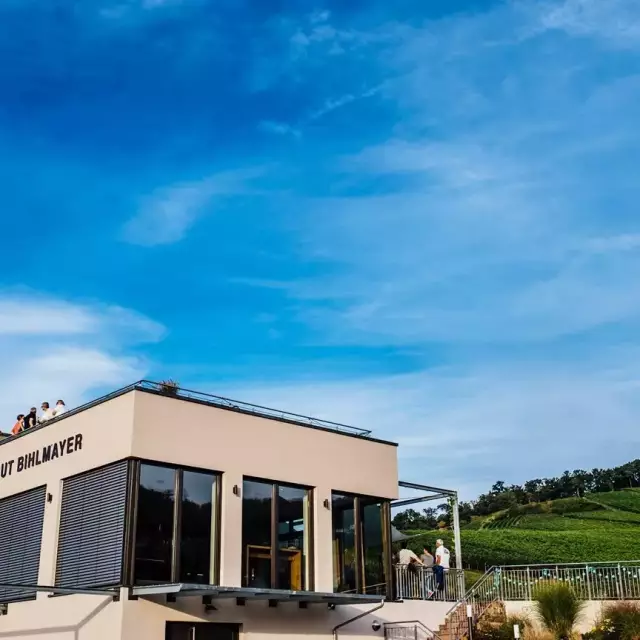 Weingut Bihlmayer - Outstanding Vinothek in Württemberg
The 70 year-old sofa is a very special souvenir. It once belonged to Fritz and Luise Bihlmayer, the co-founders of the winery. Today it is freshly upholstered in the vinothek in Löwenstein in the Weinsberg valley, a small paradise in the middle of Württemberg.
The Bihlmayers set up their new vinothek with love and dedication. The bright, open design with a sandstone colored floor and large windows overlooking the surrounding vineyards, was opened in 2015 after a year of construction. Shelves and tables are made of oak and a centre-piece is a four-meter long table made of 400-year-old beams, which originally belonged to an old barn. There is no unnecessary frills, neither in the 80 square meter vinothek nor on the roof terrace with its 120 square meters, where the family invites you to wine events and from which guests can enjoy a wonderful view of the area, a view of the old town from Löwenstein, to the upper Weinsberger valley and to the Löwensteiner Wohlfahrtsberg.
The Bihlmayer winery was founded almost 50 years ago and is still an independent family business in which four generations live together. The company is headed by Bernd Bihlmayer, his wife Sabine takes care of the wine sales and kitchen, while two of the four daughters also work in the estate. Cathrin, the oldest, is a graduate engineer of oenology and viticulture and Amelie, the youngest, as sales manager and marketing manager. Cathrin and her husband, the Palatinate wine maker Alexander Kaestel, also have two sons, Emil and Henri, who also keep their great-grandparents Doris and Herbert Bihlmayer busy on the estate. In short, a multi-generational family company! You can see that as a guest in the very personal ambience at the events, whether at a brunch on the roof terrace, the sociable courtyard and summer festivals or the popular South African wine evenings.
Typical wines from their own vineyards are Riesling, Pinot Noir, Trollinger, Lemberger, and of course Pinot Blanc and Pinot Gris. Of the 19 hectares that are cultivated, five hectares are on a steep slope of up to 50 percent. The terroir is colorful marl, gypsum keuper and reed sandstone.
The wines can be tasted every day, with the added possibility of private events and moderated wine tastings, either purely for wine or accompanied by finger food, dinner or even sophisticated gourmet cuisine. The family winery Bihlmayer is an endearing oasis in the middle of paradise.
Opening Time
Monday to Friday: 9:30–11:30 am and 13:30–7:30 pm
Saturday: 9:30–11:30 am and 13:30–16:00 pm
Sunday: 9:30–11:30 am (Apr - Dec)
Contact
Weingut Bihlmayer

74245 Löwenstein Reisacher Str. 60 Germany