Lemberger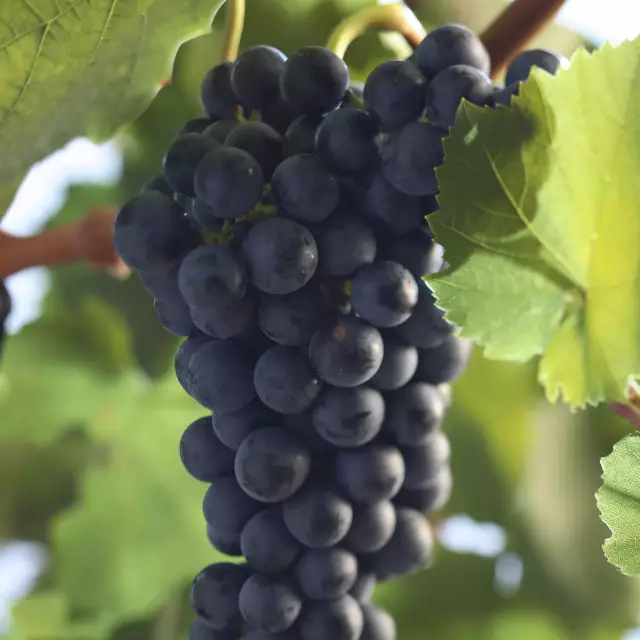 The Lemberger grape variety originated in what is now northeastern Slovenia and made its way to Württemberg in the 19th century, where it is now grown almost exclusively on around 1,800 hectares.
Cultivation and significance
For Lemberger, a gradual but steady increase in vineyard area has been observed over the past few years and decades. While in the 1980s there were just 400 - 500 hectares planted with this variety, in the mid-1990s statisticians counted just under 1,000 hectares. The Lemberger currently has a good 1,929 hectares of vineyards (2022). The variety is grown almost exclusively by the Württemberg "Wengertern" on 1,769 hectares. There it accounts for around 16 percent of the vineyard area. The Lemberger loves a warm climate and sheltered locations because it sprouts early and ripens late. The vine places the highest demands on the location and medium demands on the soil. It thrives particularly well on deep, fertile loess-clay soils and produces medium yields in terms of quantity. The Württemberg specialty achieves top quality in very good locations.
Vinification and flavour
Lembergers come in different versions. On the one hand there are the lighter, fruity wines, and on the other hand - based on late and selection qualities - the red wines rich in extracts and tannins. The wines are usually intensely black-red. On the nose they often show a restrained to strong aroma that is reminiscent of blackberries, sweet cherries, also sour cherries, plums, currants, gooseberries, elderberry, banana and cocoa or of vegetative notes such as green beans or green peppers. Depending on the method of production, the taste of the red wines is fruity or tannic and has a long-lasting aftertaste. A sufficient acid structure, extracts and tannins make the slightly dry Lemberger last for a long time. Sometimes characterized by barrique aging, it also appears with southern charm and warmth. In some cases, ambitious winegrowers and winegrowers' cooperatives develop the Lemberger with Trollinger, which is then offered as "Lemberger with Trollinger" or "Trollinger with Lemberger" depending on the variety content. Lember sparkling wine is considered a special rarity.
The light, fruity Lemberger type is ideal (like the proverbial Württemberg Quarter) for snacks and summer barbecue parties. Tannic Lembergers go well with country pies, grilled dishes, Swabian onion roast, strong roasted domestic poultry, wild birds, intensely flavored furred game, braised meat, lamb, warm roast beef, low-fat blue cheese, brine cheese (feta) and mature mountain cheese.
History
"Blauer Limberger" is the name under which the grape variety is classified, "Lemberger" and "Blaufränkisch" are the acceptable synonyms for German wines of this variety. The late-ripening Lemberger grape has its origins in the vineyards of what is now northeast Slovenia. The existence of the Lemberger in Austria is documented for the second half of the 18th century; In our neighboring country it still grows today in Burgenland and near Vienna under the name Blaufränkisch, in Hungary it is called Kékfrankos. In the 19th century, a "wine improvement society" promoted the reduction of mass production and the distribution of the best grape varieties (such as Lemberger) in the Kingdom of Württemberg. The Württemberger Lemberger was considered the house drink of the first Federal President Theodor Heuss, and Prince Bismarck and Napoleon are also said to have appreciated the variety. According to recent findings from the Julius Kühn Institute, Blaue Zimmettraube and Weißer Heunisch are the parents of Blaufränkisch.
At a glance
Cross between Blue Zimmettraube and White Heunisch
Highest demands on location requirements, medium demands on soils
Early budding, late maturing
Aroma: currants, blackberries, cherries, raspberries
Taste: fruity or tannic and with a long-lasting aftertaste, medium acid structure
Whose house drink was Lemberger?
Württemberger Lemberger was considered the house drink of Germany's first president, Theodor Heuss. Prince Bismarck and Napoleon are also said to have appreciated the variety.
This might also interest you
Tips from Japanese cuisine
JAPAN : Soy braised pork
German wines have a natural advantage when it comes to entering into perfect harmony with selected Asian dishes. With a lighter alcohol content, sometimes crisp acidity, moderate residual sweetness or soft tannins in the case of red grape varieties, they are a perfect match for a wide range of styles of Asian cuisine.