Bergsträßer Winzer eG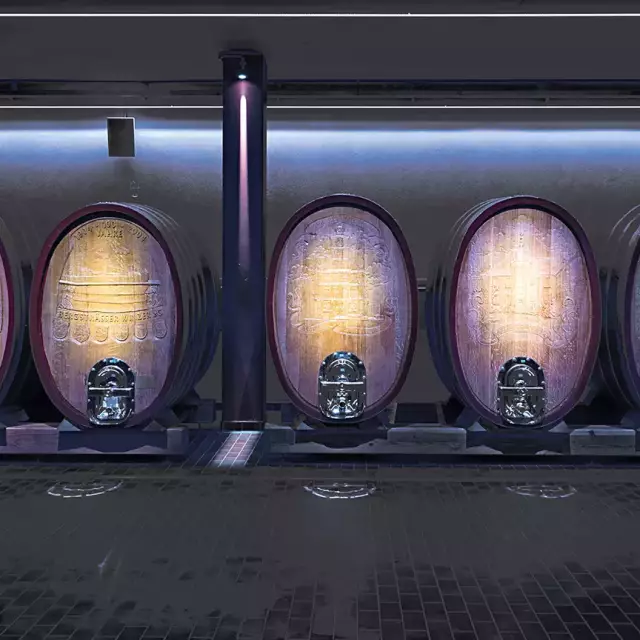 Viniversum der Bergsträßer Winzer - Outstanding Vinothek on the Hessische Bergstraße
As it continues, the "Wine and Stone" adventure trail passes the Steinkopf, the Centgericht and the Stemmler, and at the very end also the Paulus in Bensheim. But one of the highlights awaits right at the beginning of the tour in and around Heppenheim: the Viniversum, the new vinotheque of the Bergstrasse vintners, a cooperative that was founded in 1904 as the Starkenburger Winzerverein in Heppenheim and in which 399 vintner families along the Hessian and Baden Bergstrasse today cultivate 264 hectares of vines in 16 individual vineyards.
Starkenburg Castle, which is already visible from the highway and towers over the town on the Schlossberg, has always been Heppenheim's great attraction, as have the market square and the half-timbered houses that surround it. Since 2015, the district town has had an additional crowd puller: the Viniversum.
The state-of-the-art vinotheque, furnished with high-quality light oak furniture, offers 480 square meters of retail space, a separate lounge and tasting counter, as well as two function rooms for 30 and 80 people, respectively, for wine tastings and events, and two rooftop terraces with picturesque views of the city and surrounding mountains.
The dominant theme of the building - as well as the trail - is the combination of wine and stone, especially the yellow red sandstone so typical of the region. The Vinothek's assortment includes nearly 100 different wines from the members of the cooperative, which in 2002 became the first winegrowers' cooperative in Germany to be certified according to the guidelines of the German Agricultural Society. Almost half of the assortment consists of Riesling (48%), followed at a great distance by Pinot Noir (17%), Pinot Gris (9%) and Müller-Thurgau (8%).
Opening Time
Monday through Friday from 9:00 am – 6:00 pm
Saturday 9:00 am – 6:00 pm
Sunday 10:00 am – 4:00 pm
Contact
Bergsträßer Winzer eG

64646 Heppenheim Darmstädter Straße 56 (B3)