Cabernet Sauvignon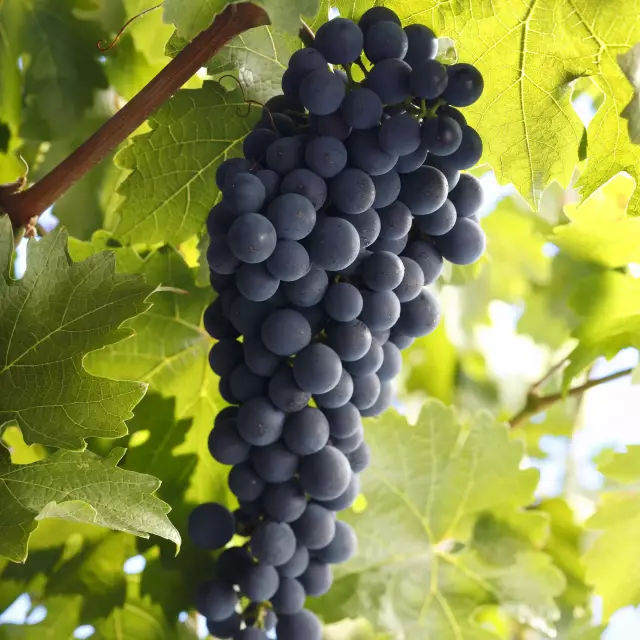 Cabernet Sauvignon is a French grape variety from the wine-growing region of Bordeaux, which was first documented in France as early as 1635.
Facts
1635

first reference

471 ha

Bestockte Rebfläche
Cultivation and significance
Cabernet Sauvignon is a French grape variety from the Bordeaux wine-growing region, which was first mentioned in a French document in 1635. Today, around 300,000 hectares of Cabernet Sauvignon are cultivated worldwide. The red wine variety thrives best in a temperate and mild climate with as few temperature fluctuations as possible and is therefore only cultivated on 483 hectares (2022) in Germany, mainly in the Palatinate (245 ha) and Rheinhessen (129 ha). Small quantities of the grape variety are also grown in Baden and on the Nahe.
Cabernet Sauvignon is a natural cross between Cabernet Franc x Sauvignon Blanc and is one of the very late-ripening grape varieties, characterised by the fact that its taste and bouquet always remain unmistakable regardless of location and climate.
Vinification and flavour
The grapes contain a particularly large number of seeds, colouring agents and tannins, which gives the wine a deep, dark colour and makes it ideal for ageing in barriques and long-term storage. Cabernet Sauvignon has started its triumphal march around the world as an ideal cuvée partner. Cabernet Sauvignon wines have a strong tannin structure and the typical flavour of blackcurrants and an aroma of green peppers. Cabernet Sauvignon is an excellent accompaniment to roast beef or lamb as well as game and pepper dishes with dark sauces.

At a glance
Natural cross between Cabernet Franc x Sauvignon Blanc
late ripening
Special feature: the bouquet and flavour of the wine remain unmistakable under a wide range of climatic and soil conditions
Aroma: fruity notes of blackcurrant with green pepper; young wines have liquorice notes, older vintages show notes of vanilla and roasted aromas
When was Cabernet Sauvignon first planted in Germany?
In 1984, the Vollmer winery from the Palatinate planted the first Cabernet Sauvignon vines even before the grape variety was approved, as it was already in prospect. As a result, the winemaker was fined and the vines removed before the grape variety was finally officially approved in 1987.
This might also interest you