Fondue & Wine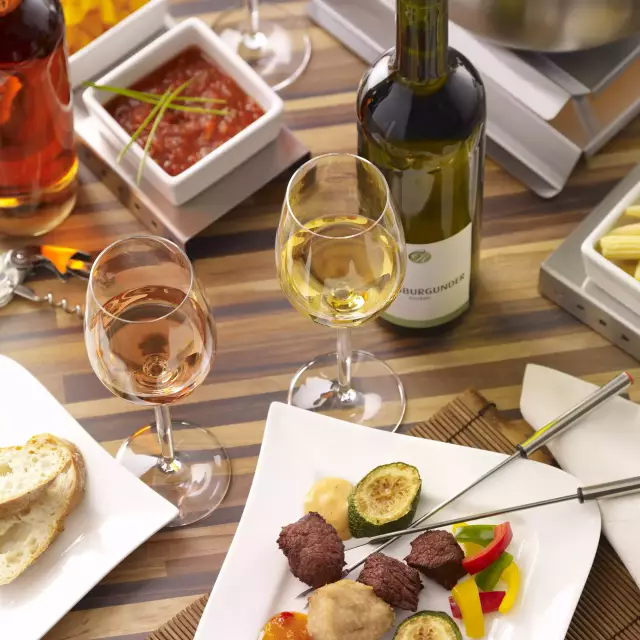 Long winter evenings and New Year's Eve are excellent opportunities for a fondue or raclette in delightful company. And the enjoyment is enhanced if the culinary diversity is complemented by suitable wines. Ernst Büscher of Wines of Germany (DWI) recommends: "Ideally, you should already consider your guests' wine preferences when you choose the style of the fondue."
Facts
100 °

hot grease or broth

∞

variations to choose
A great variety of nuances is added by the many potential side dishes and condiments, which should also be considered when you chose a suitable wine. "The sauces are frequently more dominant in taste than the meat you are using," Ernst Büscher explains. A fruity, slightly hot chutney, for instance, makes for a harmonious combination with a semi-dry Riesling. However, rich mayonnaise-based sauces correspond ideally with powerful Pinot Gris, and fragrant dips with an Asian touch like to enter into a playful liaison with fruity Pinot Blanc, Silvaner or a fresh Pinot Noir rosé.
The broad range of available fondues and raclettes offers a great diversity of exiting potential combinations with German wines. Wines of Germany (DWI) offers you a few guidelines for the suitable choice of wine:
Cheese fondue
is mostly prepared with melted Gruyère, white wine and spices. A powerful Pinot Gris or Pinot Blanc, for instance from Baden, is the right companion for this rich dish. Traditional side dishes for the cheese fondue are mixed pickles, small gherkins and sometimes Bündnerfleisch. The acidity of the pickles makes the fondue more easily digestible, but it has to be taken into account as well when choosing the right wine. The acidity is nicely offset by a Rheingau Riesling with a little residual sugar. This wine also adds a fresh touch when you're enjoying the cheese all by itself.
Meat fondue
often offers a broad selection of beef, pork or poultry. The pieces of meat are cooked in hot oil and seasoned with a variety of dips. Within this broad range of aromas, a truly versatile wine such as a fruity-fresh Pinot Gris from the Pfalz is recommended. A Pinot Noir Weißherbst is another wine that can play alongside all kinds of meat fondue. Particular care needs to be taken if you're serving hot dips. The spiciness increases the perception of alcohol. Thus hot dips should be accompanied by light wines such as Riesling or Pinot Blanc Kabinett. Suitable red wine companions for spicy dishes are Pinot Noir or Lemberger, for instance from Württemberg.
Chinese fondue
This variety uses a mild broth rather than hot oil. When cooked in the broth, the meat does not develop roast aromas and retains a milder taste. As a rule, the choice of dips reflects this mildness. A suitable wine should be able to play along with a broad range of aromas. A Silvaner or Portugieser Weißherbst from Rheinhessen is particularly suitable.
Fish fondue
a delicate variety of companionable enjoyment. In a fish fondue, you use firm-fleshed kinds of fish, but also prawns, shrimps or other seafood varieties. These are quickly cooked in a fish fond. In this case, wine recommendations focus on white wines, since their aromas are well suited to accompany the subtle diversity of aromas of the fish and dips. Classics such as Moselle Riesling are particularly good with zander, trout and redfish. Delicate monkfish and fresh prawns like to be accompanied by Pinot Blanc from the wine-growing regions Palatinate or Saale-Unstrut. In the company of richer dips – such as the popular aioli – a heartier Silvaner from Franconia works well.
Where does the term fondue come from?
Fondue derives from "fondre", French for "to melt", and is originally a dish with melted cheese.
More recipe ideas
Tips from Japanese cuisine
JAPAN : Soy braised pork
German wines have a natural advantage when it comes to entering into perfect harmony with selected Asian dishes. With a lighter alcohol content, sometimes crisp acidity, moderate residual sweetness or soft tannins in the case of red grape varieties, they are a perfect match for a wide range of styles of Asian cuisine.
1 kg Pork belly
120 ml German white wine
80 ml Soy sauce
80 ml Honey
50 ml Water
4 cm Leek (green part)
3 Ginger (thin slices)
4 Boiled eggs
1 Vegetables such as Chinese cabbage
PREPARATION
1. Cut the pork belly into large pieces to fit your pan.

Put the frying pan on high heat. When it gets hot, add pork belly, browning all sides, and then put in a saucepan. Add enough water to completely cover the meat.

Add ginger and leek and put on high heat.

2. When it starts to boil, turn the heat down low and boil for around 1.5 hours until the meat is soft (test with a fork). If it is drying out, add more water and let the dish boil slowly.

3. Let the soup cool down, then remove the meat and cut into blocks of about 4-5 cm square. (If you cool it down well at this stage, the meat will not become dry.)

4. Put meat and all the other seasoning except soy sauce, into a new pan (which fits the meat neatly) and heat. When it boils, turn the heat to low and cook for around 5 mins, then add soy sauce.

5. Place a plate, which fits snugly into the pan, directly on the meat (a drop lid is also acceptable). Boil for about 30 minutes.

6. Remove pork from the pan, put the boiled eggs and green vegetable to season them, and boil the broth to half the volume.

Put the meat back in and mix well with the broth. Put meat on a plate, add boiled egg or boiled green vegetables and pour over broth.
Lemberger (trocken)
Dornfelder (trocken)
Spätburgunder / Pinot Noir (trocken)
Lemberger (halbtrocken & feinherb)
Dornfelder (halbtrocken & feinherb)
Spätburgunder / Pinot Noir (halbtrocken & feinherb)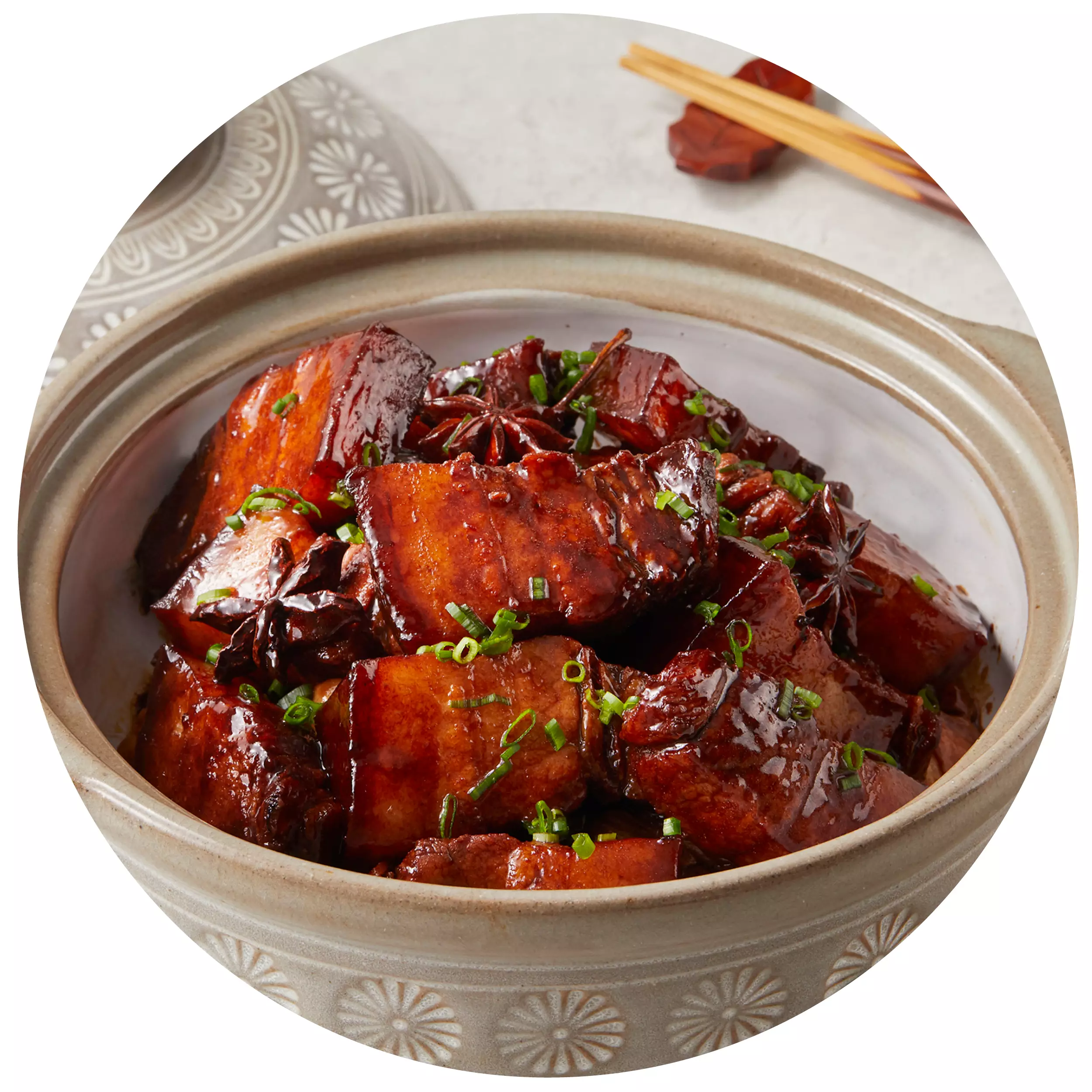 Tips from Asian cuisine
CHINA : Dumpling
German wines have a natural advantage when it comes to entering into perfect harmony with select Asian dishes. With a lower alcohol content, sometimes crisp acidity, moderate residual sweetness or soft tannins in red grape varieties, they are a perfect match for a variety of styles of Asian cuisine.
500g Flour
240ml Warm water
400g Minced pork
100g Celery
1 TL Salt
1/2 TL Sugar
3 EL Light soy sauce
1 EL Oyster sauce
2 EL Oil
100 ml Water
PREPARATION
MAKE DUMPLING WRAPPERS

Pour flour into a large bowl, add 240ml warm water and stir until well-combined.

Wash and dry hands. Dip in some dry flour and knead the dough until it becomes smooth.

Place the dough in a bowl, cover with plastic wrap and set aside for 1 hour.
MAKE DUMPLING STUFFING

Mix minced pork, salt, sugar, light soy sauce, oyster sauce, oil and 100ml water, stir well and refrigerate for 2 hours.

Chop the celery and pat dry with kitchen towel.

Take the pork out of the fridge, add chopped celery and stir well.
MAKE DUMPLINGS

Divide the dough into 8g pieces.

Rub the dough with a rolling pin and press into a circle about 7cm in diameter.

Take 15g stuffing and put it in the center of the dumpling wrapper. Fold the wrappers, use fingers to press the edges together.
BOIL DUMPLINGS

Fill in a clean pot with water, and bring to the boil. Pour in an appropriate amount of dumplings according to the size of the pot, and boil them until they rise to the surface.

Take out the dumplings and serve.
Pinot Blanc (trocken)
Pinot Blanc (halbtrocken & feinherb)
Silvaner (trocken)
Silvaner (halbtrocken & feinherb)
Spätburgunder / Pinot Noir (trocken)
Spätburgunder / Pinot Noir (halbtrocken & feinherb)