Pumpkin & Wine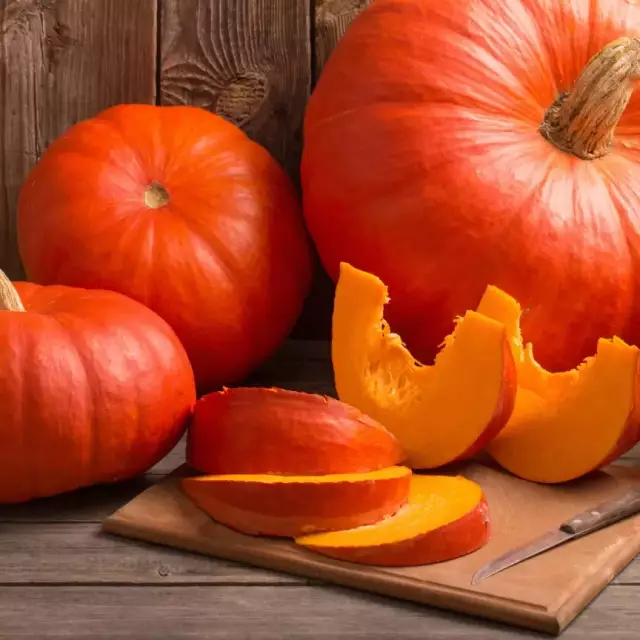 Whether you require a companion for delicately flavoured wild pumpkins: In the cellars of the German winemakers, a parade of fantastic wines is ready to give a brilliant performance on your table. And Wines of Germany has a few simple guidelines for you to follow – to avoid even the slightest hints of disharmony creeping into these alliances.
Facts
90 %

water content

29,14

calories per 100 gram

200

pumpkin varieties are suitable for consumption
White wines with pumpkin dishes
The subtle flavours of pumpkins, often reminiscent of nuts or young beets, are mild and suited to a wide variety of dishes: Delicate soups; heartily seasoned, exquisite vegetable side dishes – and even extraordinary roasted salads with lemon peel and balsamic vinegar. Delicately fruity Pinot Blanc and slightly mature Silvaner are the best companions for pumpkin as a main dish. The flavours of these culinary partners complement each other well. As a side dish alongside meat, a heartily seasoned pumpkin, such as the expressive Hokkaido, is an ideal companion for light red wines like Portugieser or fresh Trollinger. They are suitable playmates for the pumpkin's subtle fruity flavours but also form a delicious alliance with heartier dishes.
When roasted, pumpkins develop pronounced flavours that are slightly reminiscent of edible chestnuts. In this guise, they go very well with expressive red wines such as Dornfelder or Lemberger.
In desserts, pumpkins show off their sweet side. However, there are suitable wine companions for this manifestation as well. Pumpkin pie with caramelized nuts pairs delightfully with a noble-sweet Riesling Beerenauslese. And for another true culinary epiphany this autumn: Try slightly fruity pumpkin pastry with a mild Riesling Auslese.
Pumpkin Varieties
Pumpkin side dishes, prepared with the orange-coloured classic varieties, love to seduce gently. The pumpkin flavours are quite delicate, restrained and easily dominated by the more expressive wine varieties. Consequently, delicate flavours are in high demand. Silvaner, Rivaner and Chasselas from Baden are perfect companions for lightly seasoned pumpkin side dishes. The flavours of the light-yellow butternut also enjoy being drenched in a delicate Pinot Gris with its harmonious nutty-buttery aromas. Pinot Gris also makes for a delightful alliance with white pumpkins and their flavours reminiscent of young beets. Those are also well rounded off by classic Rieslings.
Sweet and sour pumpkin preserves are a popular variation and a real challenge for a wine companion. A semi-dry Riesling or Gewürztraminer is the perfect partner for this potpourri dominated by acidity and sweetness. And even venturing a combination with a mild Riesling Spätlese can be a delectable choice.
Pumpkin desserts offer a wide variety of flavours and are exceptionally flexible. Try slightly fruity pumpkin pastry on an afternoon, with a mild and fruity wine such as Riesling Auslese as the companion of choice. Or tickle your taste buds with the opulence of pumpkin cake prepared with almonds and caramelized nuts, which prefers a wine companion that is its equal in seductive sweetness with spicy aromas. Pair it with a delicate Riesling Beerenauslese and indulge yourself with a true culinary highlight.
Can pumpkin be prepared sweet?
Yes! Whether as a cake, dessert casserole or sweetly preserved and paired with Riesling cream - pumpkin is a real all-rounder even in its sweet version. Sweet and sweet wines, such as Spät- or Auslesen, are recommended for these dishes.
More recipe ideas
Tips from Japanese cuisine
JAPAN : Soy braised pork
German wines have a natural advantage when it comes to entering into perfect harmony with selected Asian dishes. With a lighter alcohol content, sometimes crisp acidity, moderate residual sweetness or soft tannins in the case of red grape varieties, they are a perfect match for a wide range of styles of Asian cuisine.
1 kg Pork belly
120 ml German white wine
80 ml Soy sauce
80 ml Honey
50 ml Water
4 cm Leek (green part)
3 Ginger (thin slices)
4 Boiled eggs
1 Vegetables such as Chinese cabbage
PREPARATION
1. Cut the pork belly into large pieces to fit your pan.

Put the frying pan on high heat. When it gets hot, add pork belly, browning all sides, and then put in a saucepan. Add enough water to completely cover the meat.

Add ginger and leek and put on high heat.

2. When it starts to boil, turn the heat down low and boil for around 1.5 hours until the meat is soft (test with a fork). If it is drying out, add more water and let the dish boil slowly.

3. Let the soup cool down, then remove the meat and cut into blocks of about 4-5 cm square. (If you cool it down well at this stage, the meat will not become dry.)

4. Put meat and all the other seasoning except soy sauce, into a new pan (which fits the meat neatly) and heat. When it boils, turn the heat to low and cook for around 5 mins, then add soy sauce.

5. Place a plate, which fits snugly into the pan, directly on the meat (a drop lid is also acceptable). Boil for about 30 minutes.

6. Remove pork from the pan, put the boiled eggs and green vegetable to season them, and boil the broth to half the volume.

Put the meat back in and mix well with the broth. Put meat on a plate, add boiled egg or boiled green vegetables and pour over broth.
Lemberger (trocken)
Dornfelder (trocken)
Spätburgunder / Pinot Noir (trocken)
Lemberger (halbtrocken & feinherb)
Dornfelder (halbtrocken & feinherb)
Spätburgunder / Pinot Noir (halbtrocken & feinherb)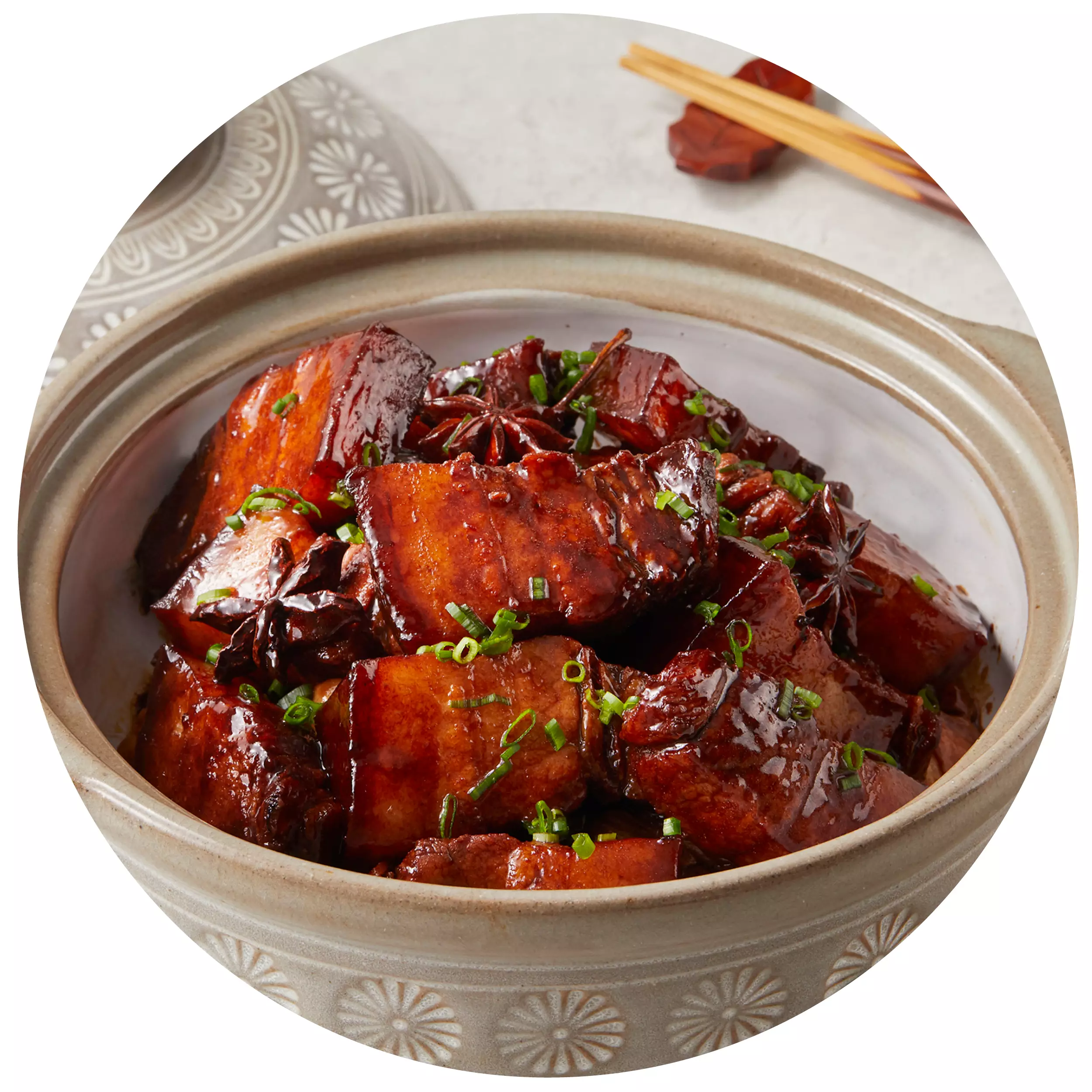 Tips from Asian cuisine
CHINA : Dumpling
German wines have a natural advantage when it comes to entering into perfect harmony with select Asian dishes. With a lower alcohol content, sometimes crisp acidity, moderate residual sweetness or soft tannins in red grape varieties, they are a perfect match for a variety of styles of Asian cuisine.
500g Flour
240ml Warm water
400g Minced pork
100g Celery
1 TL Salt
1/2 TL Sugar
3 EL Light soy sauce
1 EL Oyster sauce
2 EL Oil
100 ml Water
PREPARATION
MAKE DUMPLING WRAPPERS

Pour flour into a large bowl, add 240ml warm water and stir until well-combined.

Wash and dry hands. Dip in some dry flour and knead the dough until it becomes smooth.

Place the dough in a bowl, cover with plastic wrap and set aside for 1 hour.
MAKE DUMPLING STUFFING

Mix minced pork, salt, sugar, light soy sauce, oyster sauce, oil and 100ml water, stir well and refrigerate for 2 hours.

Chop the celery and pat dry with kitchen towel.

Take the pork out of the fridge, add chopped celery and stir well.
MAKE DUMPLINGS

Divide the dough into 8g pieces.

Rub the dough with a rolling pin and press into a circle about 7cm in diameter.

Take 15g stuffing and put it in the center of the dumpling wrapper. Fold the wrappers, use fingers to press the edges together.
BOIL DUMPLINGS

Fill in a clean pot with water, and bring to the boil. Pour in an appropriate amount of dumplings according to the size of the pot, and boil them until they rise to the surface.

Take out the dumplings and serve.
Pinot Blanc (trocken)
Pinot Blanc (halbtrocken & feinherb)
Silvaner (trocken)
Silvaner (halbtrocken & feinherb)
Spätburgunder / Pinot Noir (trocken)
Spätburgunder / Pinot Noir (halbtrocken & feinherb)