Weinmanufaktur Walporzheim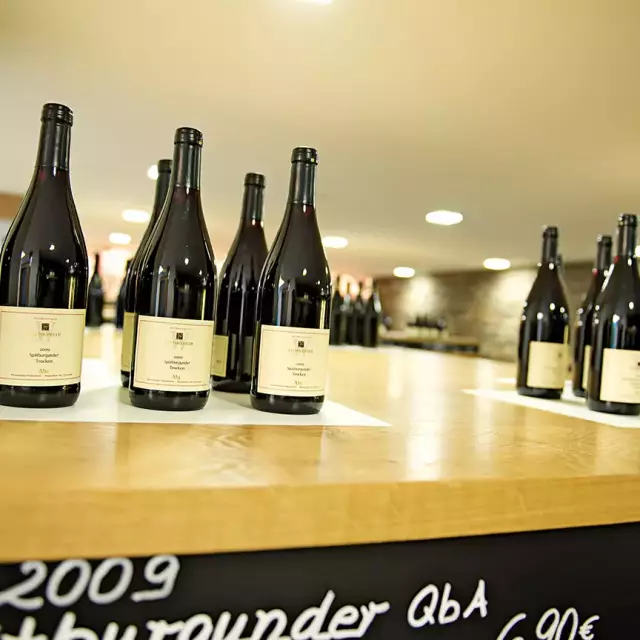 Outstanding Vinothek on the Ahr
In the far northern reaches of Rheinland-Pfalz sits a picturesque stretch of land known as Walporzheim an der Ahr. For as long as anyone can remember, wine production and the sale of wine have driven the town's economy. During Napoleon's reign, the local wine was used to produce a sparkling product, and indeed "Sparkling Wine from Walporzheim" proved a fine seller in England. As a district of the city of Bad Neuenahr-Ahrweiler, Walporzheim remains highly popular among today's wine experts and aficionados.
Its crown jewel is the Weinmanufaktur Walporzheim, created in 2009 as a fusion of the world's two oldest winegrower collectives, the Winzergenossenschaft Walporzheim (founded in 1871) and the Winzergenossenschaft Mayschoß-Altenahr (founded 1868). The community collectively cultivates 150 hectares of vineyards. Its calling cards are reds, especially Spätburgunder and Frühburgunder. Yet the Portugieser, Regent and Domina are also known for producing fine wines. Several Weißherbst wines, Blancs de Noir and other white wines, primarily from plots in Altenahr and Mayschoß, round out the portfolio.
The Manufaktur's newly created wine range will be sold exclusively to private customers, restaurants and classic retailers from its bright and modern vinothek.
All wines are vinified by Rolf Münster in Mayschoß, who since starting here as cellarmaster in 1988 has earned numerous awards and accolades for his skill and artistry. The Weinmanufaktur offers a broad range of fascinating wine tastings — including a guided hike along the 35-kilometer Red Wine Trail, a vineyard tour of the hillsides around Walporzheim and themed events like "Chocolate & Wine," which provides delicious beverages and sweets in perfect pairings.
The following is a selection of Weinmanufaktur's recent awards and distinctions: In its tasting competition, Gourmet magazine "Selection" tabbed it as the "Top Winegrower Collective 2016" for the Ahr winegrowing region; it also earned top billing in a tasting of German winegrowing collectives in the trade journal "Weinwirtschaft."
At the DLG's German Wine Awards, the 2014 Ahr Rivaner earned the Gold Extra prize. The 2012 Spätburgunder Pinot Noir "R" trocken claimed third place in "Vinum" magazine's 2015 German Red Wine Prize in the Spätburgunder category.
A visit to "Vinetum" restaurant, which opened in 2009, is strongly recommended. Host Gary Grimminger and his family stand at the ready with fine cuisine and wines from the Manufaktur. In nice weather, be sure to enjoy a relaxed seat between olive trees and oleander in the locale's Mediterranean inner courtyard.
Opening Time
Monday through Friday from 9:00 am – 6:00 pm
Saturday, Sunday and Holidays from 10:00 am – 6:00 pm
Contact
Weinmanufaktur Walporzheim

53474 Bad Neuenahr-Ahrweiler Walporzheimer Str. 173 Germany