Weingut Scheidgen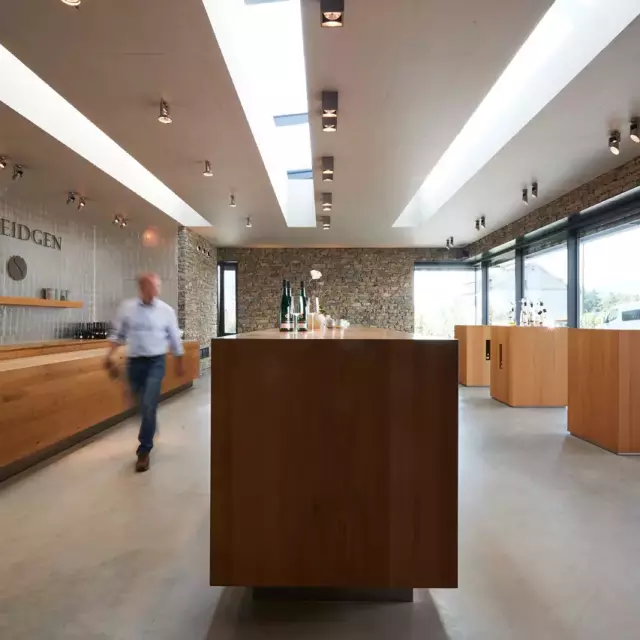 Weingut Scheidgen - Outstanding Vinothek in Mittelrhein
Sometimes plans are made just to be discarded. After Georg Scheidgen and his family had collected ideas for their own vinothek over a long period - while traveling through Franconia, the Wachau and Tyrol - they realized that few of them really suited their own winery in Hammerstein in the Middle Rhine region. So, the Scheidgens developed their own creative concepts for their vinothek, thus ensuring a harmonious ambience that fits perfectly to both them and the beautiful surrounding landscape - exemplified in the walls made of magnificent, layered greywacke stones, which are reminiscent of the characteristic vineyard walls of the region.
"The rock was processed hundreds of years ago on the local steep slopes," explains the 58-year-old, who consciously wanted to have the terroir cited in the design by the carefully selected material. It is logical then that oak was not only used for the inviting revolving door in this vinothek, but also for the furniture. The pure wood exudes a pleasant calm, particularly in contrast to the raw greywacke, with which the interior walls were also clad after some consideration. The tree from which this comes was transported "in one piece" from Austria.
"It was particularly important to us to create a very timeless space," says the winemaker. In 1979, Georg Scheidgen joined his parents' business and converted it completely to viticulture - exactly 200 years after it was founded as a mixed agricultural operation. Starting with three hectares of vineyards, the Scheidgen winery now has 24 hectares of land, mostly on steep slopes. "For this reason, we do a lot of things by hand." Especially the multiple sorting process of the grapes, the precision of which is also responsible for the special aroma of our wines. At around 50 percent, our focus is on Riesling, the classic grape here, but the range also includes Burgunder (Pinot) varieties and Müller-Thurgau.
The vinothek in the middle of the vineyards has quickly become a permanent marketing tool for a total of 30 types of still and sparkling wine per season. "Every day, and especially on the weekends, we not only have many regular customers as our guests, but also hikers who unpack their breadrolls here and take a break with us," explains the winemaker. If you like, you can also use one of the "Fassfeuer" - wooden barrels with stainless steel on them - as a standing table in the courtyard. These visitors are also the reason why the Scheidgen family only offer organized wine tastings occasionally and prefers to forego other events such as courtyard festivals altogether.
You simply don't want to deny loyal guests the opportunity to enjoy a glass of their favourite wine whilst drinking in the incomparable view of the surrounding vineyards, the idyllic small village, and in the distance, the ruins of Hammerstein castle.
Opening Time
Monday - Saturday: 8:00 am – 7:00 pm
Sunday and Holidays: 9:30 am – 6:00 pm
Opening Time Monday - Saturday: 8:00 am – 7:00 pm Sunday and Holidays: 9:30 am – 6:00 pm
Contact
Weingut Scheidgen

56598 Hammerstein Hauptstraße 10 Germany