Meyerhof - Weingut, Vinothek & Gästehaus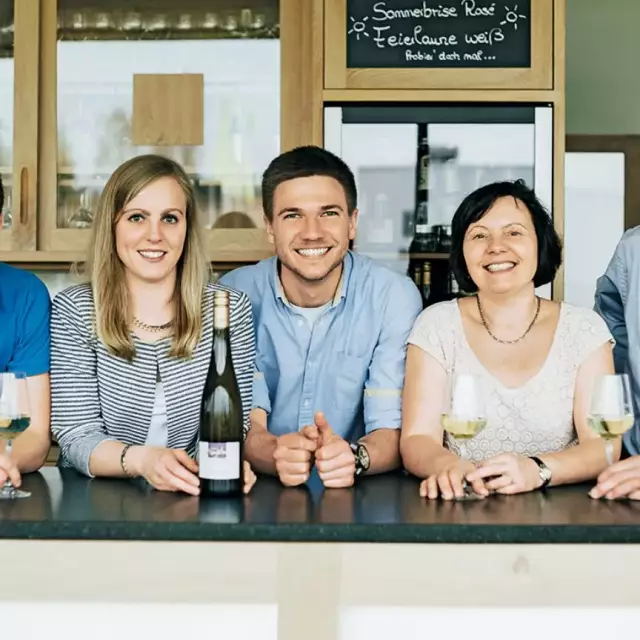 Weingut Meyerhof - Outstanding Vinothek in Rheinhessen
It's not really a bright red line running through the vinothek. More of a purple one. Purple has been the dominant color at Weingut Meyerhof for over 20 years, appearing prominently on their corporate logo and labels on the wine bottles. The color has also found a home in the new vinothek opened in 2013, on the shelves and the leather seats. It combines seamlessly with the other elements, including the dark granite slab of the counter, the high-quality wood in the rest of the room, and the pleasant background lighting that pull together into a wonderfully homogeneous overall concept.
Weingut Meyerhof in the Rheinhessen town of Flonheim prides itself on seven generations of family ownership. This particular site has actually only hosted the estate since the early 1980s, when Artur Meyer built new buildings here on the edge of town — and gave the estate its name. Today his nephew Bernd Hammer and his wife Daniela run the operation on twelve hectares of vineyards. Daughter Alina joined them in 2013 after studying oenology at Geisenheim, together with her partner Sebastian Engel. The result is a perfect combination of experience and tradition from the parents and the next generation's new ideas and fresh, dynamic energy.
The family's motto: "Have fun making wine and that fun will carry into the bottle." And you can really taste it. The winegrowing family has chosen not to focus on specific varieties, although there is a palpable affinity for Riesling and Grauburgunder. Catalog highlights include the popular Cabernet Sauvignon/Merlot blend and the unique single vineyard Riesling from the Uffhofer La Roche site.
But don't take other peoples' word for it. Try the wines for yourself direct from the source, in the 140-square-meter Meyerhof vinothek. Every Friday at 5:30 pm the Hammers bring their guests' week to a perfect close, with a wine tasting covering eight wines, a tour of the estate and cellar and then a classic Rheinhessen snack plate. The family also offers hikes and covered wagon tours up to the Trullo, the round vineyard hut.
Their new vinothek also hosts events from the "Wein meets..." series — meaning asparagus in spring, grill evenings in summer and the local Federweiße specialty on its release day in autumn. If the thought of moving on after a tasting is too daunting, no problem there either: the family opened a new guest house back in May 2014, with ten double rooms decorated in a friendly, modern atmosphere. And, of course, purple pillowcases.
Opening Time
Monday to Friday from 9:00 am – noon and 2:00 – 6:00 pm
Saturday from 10:00 am - 5:00 pm
or request an appointment by phone
Opening Time Monday to Friday from 9:00 am – noon and 2:00 – 6:00 pm Saturday from 10:00 am - 5:00 pm or request an appointment by phone
Contact
Meyerhof - Weingut, Vinothek & Gästehaus

55237 Flonheim Meyerhof (Außerhalb) Rheinland-Pfalz Germany