Gut Hermannsberg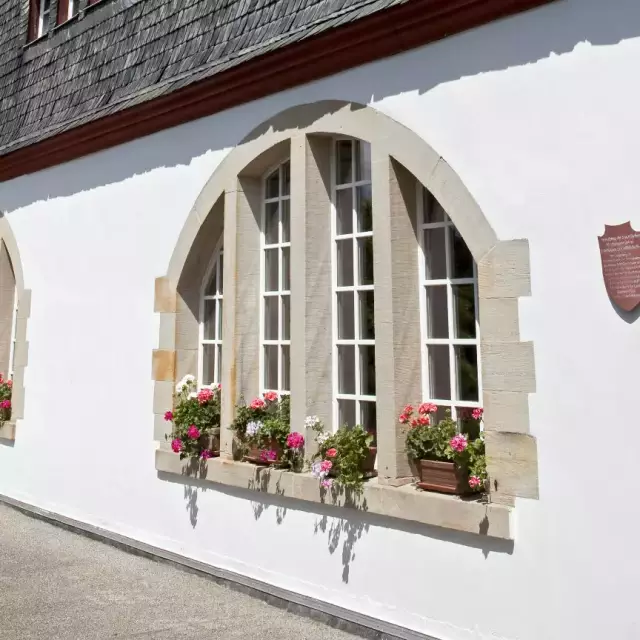 Where now exceptional Riesling grapevines grow, copper ore once was mined. Until 1901, the vineyard site "Schlossböckelheimer Kupfergrube" was exactly what the name says: a copper mine. Now it's known for its liquid gold rieslings.
The border between the Prussian and Bavarian kingdoms formerly ran along the Nahe, here at the crossing of the Hunsrück hills and the Palatinate highlands. The Weinbaudomäne Niederhausen-Schlossböckelheim was founded on the Prussian side in 1901. With an eye to its previous use, the site was dubbed the "Kupfergrube" (copper mine).
It was the Romans who, according to sources, brought viticulture to the valley of the Nahe river. In written documents, viticulture is first mentioned in 1128 in a property list of the Rupertsberg Monastery in which vineyards are recorded in the community of Böckelheim. Over the years however, viticulture suffered heavily from pests and disease, especially phylloxera, and many winegrowers had given up, abandoning their sites.
Then in 1901, the Prussian state started to buy the steep, rocky and fissured slopes along the Nahe river with an aim to setting an example for high quality viticulture that would save the reputation of German wine. Yet even before the first Riesling was planted here in 1903, the cliffs had to be exploded off the steep, rutted terrain and 100,000 cubic metres of soil had to be cleared away by hand!
An unbelievable undertaking, but one that soon literally bore fruit: just eight years later the weathered, mineral-rich volcanic soil, notable for its significant slate composition, produced its first attention-grabbing vintage. The estate's Riesling Trockenbeerenauslese from the legendary 1921 vintage topped out at an unfathomable 308 degrees Öchsle. This propelled the estate to one of the best in Germany. It was also one of the founding fathers of the VDP in 1910, the Association of German Quality and Prädikat Wine Estates, and still remains a member today.
When the State of Rhineland-Pfalz took over in 1946, the government estate remained a place of research for wine quality and wine cultivation. For the first time, the researchers experimented with cold fermentation, fertilizers, pesticides and bred the famous Riesling clone DN 500. Still today, that clone is appreciated for his high must weights and harvest quantities while at the same time providing fruit-dominant wines.
In 2009 it was bought by the entrepreneur Jens Reidel and now bears the name Gut Hermannsberg after the famous site Niederhäuser Hermannsberg. Six of the vineyards are classified as Premier Cru (Erste Lage in the VDP-classification), and planted with 95 percent Riesling. The old cellar and administrative building from 1910 were restored to their former Art Nouveau splendour. Two cellars underneath stretch to 90 meters, and house the modern vinification equipment as well as many a wine treasure. The Schatzkammer (treasure vault) next to the cellar with the oak barrels, has wines dating back to 1907.