Kertzer Woodlands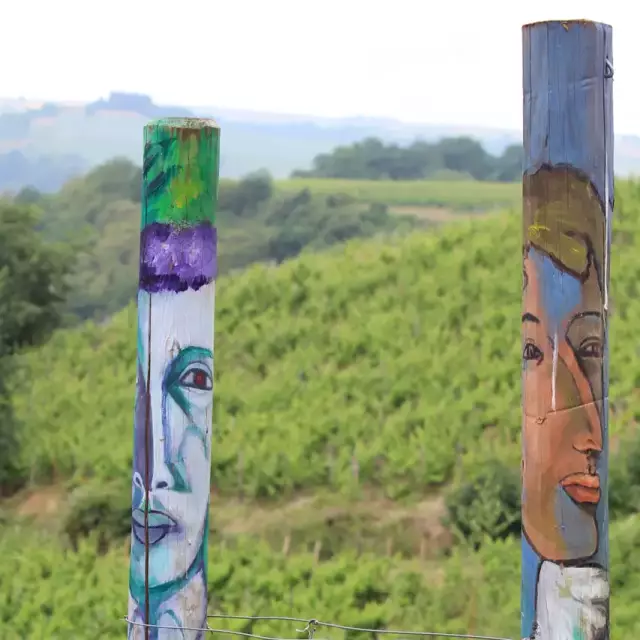 The ideal starting point is the parking lot at the community center in Schulstraße in Niederhausen/Nahe.
Facts
4,5 km

Distance

1 hour

Duration

medium

Difficulty level
Kertzer Woodlands, Niederhausen
The ideal starting point is the parking area at the community center in Schulstrasse in Niederhausen / Nahe. From there, head about 100 m to the west where you will reach the Remischenstein and the entrance gate to the Niederhausen Wine Trail. This promising circular route through the vineyards of Niederhausen offers numerous viewpoints and wonderful resting and information areas and is easy to walk on with normal footwear in every season. It is also suitable for a leisurely bike ride.
The trail climbs about 90 m to reach the highest point of 220 m above sea level, halfway along. Anyone who looks carefully through the vineyards will discover artistically painted vineyard posts. The varied tour leads through the vineyards Rosenheck, Klamm and the world-famous Hermannshöhle.
Not far from the highest point there is a rest at the barbecue area in the grove of Kertzer Wäldchen, which is especially welcome in summer to rest your tired legs under the shady trees. Sun-lovers can run downhill from here for about 50 m and take in the 'Best Vineyard View Nahe 2020', letting your eyes roam the southwest over the Nahe valley and hills. There are a couple of recliners where you can sit back and rest your legs and soul, basking in the magnificent view.
From here on, the path leads gently downhill for around 1.5km to reach the starting point at the parking area of the community center.