Winery Andreas Männle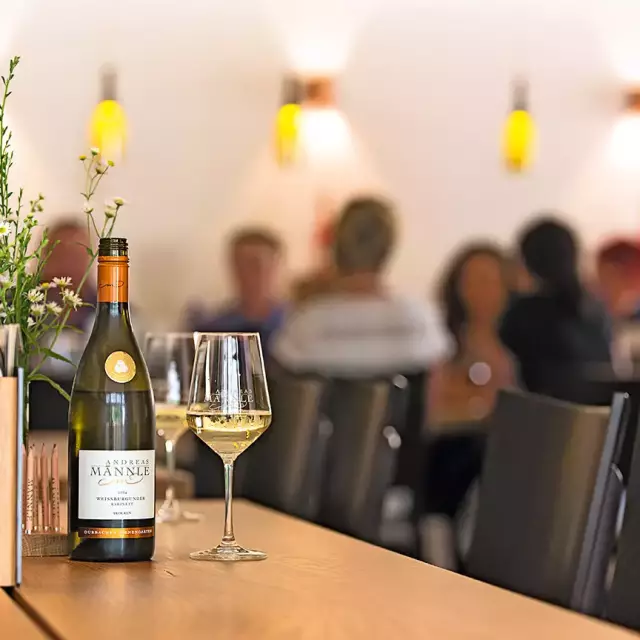 Weingut Andreas Männle - Outstanding Vinothek in Baden
A long, extended space with sharp contours. A thrilling contrast between old stone walls and black wall cladding, as well as the wood of the many parquet floors. Wine bottles as lamp shades. Yes, the vinothek at Weingut Andreas Männle in Durbach radiates stylish elegance and modern chic.
Durbach on the Baden Wine Trail sits in the winegrowing district of Ortenau. An outlier zone between the Rhine Plains and the Black forest, Durbach is nestled idyllically in a region with lush hillside vineyards and 42 side valleys. First officially mentioned in 1561, the estate has been in the possession of the Männle family for almost a century. In 1919, Andreas Männle, whose estate still bears his name today, laid the first cornerstone of the estate's subsequent history.
Today Cellarmaster Alfred Männle works with his son Thomas as the third generation to maintain the family winegrowing tradition, producing fine fruit and wine distillates. In 2008, 2013 and 2014 they received the coveted award as "Best Cellarmasters in Baden," together with Anette Bähr. Other honors over the past 26 years include 473 gold medals and 47 silvers from the Baden State Wine Awards. The estate has also received the State Award of Merit 17 times for its outstanding performances.
The heart of the estate is the 14.5 ha "Bienengarten" vineyard, with its stony weathered granite soil that collects and stores warmth from the sun during the day. Varieties that thrive particularly well here include Spätburgunder, Klingelberger (a local term for Riesling from central Ortenau), Grauburgunder and Clevner, Müller-Thurgau, Chardonnay and Scheurebe, as well as Weißburgunder and Gewürztraminer.
Grapes for the "Bienengarten" wines are 100% hand harvested to ensure the best possible selection at the ideal degree of ripeness. After a cool and restrained fermentation, the whites are filled into stainless steel tanks or barrique and allowed up to twelve months on the fine lees, producing an aromatic wine experience. Following malolactic fermentation, the red wines are also allowed up to a year on the fine lees.
Yet the "Bienengarten" is more than just a harvest site; it's also the heart of festival time. The Männles hold a series of celebrations, events and leisure activities throughout the year. On fine summer evenings, the action is often at "s'Feschd," where tarte flambée and bratwurst are accompanied by sublime wines, but there are also happenings such as the Durbacher Weintag and 5-km nordic walking tours.
Opening Time
Monday through Friday from 9:00 am – noon and 1:30 – 6:00 pm
From March through December:
Saturday from 10:00 am - 4:00 pm
On Sundays and holidays from 10:00 am – noon
Contact
Winery Andreas Männle

77770 Durbach Heimbach 12 Germany