Weingut Idler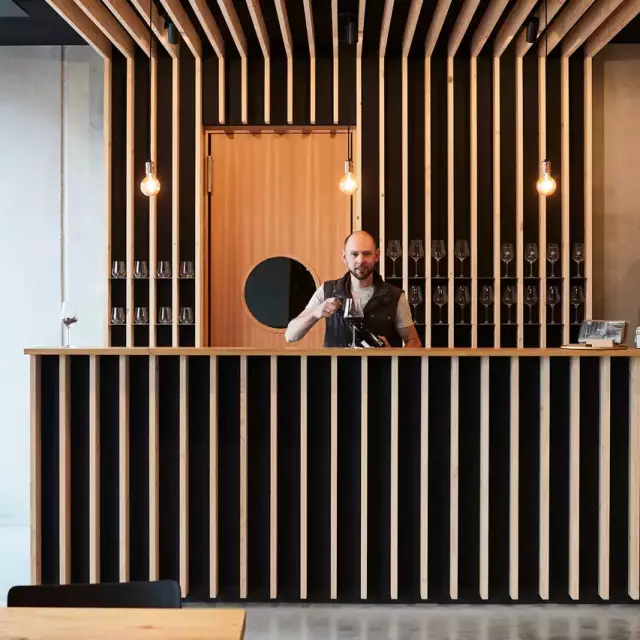 Sektgut Hubertus Triebe - Outstanding Vinothek in Saale - Unstrut
Germany's northernmost classified winegrowing region Saale-Unstrut, in the federal state of Sachsen-Anhalt and Thüringen, is marked by the hills and valleys of the Saale and Unstrut rivers. Wine has been grown here for roughly a millennium, with the oldest documented proof still in the possession of the Benedictine Cloister Posa. Dating back to 1121, the deed includes a mention by Bishop Dietrich of hillside and flatland vineyards.
Wein- und Sektgut Hubertus Triebe stands in Schnaudertal near Zeitz. The area is perhaps best known for Schloss Moritzburg (photo). Active viticulture stopped here in the Middle Ages, so its resumption in 1999 represented a historic moment for the region. The small family-owned estate was situated in Salsitz until 2008, then moved to the Zeitzer district of Würchwitz in 2009.
The focus here is on "eminently drinkable and elegant wines" such as Müller-Thurgau, the intensely aromatic Bacchus grape or Kerner with its Riesling-like characteristics. All grapes on the 4.3 hectares of vineyards are hand harvested, reports winegrower Hubertus Triebe.
Be sure to take the opportunity to familiarize yourself with these wines via the grand Gutswein and Sekt tasting, which also features regional cheese specialties, including Würchwitzer Milbenkäse by request. This latter product was adopted some ten years ago by Slow Food Deutschland in its "Ark of Taste." Mites are regarded worldwide as a threat to cheese production, but the Altenburg area takes a different approach.
Cheesemakers here don't fight the mites, they embrace them. As has been tradition for several centuries, Milbenkäse matures exclusively through the work of these arachnids (Tyroglyphus casei L.). An enzyme from the digestive juices of the mites causes the cheese to ferment and gives it its distinctive taste. Würchwitzer Milbenkäse is known as the "world's liveliest cheese"...
The astounding growth in tourism to the region in the past two-and-a-half decades since German Reunification can also be seen in the many attractions and themed tour routes. The Saale-Unstruut Wine Trail was consecrated in 1993, today passing along a 60-kilometer stretch that includes Zeitz.
There's also the Romantic Road, an archaeological trail called the "Himmelswege" and many bike and hiking paths, including the 17-kilometer-long "Weiße Elster Wine Trail." The latter path wends its well-marked way through a landscape so historical and lovely that there is hope of achieving a spot on the UNESCO World Heritage Site list. The UNESCO committee will decide whether to approve the request by a dedicated advocacy club in summer 2017. A visit to Weingut Hubertus Triebe may soon be considered a world heritage event.
Opening Time
Tuesday from 10:00 am – 6:00 pm
Friday and Saturday from 2:00 – 6:00 pm
And by appointment
We are a young winery at the gates of Stuttgart and look forward to your visit! Our opening hours wine sales: Wednesday and Thursday 5 pm to 7 pm and Saturday 10 am to 1 pm, and by appointment.
Contact
Weingut Idler

71384 Weinstadt- Strümpfelbach Lehenweg 21 Baden-Württemberg Germany