Weingut Drei Herren: Art in the Vineyard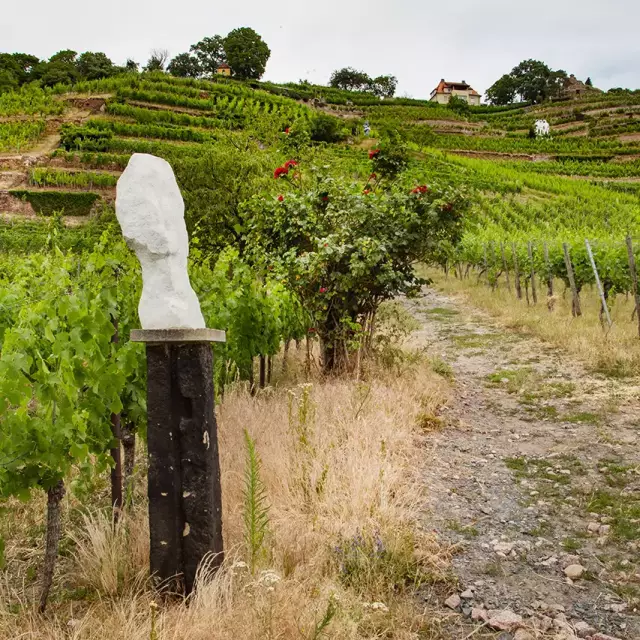 Wineries always reflect the spirit aof the owner. This is clearly visible at the Drei Herren winery in Radebeul. The old winery, one of the oldest in Freistaat, belongs to a renowned art historian who bought it in 2002 and turned it into an art and wine estate.
His conviction: Wine consumption and art appreciation have similar characteristics! Ideally, there is a long, inspiring after-effect, which in the case of wine could be called the "resonant aftertaste" and when viewing art could be called a "stimulating animation of the recipient into open spaces of perception and thought". The real age of the winery cannot be clearly determined. Files from 1705 mention the property, then in 1735, an owner is mentioned, a Dresden councillor. Structural measures are documented for 1773 when a square and a wing were built. From 1857, the property belonged to the Rau family, who made further structural changes. However, the phylloxera disaster brought viticulture to a standstill; vines were not planted again until 1937. After 1945, the Rau family fled to West Germany; the property was partly used as a dwelling, but also fell into disrepair. After another change of ownership in 1993, the estate, which had been restored in the meantime, came into the possession of the art historian Rainer Beck in 2002, who founded the Drei Herren wine estate in 2004. It was opened in 2005. Since then, dry stone walls have been rebuilt in the Hermannsberg. Vines have been newly planted that thrive in traditional steep slopes. Contemporary works of art are exhibited on the upper floor of the winery. Since 2020, a wine and art trail has led through the steep slopes of the Hermannsberg, which is unique for its kind. It features over a dozen large sculptures by various artists. Of course, the wines are also true works of art! A wine restaurant with a beautiful terrace was opened in 2014; the vinothek is recommended for wine tastings. Both places are, naturally, an absolute feast for the eyes with their antique, but also artistic and charming furnishings.