Staatsweingut Schloss Wackerbarth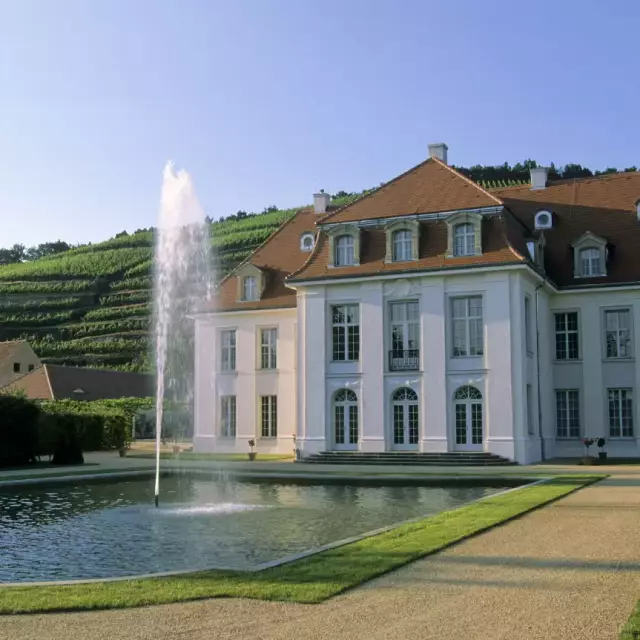 Exquisitely Saxon – that has always been the motto on Schloss Wackerbarth in Sachsen. It stands for the way of life during the time of the castle's builder late 1700s, and continues today with the rich offering to explore all senses at this modern sparkling wine estate with a classic Baroque ambience.
The Motto stands for the way of life during the time of the castle's builder, field marshal and minister of state, Count Christoph August von Wackerbarth. The motto, however, continued with the Saxon King's lust for life, and it is still being continued by the modern estate. Schloss Wackerbarth has been well renowned far beyond the borders of Saxony for its premium wines as well as for its first-class sparkling wines (sekt). Having inherited the traditional brand name and premises of Sektkellerei Bussard, Schloss Wackerbarth is considered to be the oldest sekt manufacturers in Saxony – and the second oldest in all of Germany.
The history of Schloss Wackerbarth begins in 1727 when the Count of Wackerbarth bought the land and the vineyards in the surrounding area. The Count, a minister of Saxon King August the Strong and Governor of Dresden, built Schloss Wackerbarth as a retirement residence between 1727 and 1730. He hired two feted master builders for the job: Johann Christoph Knöffel, the primary proponent of Saxon Rococo, who designed the castle and lavish gardens, while Matthäus Daniel Pöppelmann, the creator of Dresden's famous Zwinger Palace, created the small pavilion, the belvedere, above the vineyard terraces. Legends tell of excessive feasts full of splendor arranged by the Electorate court – Schloss Wackerbarth was soon to become a temple not only of zest for life but also of wine.
Although the castle's history remained one of ups and downs, the wine's stayed consistent. In 1836, what became known as the Sektkellerei Bussard was founded nearby in Niederlößnitz. The Niederlößnitz factory caused a sensation with its sparkling wine production using the classic bottle fermentation method: after all, the Saxons got none other than the French Monsieur Mouzon from Reims, at the heart of Champagne, as the cellar master. In 1846, a maximum of 150 000 bottles were produced.
It persisted until after the Second World War, then in 1972, Bussard was expropriated by the state. This marked the beginning of the cooperation with neighbouring Schloss Wackerbarth, which itself had become a State Winery in 1927. The cellarmen and their riddling racks moved premises, but have continued the Bussard tradition of classic bottle fermentation to this day.