Kloster Pforta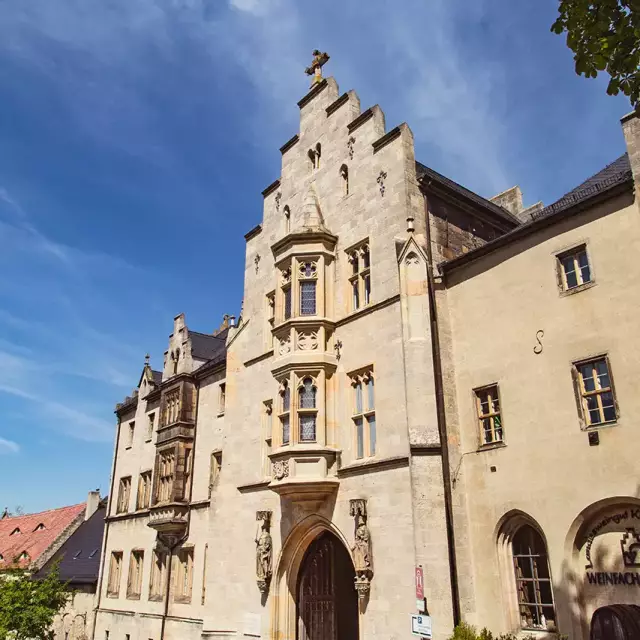 The fact that viticulture in the Saale-Unstrut region is mentioned in documents as early as 998 indicates that a great tradition of wine culture was established here long ago. This is represented by Kloster Pforta, a monastery founded in 1138 by the Cistercians as the 'Monastery of Saint Mary at the Gate'.
It is located between Naumburg and Bad Kösen and is the origin of today's State Winery. The monks worked the land and turned the landscape into vineyards. After the Reformation - the monks left the monastery permanently in 1540 - the vineyards were owned by the Saxon ruling house and passed to Prussia after the Congress of Vienna. In 1543, the Saxon Duke Moritz had turned the monastery into a school for nobility. The boarding school, today's State School of Pforta, whose notable alumni include Friedrich Nietzsche and Johann Gottlieb Fichte, still exists today. It was the Prussians who in 1899 established their state viticulture department in the former monastery and with their research institute played a major role in the fight against phylloxera. After the Second World War, Kloster Pforta became a nationally owned Naumburg winery. Today, 50 hectares of vineyards are cultivated. The monastery's first vineyard, which was mentioned in a document as early as 1147, is the Köppelberg. Interesting autochthonous grape varieties such as Weißer Heunisch and white Elbling thrive there on 7.5 hectares. The vineyards of the Saalhäuser, directly on the Saale and already documented in the 14th century, were partly turned into model vineyards after 1830. Today, the shell limestone soil of this site produces some of the best wines in the Kloster Pforta portfolio. The terraced Gosecker Dechantenberg, situated northeast of Naumburg between Eulau and Goseck, has borne vines since 1080 and was initially also cultivated by the monks. Here, red sandstone is the foundation on which the Riesling and Weißburgunder (Pinot Blanc) vines take root.
In both the Schulpforte vinothek and in the atmospheric winery restaurant, the Saalhäuser Weinstuben, visitors have many opportunities to taste and enjoy the excellent wines of the Landesweingut Kloster Pforta. The many hundreds of years of tradition can be clearly felt in this beautiful peaceful place. The Gothic church of the monastery and the Romanesque cloister can also be visited.