Viticulture at the Geiseltalsee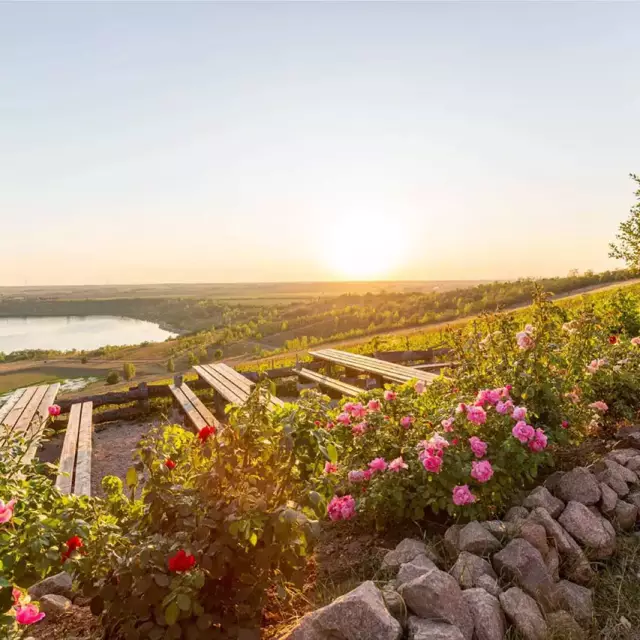 Facts
7 km

Distance

2 hours

Duration

medium

Difficulty level
From Mining to Viticulture
"From mining to viticulture" has been the motto since the beginning of 2000 in the Geiseltal (Merseburg / Querfurt district). In 1997, the hobby winemaker Rolf Reifert came up with the idea of ​​growing wine in the former opencut mine (Mücheln / Braunsbedra). At this point in time, however, only the first measures of recultivation had taken place. Up until then, the heap was like a 'lunar landscape'. Given the exceptional location, it was hard to imagine that wine could even be grown there.
After a review of the profiling study regarding recultivation, the winegrowers were able to establish that an ideal vineyard site could be created, if the southern slope were reduced to a 25 percent incline. The north side would be protected from cold air by a forest and the 17 square kms of water surface of the resulting Geiseltal lake, would provide the best conditions for wine growing. The water reflects the sun, stores the heat during the day and releases it back onto the slope at night. This project, which is unique in Europe, was implemented three years later with much effort and commitment.
Today the Geiseltal lake is filled to its intended level and therefore offers the surrounding vines a large part of the desired sun reflection. This gives the wine in the Saale-Unstrut region an unmistakable quality.
There are three easy routes to the vineyard and the stele for the Best Vineyard View:
From the Marina in Mücheln: 7.5 km, max. 2 hours
From Werkstraße Stöbnitz: 3.5 km, approx. 45 minutes
From Stöbnitz waterworks: 1.2 km, approx. 20 minutes
Course: Mücheln Marina - Stöbnitz - Halob Klobikau - Braunsbedra - Neumark - Krumpa - Neubiendorf - Mücheln Marina
Condition: completely paved, some sporting sections
Caution: The Geiseltalexpress uses the same route!

Opening hours of the Straußwirtschaft (seasonal wine tavern):
April & October: weekends and public holidays from 10 a.m. to 6 p.m.
May to September: Tuesday to Friday: 11 a.m. to 4 p.m. / weekends and public holidays from 10 a.m. to 6 p.m.