Domina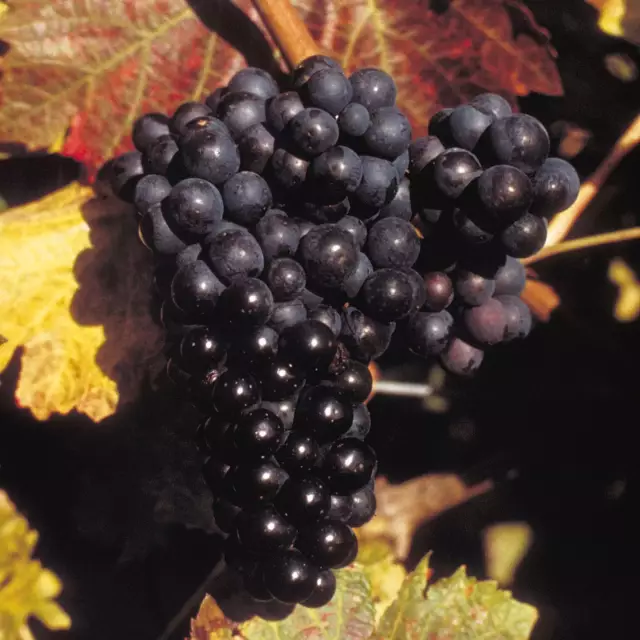 The Domina grape variety, bred in 1927, with its voluminous dark red to blue-black grapes, was added to the list of varieties in 1974 and is now grown on 316 hectares, mainly in Franken.
Facts
347 ha

Die Gesamtanbaufläche für Domina in Deutschland, vor allem in Franken, betrug im Jahr 2021 347 Hektar.
Domina - aroma and taste of fresh blackberries
The grape variety bred in 1927 from the Blauer Portugieser and Spätburgunder varieties by Peter Morio (also vine grower of the Morio-Muskat variety) in the Palatinate with its voluminous dark red to blue-black grapes was added to the list of varieties in 1974. Today it is cultivated on 304 hectares mainly in Franconia, where it finds optimal growth and weather conditions. The total vineyards planted with Domina in Germany amounted to 338 hectares in 2022 and are predominately grown in Franken (298 ha).
The Domina grape variety is relatively frost-resistant and ripens medium late. It ripens later than Portugieser but earlier than Spätburgunder. Under good conditions, the grapes have a very intense dark hue, that is why the wines made from the Domina vine are often used as a cover wine for other red wines. The wines are colour-intensive, full-bodied and of a pleasant nature, mostly acidic and tannic. The scent is subtly reminiscent of blackberries - paired with a light smoky note. The tannin-heavy wines are matured in barriques or in large wooden barrels and are often served with any kind.
Is the Domina also important for viticulture in other countries?
No. Despite its international and exotic name, the Domina grape variety is found almost exclusively in Germany. Only in Switzerland there are still vanishingly small areas.
This might also interest you