Blick vom Heppenheimer Eckweg auf den Schlossberg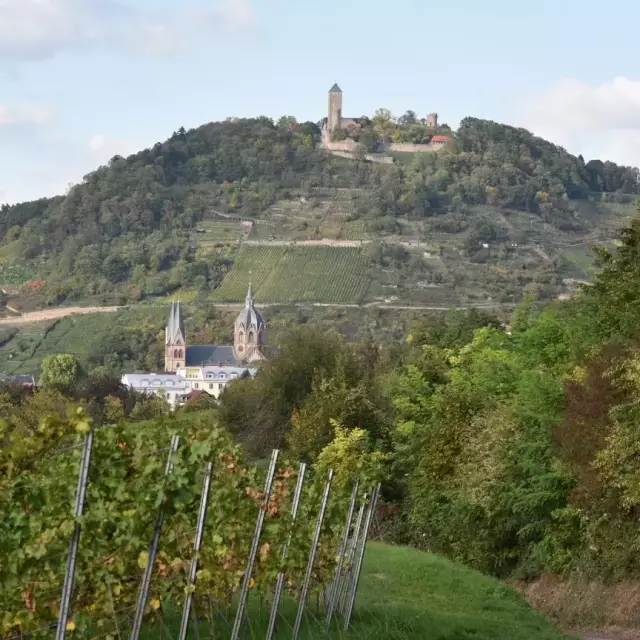 The recommended starting point for the hike to the "Most beautiful wine view 2016" is the parking lot at the cemetery.
Facts
4 km

Distance

1 hour

Duration

easy

Difficulty level
Hessische Bergstraße - Heppenheimer Eckweg
A map at the "Gute Zeit, böse Zeit" fountain in Heppenheim provides information on all the vineyards in the Hessische Bergstraße region, particularly the Heppenheimer Eckweg vineyard, which forms part of the larger Heppenheimer Schlossberg estate. The Eckweg was officially documented as early as the year 1200. Its name is presumably derived from the mountain spur – the Eck (meaning "corner") – at the upper end of the vineyard. Welldesigned but sometimes steep paths lead through the vineyard to the stele marking the Best Vineyard View in the Hessische Bergstraße Region for 2016.
The view from here extends over the Upper Rhine Plain and Hessian Ried region to the Haardt hills and the Donnersberg. This part of the world is typified by the proximity of almond trees and brightly colored wineries. The lookout point is flanked by red Riesling vineyards; the historic grape variety is grown here by the Bergstraße Winzer cooperative on the world's largest cultivation site.