WeinKulturgut Longen-Schlöder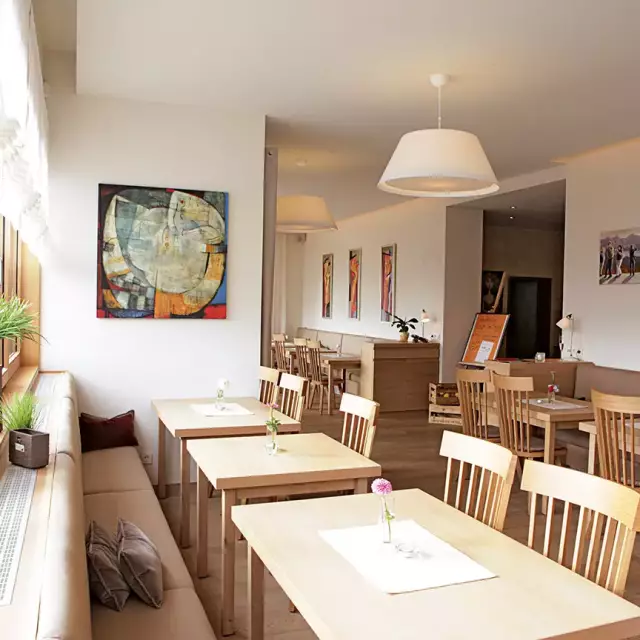 Outstanding Vinothek on the Mosel
Markus Longen and his wife Sabine took the helm at his parents' winegrowing estate in 1999. The pair carefully assessed their future prospects as Mosel winegrowers — and in 2001 they came to a fateful decision: the operation needed to be completely renovated and reorganized. The decision carried a certain amount of risk with it, but for these parents of three children — Matteo, Mona and Malou — it has proven the right one.
The Vineria vinothek in their WeinKulturgut in Longuich has become a trendy Trier-region spot in which to gather when the agenda calls for wine, gourmet life or just a splash of joie de vivre. From art exhibits in the pressing house and culinary wine tastings to wine and music or fashion and literature events — wine culture is front in center at the Vineria, which covers 170 square meters and has room for 100 guests. Not to mention the fantastic views from the terrace onto the steep vineyard sites on the opposite banks of the Mosel.
The vinothek is bathed in "southern" terracotta red. It's a deliberate choice, suggestive of both the Roman Wine Route that runs through 19 towns of Rheinland-Pfalz and the region's nearly two millennia of history. But that Roman heritage is present in more than just warm, sunny colors. The Longen family also holds the nearby 2nd-century Villa Urbana, which it uses for wine tastings.
The estate's six hectares include the Longuicher Maximiner Herrenberg, Longuicher Herrenberg, Schweicher Annaberg and Mehringer Zellerberg, with Riesling, Weißburgunder, Chardonnay and Sauvignon Blanc vines as whites and Blauer Spätburgunder, Domina, Cabernet Sauvignon and Merlot for reds and rosé of delicate bouquet and aromas.
Delicacy is also a big part of Sabine Longen's cuisine, which she describes as "deluxe home cooking" but might better be described as a take on seasonal Mosel fare using fresh, regional ingredients. Examples include steak marinated in grape pomace, beef tips with remoulade and classic Weinsülze aspic.
And should the good food and good wine encourage the guests to stay for a while... the perfect place is at hand. The 14 guest rooms of the small, neighboring winery house, situated directly next to the house on the meadows with fruit trees, pay tribute to the high art of pure leisure. Each has its own little garden, with no TVs in sight. Instead there are vines, mountains and the Mosel River itself — a purer sort of entertainment. And no need for a treadmill or rowing machine when there's so much walking, hiking or biking available. What a fine, sweet life. La Dolce Vita on the Mosel.
Opening Time
Wednesday through Monday from 11:00 am – 11:00 pm
Closed Tuesdays
Contact
WeinKulturgut Longen-Schlöder

54340 Longuich Kirchenweg 9 Germany