Weingut Matthias Müller englisch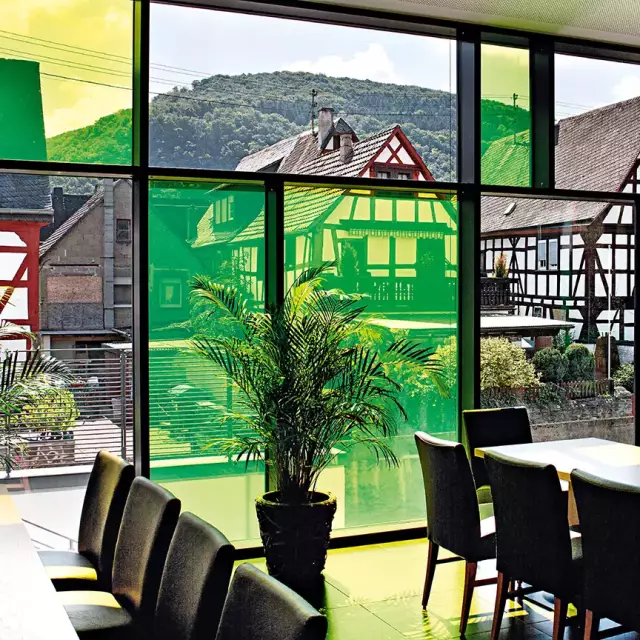 Weingut Matthias Müller - The best vinothek in the Mittelrhein region
Spay am Mittelrhein is in the heart of the Upper Middle Rhine Valley, designated as a World Cultural Heritage site in 2002 by UNESCO. The winegrowing tradition is old here, and Weingut Müller has been part of it for 300 years. It started as a traditional mixed agricultural business, with the grapes cultivated on the steep hills. For the past three generations the sole focus has been on winemaking. Shortly before the dawn of the new millennium, Heinrich and Hilde Müller passed the estate on to son Matthias and his wife Marianne. They went on to add four additional hectares, bringing their overall holdings to 17 ha. Riesling comprises 88 percent of the plantings. The remainder are divided between Grauburgunder, Spätburgunder and Weißburgunder.
The high minerality in the slate soils lends the wines a fruity elegance and a nuanced strength. There is something for everyone here, from delicate and finely aromatic Ortswein to powerful and beautifully balanced Lagenwein. One hallmark is the "Edition MM" line. It is a specially produced and unmistakable single vineyard wine from old sites, vinified in an outstanding quality as dry, feinherb (off-dry) and naturally sweet. Yet the estate's hallmark is still perhaps its naturally sweet Prädikat wines.
The Müllers were awarded the title of "Winegrower of the Year" in 2012 by the Gault Millau Wine Guide. It was during that year that they also opened their new vinothek in the middle of an old ensemble of half-timbered houses in the heart of the village of Spay. Their building catches the eye from the start through the bright glass panes of the 16-meter-long bank of windows, a play of colors that continues uninterrupted in the interior. Multiple shades of green are reminiscent of the wine canopy in its various growth phases, while the earthy tones recall the slate soils and the golden yellow of the sun's rays.
Several weekends a year the Müllers turn their vinothek into a wine bistro serving seasonal dishes, from white asparagus quiche to savory pumpkin pie. There are also a variety of events related to the "Mittelrhein-Momente" series, including musicians and cabaret artists such as Thomas C. Breuer and his "Kabarett Sauvignon."
Heinrich and Hilde Müller, who led the estate for years, are still frequently on hand. You may well bump into them when hiking in the vineyards of the Bopparder Hamm and catch an impromptu lecture about the history and peculiarities of the local wines.
The next generation at the estate is in place as well: Johannes (25 years old), son of Matthias and Marianne, returned to his parents' estate following his training and degree at Geisenheim. His brother Christoph, two years younger, is in the process of completing his studies in geography and business management but helps out significantly as well. Heinrich and Hilde Müller have plenty of reason to be proud of their grandchildren.
Opening Time
Monday through Saturday 8:00 am – 7:00 pm
Sunday from 10:00 am – 5:00 pm
Opening Time Monday through Saturday 8:00 am – 7:00 pm Sunday from 10:00 am – 5:00 pm
Contact
Weingut Matthias Müller englisch

56322 Spay Mainzer Straße 45 Germany