Weinreich Sommerach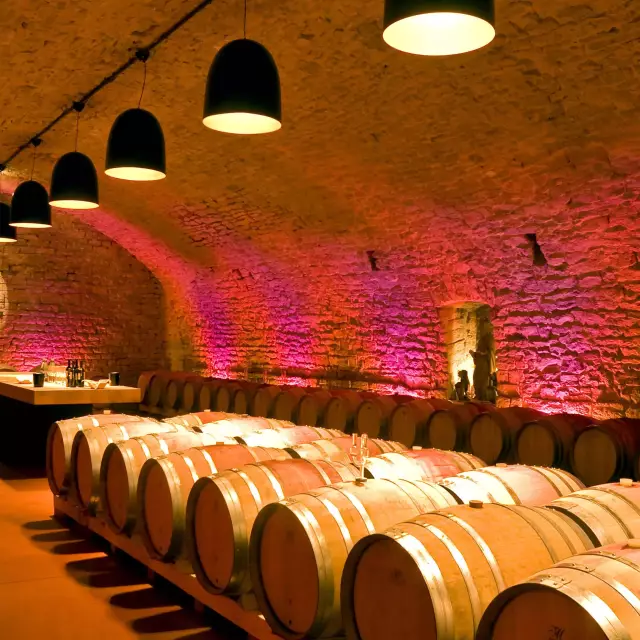 'Vision Requires Space' proclaimed the 90 winegrowing families of Franken's oldest winegrowing cooperative. And through the World of Wine that they have created in the lower Franconian town of Sommerach, that vision has become a reality.
The Lower Franconian town of Sommerach is located on the wine island of the southern Main loop. In 1901 its winegrowers merged to form the oldest winemaking cooperative in Franconia.
The ambitious winegrowers, who have already been awarded the best Franconian cooperative and in 2009 the best German one, decided a few years ago to redesign their winery cellar. The aim was to express the winemaker's philosophy – respect for tradition, openness to the world and a sense of innovation - also in the design of their cooperative building. This was the brief given to the Würzburg architectural committee that planned and carried out the renovation.
Under the direction of the architecture firm Hofmann, Keicher, Ring, the previously dark atmosphere gave way to a bright, modern sense of space. The newly created "Weinreich" (World of Wine) was inaugurated in 2006 and houses a vinotheque on the ground floor. The tasting area is named "Kostbar" which is a play on words, translating as precious, valuable in English. Stone, wood and glass are the predominant materials. Everything seems friendly and inviting.
A summer bar with a terrace invites you to sit outside and enjoy the ambience. Conference and training rooms are on the upper floor. A staircase bearing the names of the Sommerach winegrowers leads visitors down into the friendly atmosphere of the brightly lit tasting room. A striking lighting concept among the old split-stone walls plunges the visitor into a subterranean world of light and colour: from the dimly lit barrel vaults of the barrique cellar to bright steel tanks illuminated in shimmering rays of violet, pink and orange.
The facade was also carefully renovated. A wide band of windows now run across the corner of the building quoting classic modernism; the striking ledges are reminiscent of buildings from the 1920s and 1930s. The successful combination of Franconian tradition and modern architecture enables the Weinreich to blend unobtrusively into the landscape at the foot of the famous vineyard Katzenkopf (cat's head), whilst still looking fresh and trendsetting. "Weinreich", the Sommerach cooperative's World of Wine, was deservedly awarded in the "German Wine Architecture Awards" of 2007.