Bopparder Hamm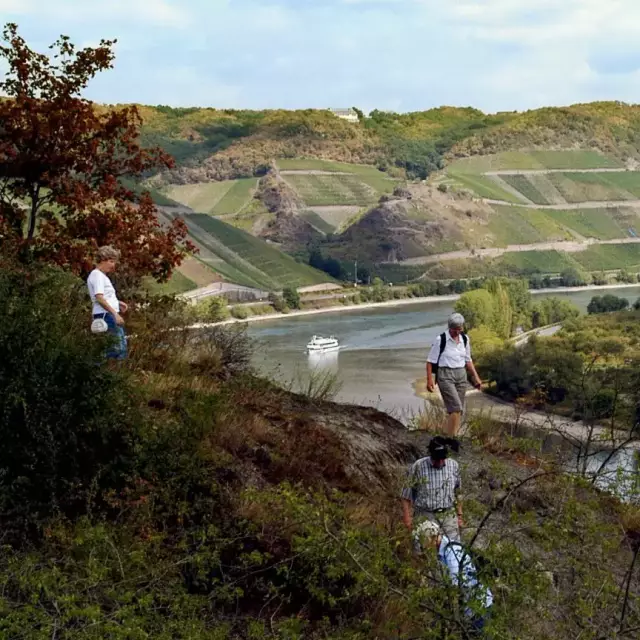 The largest contiguous vineyard area of the Mittelrhein lies within the Rhine region's largest loop: Bopparder Hamm, a vine-clad district of the town of Boppard on the Rhine. The name probably derives from the Latin word hamus, meaning hook or crook, alluding to the S-shaped bend in the river.
It is assumed that the Romans were the first to introduce systematic viticulture. In 370, a Roman citadel was built here and wine was an inherent part of the legionnaires' daily rations. In 643, viticulture was officially documented. To this day, wine has remained the most important trading commodity of the little town along the narrow Rhine gorge, or today's Mittelrhein wine-growing region, listed as a UNESCO World Heritage site in 2002. Boppard – particularly from the heights – offers one of the most spectacular views of the Rhine Valley.
Today's vineyard area comprises some 75 hectares of primarily Riesling vines. The south-facing slopes have an ideal angle of inclination to capture sunlight; the river's proximity provides a heat reservoir; and the heat-retaining stony, slate soils afford perfect conditions for the production of superb Riesling wines with a fine mineral tone and aromas reminiscent of apple, mint, and various herbs/spices.
Even today, labor-intensive, manual work marks the day of the wine-grower in these steep sites. Some 16 are still cultivating grapes in the Bopparder Hamm, with a collective annual output of ca. 600,000 liters of Riesling – which was, and still is, by far the most important grape variety in the Bopparder Hamm sites, and in the Mittelrhein region as a whole.
"Mittelrheinische Weinfrühling" (Mittelrhein Wine Springtime) is a seasonal highlight during which some dozen Boppard winemakers present their wines with little culinary delicacies – a particularly "delicious" Rhine and wine experience.
For those looking for a more athletic challenge there's the Middle Rhine "Klettersteig," a fixed rope climbing path or via ferrata (Italien for "iron road"), which was developed with the help of the German Alpine Club in 2006. Climbers can ascend the steep rockface via eleven passages in about three hours. The reward: a spectacular view of the Rhine from the top of the Bopparder Hamm.