Cusanusstift (St. Nikolaus Hospital)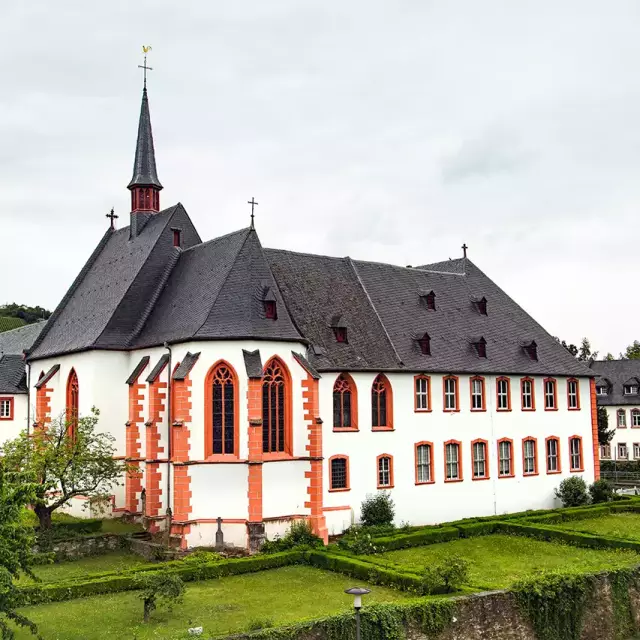 How old is the oldest old people's home in Germany? More than 500 years; it stands in Bernkastel-Kues and was originally only for men. The founder, Nikolaus von Kues, was a man of the church who could think pragmatically.
The hospital, built between 1451 and 1458, was intended to house 33 men from all classes, namely six each of nobles and clergy, as well as 21 "commoners". To finance his hospital for the poor, the cardinal and prince-bishop used an endowment from his parents' inheritance as well as nine hectares of vineyards from the best Riesling sites of the Middle Mosel. The late Gothic ambience has been preserved to this day, and the monastery was never destroyed. The Mosel's wine culture is very present here. And of course, the Cusanusstift, where women can now also reside, also functions as a winery. Since the Cusanusstift is still a retirement home, only parts of it can be visited such as the medieval cloister, the Gothic chapel and the library with its more than 300 invaluable manuscripts from the 9th-15th centuries. Nikolaus von Kues, known as Cusanus, was a very educated man, a universal scholar. The winery Stiftung St. Nikolaus-Hospital has been run by the DRK-Sozialwerk since 1990 by people with and without disabilities and belongs to various well known winegrowers' associations. The vineyards are spread over renowned steep slopes such as Bernkasteler Badstube, Wehlener Sonnenuhr, Graacher Domprobst or Brauneberger Juffer-Sonnenuhr; only Riesling is grown there. Wine is no longer produced in the Cusanusstift itself, but there is a vinothek in a vaulted cellar of a former farm building, where over 150 wines from the Mosel winegrowing region can be tasted. Wine culture can be truly enjoyed and experienced here amidst centuries-old tradition.