Grauburgunder / Pinot Gris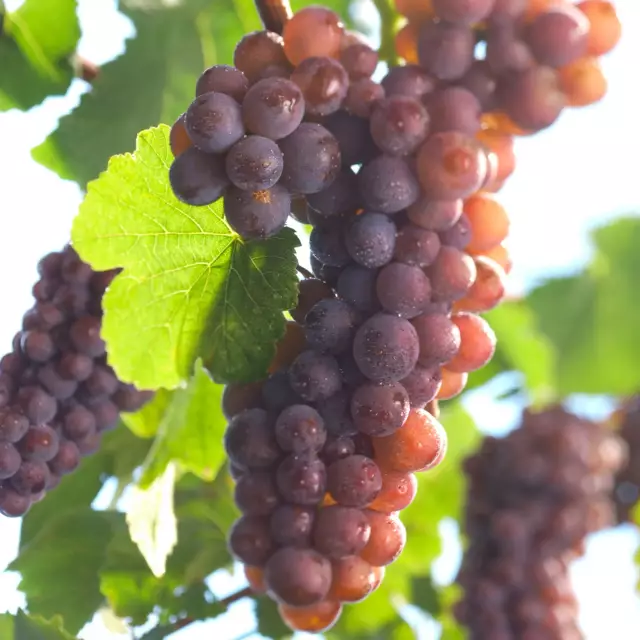 Pinot Gris is a multifaceted wine that can be enjoyed as a light summer wine as well as a strong barrique wine.
Facts
8.094 ha

planted vinyard area 2022

2. 314 ha

Vineyard area planted with Pinot Gris in Rheinhessen
Cultivation

Pinot Gris produces quite good yields and, if desired, high must weights. The dense berry structure facilitates botrytis infestation for the production of noble sweet wines. The variety is not very susceptible to disease and hardly sensitive to frost. It thrives particularly well on loess terraces, but also on chalky soil and stony subsoils. Loamy soils are less suitable. Yield reduction and efficient thinning of the canopy are easily possible and are widely practised.

Significance

Today, Pinot Gris is not only found in Central Europe, but also in Australia and New Zealand. In Germany, Pinot Gris has become increasingly important again. In 2022, almost 8,094 hectares - or just under 8% of the German vineyard area - were planted with this variety. In the past, Pinot Gris was often referred to by the synonym "Ruländer". These were mostly sweet and full-bodied wines, whereas Pinot Gris was predominantly vinified dry. The winegrowers of Baden in particular devote almost 14% of their acreage to Pinot Gris, with around 2,363 hectares. The Palatinate winegrowers contribute about 2,142 hectares, the Rheinhessen winegrowers nearly 2,314 hectares, and the Nahe winegrowers about 385 hectares.

Vinfication and taste

A young, light, dry to semi-dry Pinot Gris is well suited as a summer wine. Dry Kabinett wines and Spätlese wines harmonise well with seafood, strong sea fish, pasta, lamb, wild fowl and young game as well as ripe soft cheeses. Barrique wines go well with intense-tasting lamb dishes and light game dishes, such as wild fowl or venison. Fruity-sweet Spätlese or noble sweet Auslese wines go particularly well with fatty blue cheese and desserts with honey, almonds or marzipan.

Pinot Gris is often matured in steel tanks, in large wooden barrels, but also in barriques with biological acid reduction. They are usually dry, medium-bodied and somewhat acidic, but are also frequently offered as full-bodied wines with a pronounced sweetness. Depending on the vinification method and quality level, the colour is pale yellow, golden yellow or even amber. Pinot gris is associated in particular with aromas of green nuts, almonds and fresh butter, as well as fruity aromas reminiscent of pears, dried fruit and sultanas, pineapple and citrus fruits. Vegetative notes of green beans or peppers also appear.

History

Pinot gris came from Burgundy to Switzerland and Hungary and probably from there to our regions in the 14th century. The French name Pinot goes back to the French "pin" (pine) and describes the grape shape reminiscent of pine cones. The synonymously used name Ruländer goes back to the merchant Johann Ruland, who in 1711 found the (unknown to him) Burgundy vines in a garden in the small Palatinate town of Speyer and propagated them. The high quality of the wines probably convinced the winegrowers as early as the 19th century: They proudly gave the variety regionally different names, which have since disappeared.

At a glance
little susceptible to disease, hardly sensitive to frost
reddish to red and grey coloured berry skin
Aroma: reminiscent of green nuts, almonds, green beans, peppers or fruity aromas similar to pear, dried fruit, sultanas, pineapple and citrus fruits
What is the synonym name of the Pinot Gris?
Ruländer. The name goes back to the merchant Johann Ruland, who found and propagated the Burgundy vines in a garden in Speyer.
This might also interest you