Winery Axel Pauly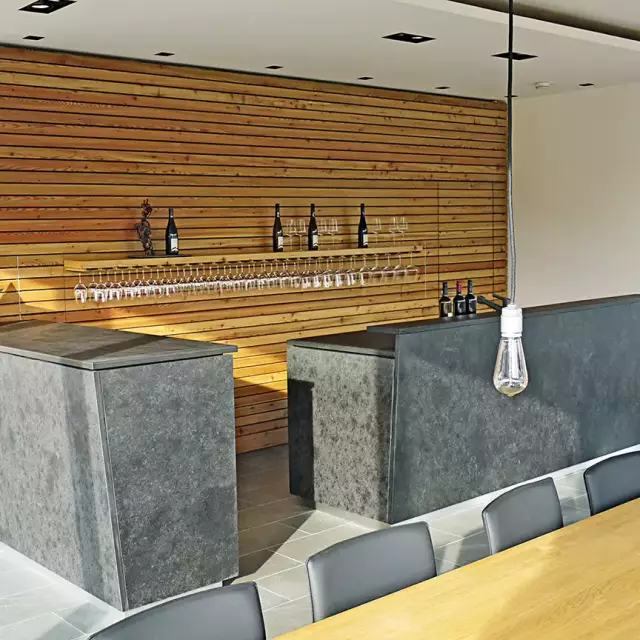 Weingut Pauly - Outstanding Vinothek on the Mosel
Axel Pauly has already seen much of our world. He has worked on estates in California and New Zealand and during his studies in winemaking in Geisenheim also held an internship at the German Embassy in Stockholm. But going away for good? Never. His love for his home region was simply too great — as were the bonds to his family's estate, which he today runs together with his still-sprightly parents Rudolf and Ursel.
Travel through this idyllic stretch of the Middle Mosel region and you're likely to strike upon the newly built, 70-square-meter vinothek from the Pauly family. Just looking upon it you'd be hard pressed to believe the unbelievable hardship that befell this family five years ago. In July 2011 a major fire reduced the entire production hall and warehouse into ashes; just seven weeks later, hail destroyed almost the entire crop in the vineyards. Axel Pauly was naturally forced to consider giving it all up. He quickly decided instead to rebuild. With his wife Sabrina and his parents. It's been an unbelievable turn of fortunes since then. In 2014 Gault Millau gave the estate a second star, Eichelmann proclaimed it to be the Rising Estate of the Year on the Mosel, Stuart Pigott mentioned him among Germany's 111 top young winemakers and his Spätburgunder was given a spot in Carsten Henn's "111 German Wines That You Have to Have Drunk."
The wines deliver clear fruit aromas and low alcohol levels for both the modern and for the region's classic varietal wines, where of course Riesling plays the main role as elsewhere on the Mosel. The Paulys also produce a small batch of high quality barrique-aged reds that are routinely rated among the finest in the region. The wines stand out both for their taste and their visually striking labels, created by a Swedish designer.
The three curving lines on the label depict the profiles of the three Pauly generations, namely Peter, Rudolf and Axel. The winemaker's signature shines through as clear and authentic in the vinothek as in the wines. During its 2015 construction, it was tailored to feature natural materials, including the facade, flooring and bar in slate, inner walls clad in larch, and the great table in oak. A walk-on glass pane provides a view into the barrique cellar below, with a staircase leading from the sales room and foyer into the cellar.
The three-sided glass facade of the vinothek and the wood terrace in front of it give majestic views out onto the steep vineyard slopes. A rooftop terrace opens to a 360° panoramic view into the estate's vineyards as well. Soaking in the surroundings, one quickly understands why Axel Pauly never stayed away too long and what drew him back home to the Middle Mosel.
Opening Time
By appointment
Contact
Winery Axel Pauly

54470 Lieser Hochstraße 80 Rheinland-Pfalz Germany