Winery Ludger Veit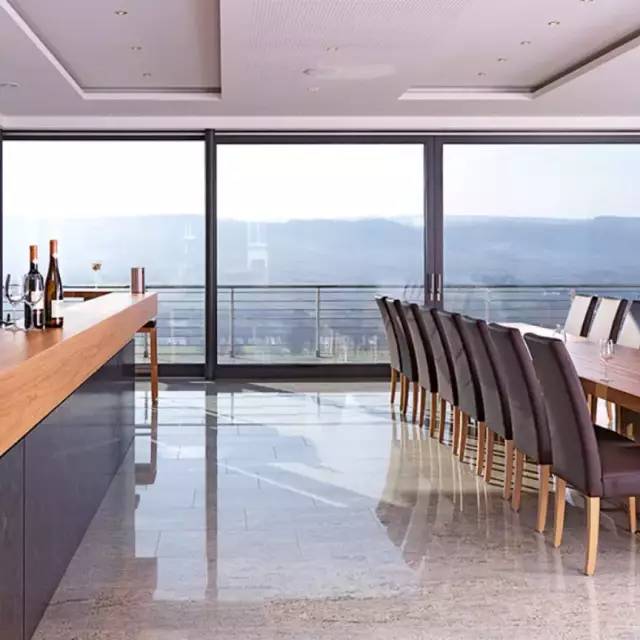 Weingut Ludger Veit - Outstanding Vinothek on the Mosel
Few places offer a more stunning view of the wildly attractive Mosel Valley landscapes than the vinothek of Ludger Veit. A puristic, linear and austere low-rise building free of any embellishments, but with a picturesque panoramic view over the gentle hilly landscape around the Hüttenkopf, at 423 meters the second highest rise on the Mosel. Thanks to the large bank of windows, there are plenty of sightlines from the airily appointed interior of the 150-square-meter space and — in nice weather — from the 40-square-meter terrace. A place to come and enjoy the views. And then there are the exquisite wines too.
Old vintner homes and splendid half-timbered houses shape the look of the twisting alleys of Osann-Monzel, a small town in the Middle Mosel. Old Rome had a foothold here, and as far back as the 10th century a census of the possessions of the Diocese of Trier included "Osanna" and "muncele villam." By those standards, the history of the estate is still relatively young. While wine played a role for Ludger Veit's ancestors, grape cultivation was only a side occupation. Ludger Viet himself took over the estate from his father in 1984, at the tender age of 19. At the time its holdings totaled only one single hectare. While land-poor, he was rich in willpower, motivation and ideas for seeing his dream come to life.
And over time he succeeded in making his vision a reality. He went on to purchase parcels in the finest locations, planted new varieties with the curiosity of a scientist, expanded his warehouse space and together with his wife Gabi wrote his own success story.
Alongside Riesling, the Mosel classic, the Veit family also cultivates other varieties on the almost 16 hectares it now manages, including international grapes such as Chardonnay, Merlot and Sauvignon Blanc. One hallmark of Weingut Ludger Veit are the red varieties, which form a bigger part of his holdings than is traditional on the Mosel. After harvest the wines are allowed to mature in small oak casks that give them that extra dose of expressiveness. After 30 months of aging, the Dornfelder and Spätburgunder wines are world-class with fine aromas of berries and an elegant tannic structure. Recent accolades include the grand prize for the 2013 Paulinshofberg Riesling Trocken at the 2014 "Mosel Riesling Grand Prix" and a second-place finish for the 2014 Paulinshofberg Feinherb at the 2015 "Grand Prix."
21-year-old son Niklas has already completed the master winegrower certification program and is ready to serve as the estate's next generation of leader. With bold dreams and visions, just like his father.
Opening Time
Thursay & Friday from 10:00 am - noon; 3:00 - 5:00 pm
Saturday from 10:00 am - noon; 2:00 - 4:00 pm
Sunday & holiday from 11:00 am - noon
Monday through Wednesday by appointment
Contact
Winery Ludger Veit

54518 Osann-Monzel-Monzel Novianderweg 16 Rheinland-Pfalz Germany