Winery : Abril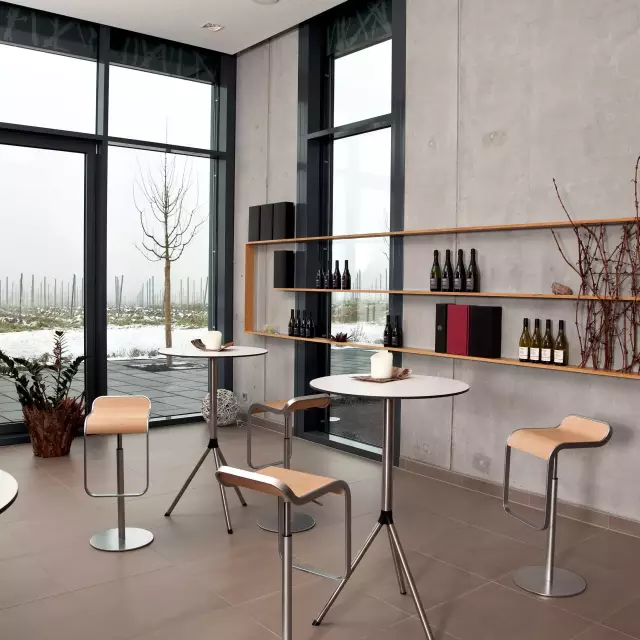 The warm reddish brown Weingut Abril in Bischoffingen, stands out against the rich green of the surrounding vineyards. The upper floors of this futuristic winery blend into the hillside of Enselberg, one of the top locations in the Kaiserstuhl region.
The facade of this elongated orthogon is made of weatherproof Corten steel, the corroded surface of which is responsible for the rust-colored appearance. The surrounding metal ribbon depicting gnarled vines refers to the soul of the business, the wine itself.
The clear lines of the exterior continue to the interior where spacious, light-flooded rooms merge with an expansive view - not only to the vineyards where the estate's premium wines grow, but also across the Rhine plain to Alsace and the Vosges mountains. "Less is more" is the motto driving the architectural design. Like the austere exterior, the interior is also distinguished by a minimum of shapes and material. The pure aesthetics begin with the exposed concrete walls and continue with the sleek oak furniture. The red felt covering in the sales room creates subtle color accents here and there.
The heart of the winery, the press house, is underground in the cellar, along with the bottles, tanks, barriques and wooden barrels. The entire basement area is divided into different climatic zones, the coolest being the room for bottle storage.
The estate's innovation continues in its certified organic agricultural practices, marked by a consistent exclusion of chemical-synthetic additives in favour of herbal cover crops, organic fertilizers in the vineyards and all aspects of the cellar work as well. With 20 hectares under vine, Weingut Abril is the largest organic winemaker from the Kaiserstuhl region to also be a member of Germany's Ecovin association. Their wines cover a range from Pinot Noir, Blanc and Gris to Blue Silvaner, Riesling, Chardonnay, Gewürztraminer, Rivaner and Scheurebe.
The winery, designed by architect Wolfgang Münzing, a proven expert for winery and cellar design, opened its doors in 2012. It was already recognised in 2010 as part of the "Wine Architecture Awards".