Vinothek Max Müller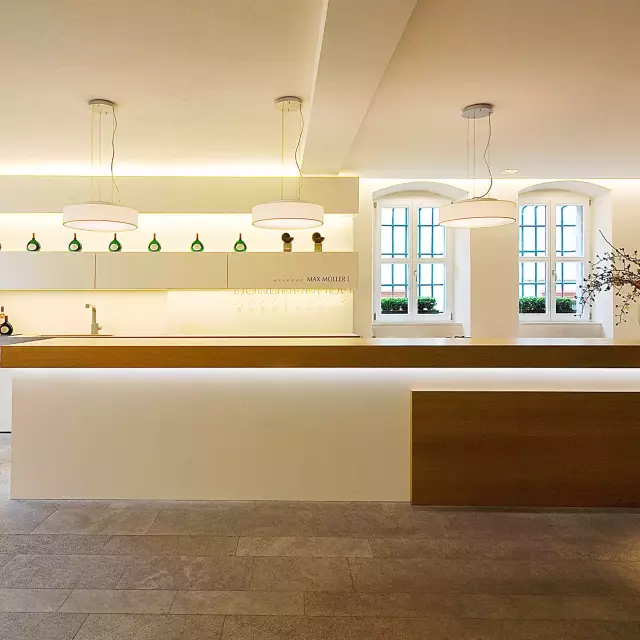 "We are open to new things, yet rooted in our origins," say Monika and Rainer Müller from the Max Müller I winery in Volkach.
This motto is not only reflected in their wines - the uncomplicated, lively, fresh wines of the "Neues Franken" line and the premium, sophisticated wines from the "Klassisches Franken" range bottled in traditional Bocksbeutels - but also in the interior design of their modern vinotheque.
Anyone who steps through the mighty archway of the stately baroque estate has no idea what modern ambience awaits them in the sales and tasting room. Within the strict confines of the Cultural Heritage Protection of historical monuments, the Volkacher architects Reinhold Jäcklein and Stefan Schlicht from the architectural firm Jäcklein implemented a spatial concept in which functionality and a limitation to the essentials prevail. They first removed the partition walls and ceiling suspensions that had been retrofitted, and transformed the existing sales rooms, which appeared narrow and oppressive in their small parts, into a spacious, light-flooded vinotheque.
Walls and ceilings were painted white, which accentuates the oak surfaces of the counter and the display area. The wood comes from the region, as does the light shell limestone floor. The few pieces of furniture are custom-made and multifunctional, such as the long counter, which serves as a reception, tasting, sales and office space. Everything looks simple, elegant and strictly linear. The only playful design element is a glass partition that shields part of the counter. The glass was decorated with sandblasted ornaments by the Viennese artists Marcel Neundörfer and Biagovesta Bakardijeva - following the example of a baroque stucco ceiling on the upper floor of the manor house, on which birds frolic between fruits and seed beads.
Such historic references within the interior design, both in the use of traditional building materials and in the inspiration of the baroque ornamentation, as well as the sensitive integration of modern interior architecture with a heritage-listed 17th century building, make the vinotheque of the Max Müller I winery an exceptional example of a synthesis of old and new. The restrained glass decoration and the simple straightforwardness of the design have earned the sales and tasting room, which was completed in 2008, various awards, e.g. as part of the Wine Architecture Award 2010 or the BDA Award "Good Buildings in Franconia" 2008.