Mulled Wine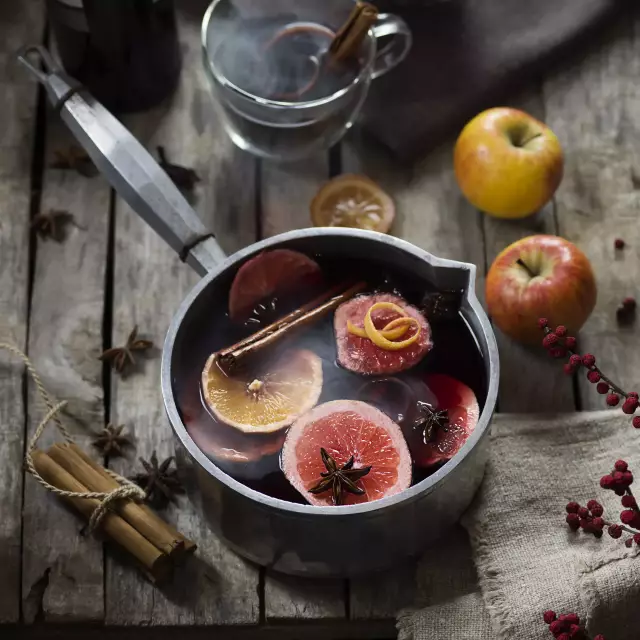 The adding of spices to wine has a very long tradition in the world of wine. The Romans already flavoured some of their wine with sugar and spices to make it more pleasurable and longer lasting.
Facts
7 - 14,5

Alcohol content by volume
More and more German winegrowers offer home-made mulled wine based on individual recipes partly in organic quality. The very fruity red wines from the German wine-growing regions are well suited for aromatic mulled wine. By warming the wine, the aromas, which are reminiscent of red fruit, become even more expressive and are wonderfully harmonious in combination with the flavouring ingredients. White mulled wines, made from Riesling or Müller-Thurgau for example, are also on offer.
Since 2022, rosé mulled wine may finally be marketed as such by name. A new specification in the EU regulation now allows this. In terms of wine law, mulled wine is a flavoured beverage containing wine, made exclusively from red, rosé or white wine and sweetened and flavoured. The addition of alcohol as well as water or colouring is prohibited. The actual alcohol content must be at least 7% vol. and less than 14.5% vol.
Warming
When warming the mulled wine you should make sure not to heat it too much or even let it simmer, as otherwise delicate fruit aromas will be lost and bitter agents will develop. Additionally, from a temperature of 78°C, alcohol will evaporate.
Flavouring
Don't add too many spices all at once, and only little amounts. Too many cloves spoil the mulled wine. Cinnamon, star anise and allspice in too large amounts can cover the fruity aromas of the wine as well. Sweeten cautiously. If you are already using a semi-sweet wine, you often don't need much sugar or honey.
Pay attention to quality
Make sure to use fresh spices and a quality wine. Designations such as "Winzer-Glühwein" (vintner's mulled wine), or "Weingut" (wine estate) on the label guarantee that the mulled wine was made only from the producers' own wines and on their own premises. The designation "Deutscher Glühwein" (German mulled wine) on the label means that only domestic base wines were used.
Have enough time at hand
After the first warming let the mulled wine steep for a few hours, maybe even over night, so that the aromas can fully unfold. Then use a sieve to remove the spices for better enjoyment.
Drink in moderation
You will have the greatest pleasure if you use high-quality ingredients and drink mulled wine in moderation.
Recipe tips
Recipe ideas for dishes to go with mulled wine in the DWI Genießershop: shop.deutscheweine.de
Does mulled wine always have to be red wine?
No! For some years now, white mulled wines have also been in greater demand. As a new trend, fruity rosé mulled wines have also developed as a light counterpart to the heavy red wines.
Tips from Asian cuisine
CHINA : Dumpling
German wines have a natural advantage when it comes to entering into perfect harmony with select Asian dishes. With a lower alcohol content, sometimes crisp acidity, moderate residual sweetness or soft tannins in red grape varieties, they are a perfect match for a variety of styles of Asian cuisine.
500g Flour
240ml Warm water
400g Minced pork
100g Celery
1 TL Salt
1/2 TL Sugar
3 EL Light soy sauce
1 EL Oyster sauce
2 EL Oil
100 ml Water
PREPARATION
MAKE DUMPLING WRAPPERS

Pour flour into a large bowl, add 240ml warm water and stir until well-combined.

Wash and dry hands. Dip in some dry flour and knead the dough until it becomes smooth.

Place the dough in a bowl, cover with plastic wrap and set aside for 1 hour.
MAKE DUMPLING STUFFING

Mix minced pork, salt, sugar, light soy sauce, oyster sauce, oil and 100ml water, stir well and refrigerate for 2 hours.

Chop the celery and pat dry with kitchen towel.

Take the pork out of the fridge, add chopped celery and stir well.
MAKE DUMPLINGS

Divide the dough into 8g pieces.

Rub the dough with a rolling pin and press into a circle about 7cm in diameter.

Take 15g stuffing and put it in the center of the dumpling wrapper. Fold the wrappers, use fingers to press the edges together.
BOIL DUMPLINGS

Fill in a clean pot with water, and bring to the boil. Pour in an appropriate amount of dumplings according to the size of the pot, and boil them until they rise to the surface.

Take out the dumplings and serve.
Pinot Blanc (trocken)
Pinot Blanc (halbtrocken & feinherb)
Silvaner (trocken)
Silvaner (halbtrocken & feinherb)
Spätburgunder / Pinot Noir (trocken)
Spätburgunder / Pinot Noir (halbtrocken & feinherb)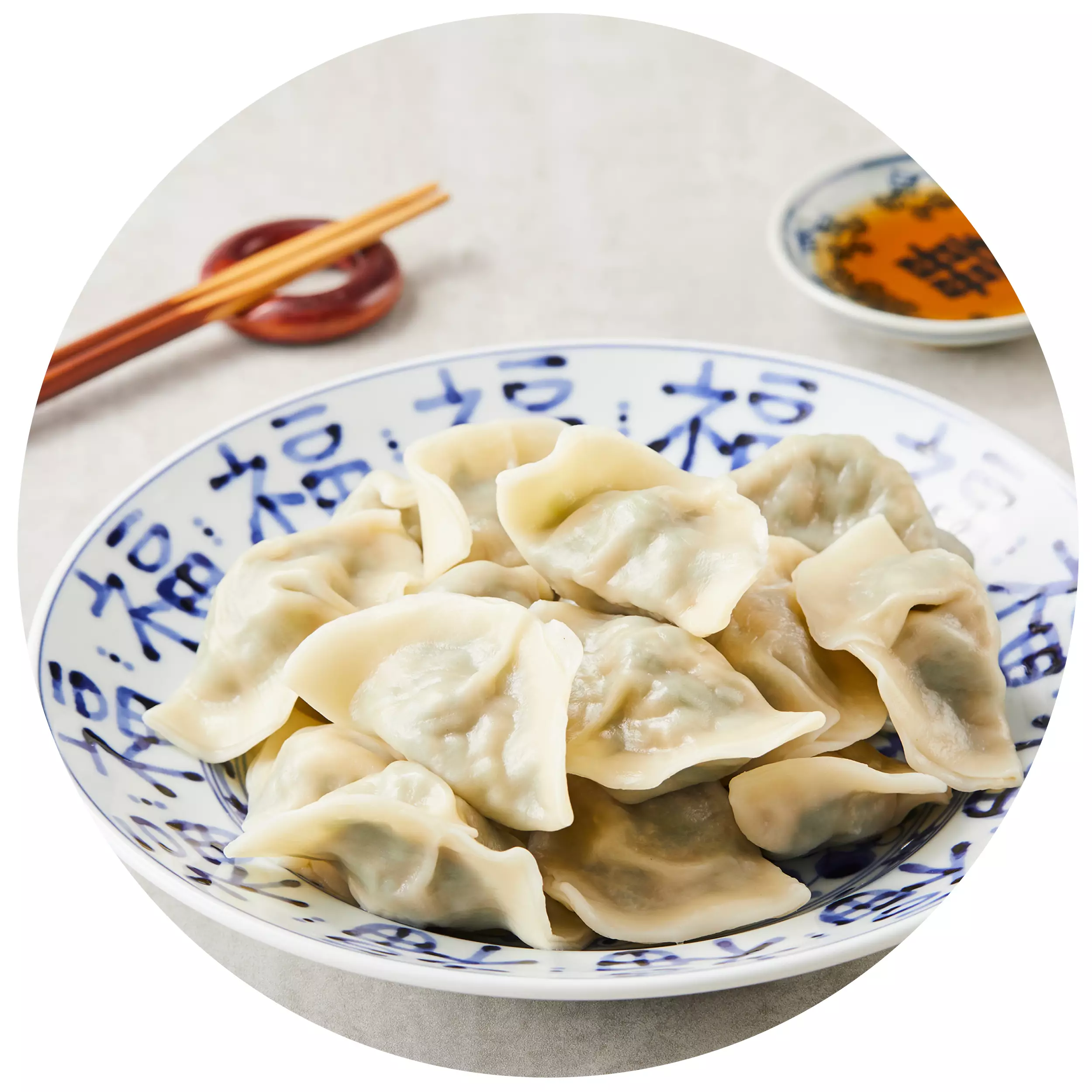 Tips from Japanese cuisine
JAPAN : Soy braised pork
German wines have a natural advantage when it comes to entering into perfect harmony with selected Asian dishes. With a lighter alcohol content, sometimes crisp acidity, moderate residual sweetness or soft tannins in the case of red grape varieties, they are a perfect match for a wide range of styles of Asian cuisine.
1 kg Pork belly
120 ml German white wine
80 ml Soy sauce
80 ml Honey
50 ml Water
4 cm Leek (green part)
3 Ginger (thin slices)
4 Boiled eggs
1 Vegetables such as Chinese cabbage
PREPARATION
1. Cut the pork belly into large pieces to fit your pan.

Put the frying pan on high heat. When it gets hot, add pork belly, browning all sides, and then put in a saucepan. Add enough water to completely cover the meat.

Add ginger and leek and put on high heat.

2. When it starts to boil, turn the heat down low and boil for around 1.5 hours until the meat is soft (test with a fork). If it is drying out, add more water and let the dish boil slowly.

3. Let the soup cool down, then remove the meat and cut into blocks of about 4-5 cm square. (If you cool it down well at this stage, the meat will not become dry.)

4. Put meat and all the other seasoning except soy sauce, into a new pan (which fits the meat neatly) and heat. When it boils, turn the heat to low and cook for around 5 mins, then add soy sauce.

5. Place a plate, which fits snugly into the pan, directly on the meat (a drop lid is also acceptable). Boil for about 30 minutes.

6. Remove pork from the pan, put the boiled eggs and green vegetable to season them, and boil the broth to half the volume.

Put the meat back in and mix well with the broth. Put meat on a plate, add boiled egg or boiled green vegetables and pour over broth.
Lemberger (trocken)
Dornfelder (trocken)
Spätburgunder / Pinot Noir (trocken)
Lemberger (halbtrocken & feinherb)
Dornfelder (halbtrocken & feinherb)
Spätburgunder / Pinot Noir (halbtrocken & feinherb)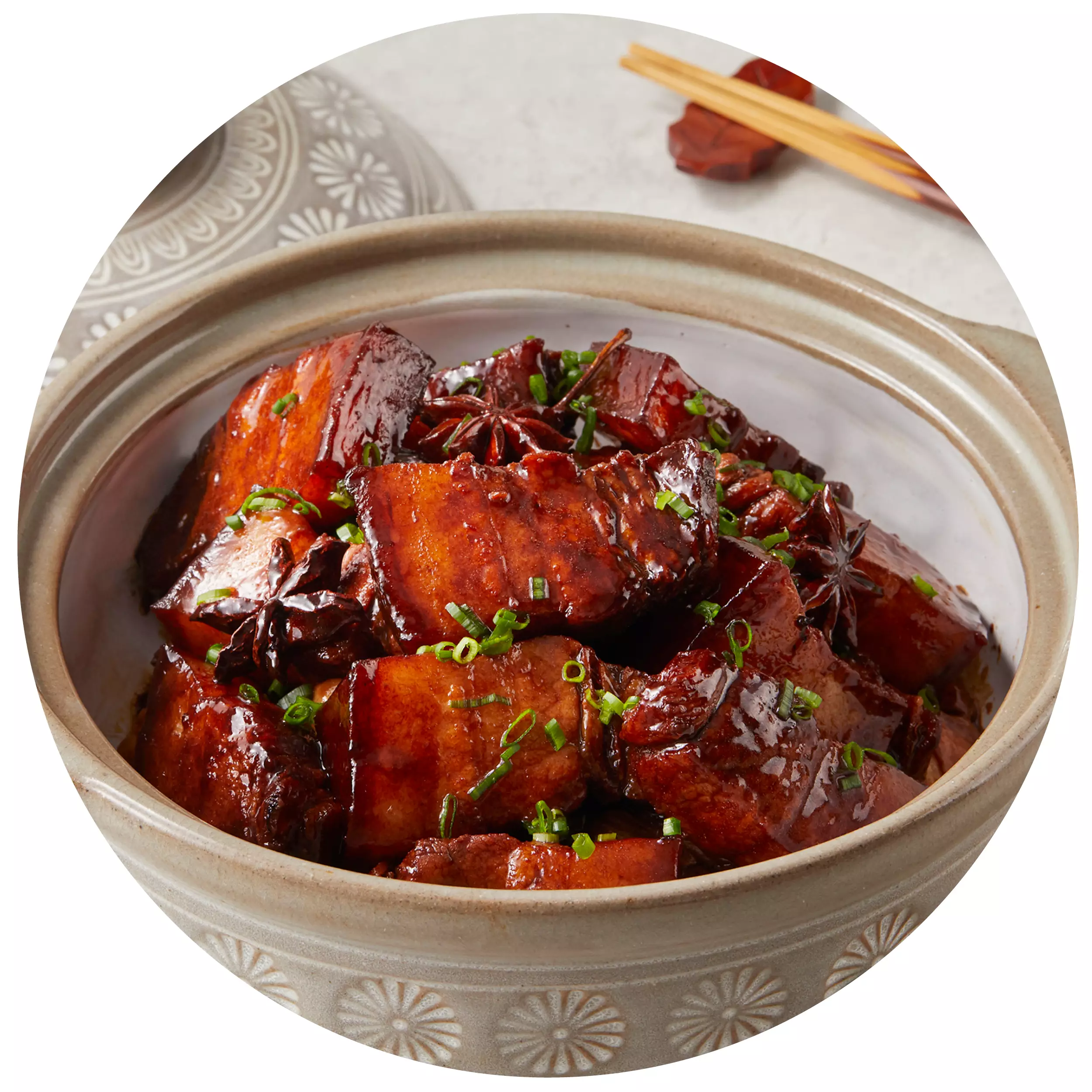 This might also interest you
Glühwein

Glühwein: Weiß, rot oder rosé?

www.deutscheweine.de

Glühwein

Schnell zubereitet!

www.deutscheweine.de