PIWI - fungus-resistant vines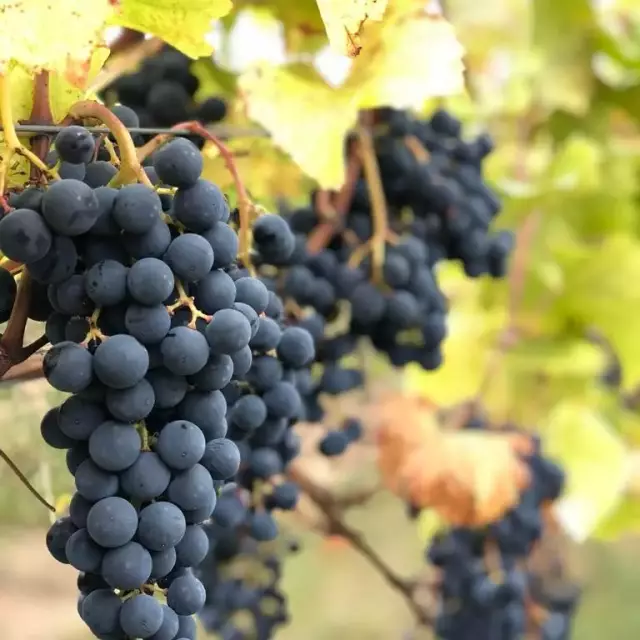 PIWI stands for Pi-lz-Wi-derstandsfähige grape varieties. PIWIs are crosses of American and Asian wild grapevines with European grape varieties.
Facts
1967

PIWIs have been bred since 1967.

3 %

of the vineyards in Germany are currently planted with PIWI.
PIWIs - Fungus-resistant Vines
The term "PiWi", an abbreviation of the German term "Pilzwiderstandsfähige Reben", stands for fungus-resistant grape varieties that show particularly strong resistance to the vine diseases powdery and downy mildew. Both fungal pathogens were introduced from America with wild grapevines in the 19th century and have since established themselves in European viticulture. Through the classic crossing of American wild grapevines with natural resistance to the pathogens and European grapevines (Vitis Vinifera), which stand for high wine quality, it has been possible in recent years to breed new sustainable grape varieties in Germany that hardly require any plant protection. They combine good flavour with high resistance and help winegrowers to protect the environment.
Breeding PIWIs
As early as about 150 years ago, grape varieties were crossed with American wild species in France and cultivated on a large scale. However, they almost completely disappeared again by the middle of the 20th century. Today, Germany is leading the way in breeding a new generation of these robust varieties. The breeding of a new grape variety is very lengthy and takes about 20 years from the actual crossing to approval. In the meantime, the focus is no longer only on plant health, but also on a variety of other viticultural advantages, such as later ripening, which the varieties are specifically selected for.
What are the advantages of PiWis in viticulture?
The reduction of plant protection measures by up to 80 percent has many advantages for people and the environment. Furthermore, fewer passes in the vineyard can additionally reduce CO2 emissions and soil compaction. For wine producers, this means both time and cost savings.
What are the advantages for consumers?
As consumers, we support sustainable and environmentally friendly wine production. At the same time, new ways are emerging to meet the challenges of ever-increasing climate change and to contribute to the preservation of steep and terraced sites. In addition, the new varieties provide a wider range of enjoyment for wine lovers.
What is the current percentage in Germany?
In Germany, only about 3 percent of the cultivated vineyards are currently planted with PiWis. In addition to many organic wine producers, more and more conventional winegrowing enterprises are increasingly cultivating these new varieties. Of the approximately 3,000 hectares planted with the new varieties nationwide, about half are planted with the red grape variety "Regent", which has been cultivated in Germany since 1995. New red, robust varieties such as "Cabernet Cortis" or "Pinotin" still have less than 100 hectares under cultivation. However, they are increasing just as dynamically from year to year as, for example, the white wine varieties "Cabernet Blanc" or "Souvignier Gris", which together are already cultivated on more than 300 hectares.
The most common PIWI varieties
Every year, the area under cultivation of fungus-resistant grape varieties grows in Germany. PIWIs include Cabernet Blanc, Solaris, Souvignier Gris, Muscaris and Regent. Other varieties are Cabernet Cortis, Calardis Blanc, Laurot, Satin Noir and Sauvignac.
Cabernet Blanc
Area under cultivation: 227 ha (2021)
Crossing: Cabernet Sauvignon x Resistance partner
Flavour profile: Complex, spicy and extract-rich wines with aromas of green pepper, blackcurrant, gooseberry, citrus fruit, apricot and apple. Reminiscent of Sauvignon Blanc.
Solaris
Area under cultivation: 201 ha (2021)
Crossing: Merzling x Gm7493
Flavour profile: Fruity and fragrant wines with aromas of quince, mirabelle, almond and caramel. Solaris is often used for Federweisser or sweet wines, the dry white wines have a Mediterranean character.
Souvignier Gris
Area under cultivation: 131 ha (2021)
Cross: Seyval blanc x Zähringer
Flavour profile: Powerful, full-bodied wines with aromas of honeydew melon, apricot jam and quince juice. Often reminiscent of Pinot Blanc and Pinot Gris with its creamy melt.
Muscaris
Area under cultivation: 98 ha (2021)
Cross: Solaris x Gelber Muskateller
Flavour profile: Slender to full-bodied wines with a lively acidity and the bouquet of a Muscat. The spicy muscat aroma and floral notes will delight lovers of aromatic wines and are suitable both as dessert wines and as accompaniments to Asian cuisine.
Regent
Area under cultivation: 1,671 ha (2021)
Cross: Silvaner x Müller-Thurgau x Chambourcin
Flavour profile: Deep red, colourful and tannic wines with aromas of cherries, plums and red berries. Often also aged in wood or as rosé. High-quality Regent wines benefit enormously from a few years of bottle ageing
Further Links
More about German grape varieties from Acolon to Pinot Blanc
Cabernet Cortis
Area under cultivation: 53 ha (2021)
Cross: Cabernet Sauvignon x Solaris
Flavour profile: Deep red to violet wines with aromas of freshly ground pepper and cassis. Very appreciated by fans of french red wine styles from cooler winegrowing regions.
Calardis Blanc
Area under cultivation: n.a.
Crossing: Calardis Musqué x Seyve Villard
Flavour profile: Fine aromas of passion fruit and apple with a spicy bouquet and tangy acidity. The wine is reminiscent of an expressive Rivaner and delights as a light summer wine or as a sparkling wine.
Laurot
Area under cultivation: 5 ha
Cross: Merlot x Seibel x Blaufränkisch x St. Laurent
Flavour profile: Deep dark wines with spicy aromas of wild berries and a fine tannin structure. Reminiscent of Merlot and St. Laurent.
Satin Noir
Area under cultivation: 24 ha
Crossing: Cabernet Sauvignon x Resistance Partner
Flavour profile: Deep red, dense wines with aromas of ripe blackberries and currants, black pepper and dark chocolate with leathery and smoky notes. A Mediterranean wine type with a warm flair of Cabernet Sauvignon or Cabernet Franc.
Sauvignac
Area under cultivation: 77 ha (2021)
Crossing: Sauvignon Blanc x Riesling x Resistance Partner
Flavour profile: An aromatic white wine with delicate aromas of passion fruit, apricot and apple. Sauvignac is reminiscent of both the elegance of a Riesling with a hint of lime or an expressive Scheurebe with aromas of blackcurrant.
What is the abbreviation for PIWI?
PIWI stands for PIlzWIderstandsfähige grape varieties. These are crosses of American and Asian wild grapevines with European grape varieties.