Red Wine Hiking Trail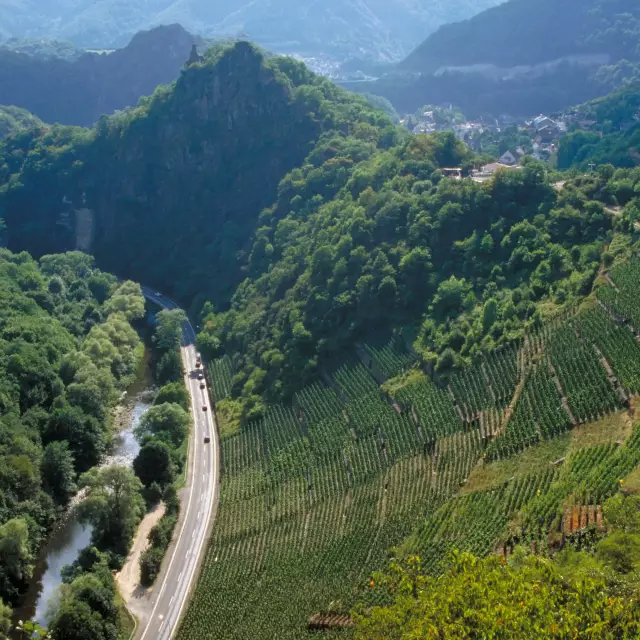 The red wine from the Ahr is legendary. This should be enough incentive to head out on foot through the dramatic landscape and find out for yourself
Facts
11 km

Distance

3,5 h

Duration

350 m

Height
The red wine from the Ahr is legendary. This should be enough incentive to head out on foot through the dramatic landscape and find out for yourself. Our approximately three and a half hour hiking tour begins at Altenahr train station. From there the path leads towards Ahrweiler.
The first visual highlight is the ruins of Are Castle, built around 1100. A steep climb leads up here from the intersection of Tunnelstrasse and Rossberg. If you like, you can already take a break here and absorb the stunning view. Or alternatively, continue on to our actual goal, the Rotweinwanderweg or red wine hiking trail (RWW for short).

The castle, once built by Count Theoderich von Are, is a little off the path; however, the great view from the keep makes all efforts to climb the slate path worthwhile. We can also enjoy an impressive landscape panorama on our first stage along the "Altenahrer Eck". Then it goes through a small mixed forest, which provides pleasant shade in summer. Mayschoß will soon be in front of us. We enjoy the view of this picturesque place nestling into the valley before we start the descent.
Marker
Signs along route - 'Rotweinwanderweg' with picture of red grapes on white background.
Route Character
Predominantly solid and paved routes with numerous natural trails. Varies between forest and vineyards with beautiful views over the Ahr valley.
Parking
Parking available at the train station in Altenahr.
Hotel- und Gastronomie-Empfehlungen finden Sie auf der Webseite des Deutschen Weininstituts.
Contact
Ahrwein e.V.

53474 Bad Neuenahr-Ahrweiler-Bad Neuenahr Oberstraße 8 Germany