Weingut Wolfgang und René Peth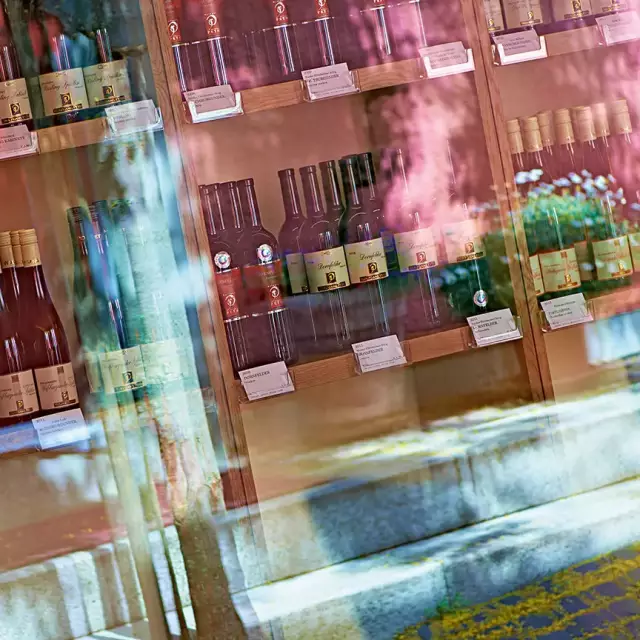 Outstanding Vinothek in Rheinhessen
It's been almost 20 years since all eyes fell on Flörsheim-Dalsheim, a small town in the Rheinland-Pfalz district of Alzey-Worms: in 1998 "Guinness Book of World Records" counted up the town's many prizes and awards and declared it the most celebrated winegrowing town in Germany.
Plenty of those medals have gone over the years to the wines of Wolfgang Peth, who leads the estate together with wife Jutta and son René. The 2014 vintage alone brought home 19 gold, silver and bronze medals from the State Chamber Prize. The Riesling Spätlese trocken and the Spätburgunder trocken im Barrique (Pinot Noir No. 1) also each earned gold at the "Austrian Wine Challenge Vienna."
Another prize-worthy location is the "VinoPeth," opened in 2011. This former cow stall had already once hosted a wine tasting room back in 1976. This time, however, the renovations were comprehensive, with the entire interior carved out and only the ceiling from 1870 remaining in place. A modern 45-square-meter vinothek was built in its place, with plenty of steel and a bank of sliding windows that can open up to the inner courtyard.
Visitors will find a wide range of wines, seccos, sparkling wines and juices from the estate on the shelves here. The core principle was for the "VinoPeth" to serve as a platform for the wines. The color and furnishing were designed to avoid distracting the guests; the wine always commands center stage here. So: curtains up! The lead players are Pinot varieties and Riesling, although all wines from the estate's 15.5 hectares are from named sites. Wolfgang Peth, the seventh generation from his family to lead the estate, is much more interested in quality than quantity. This calls for vineyard work that is sustainable, quality oriented and hands-off. Selection and cluster thinning are used vintage after vintage to establish the ideal raw materials for high quality wine.
Son René, who became a co-owner in 2015, is also already pursuing high-quality, highly cellarable wines, including Spätburgunder and Scheurebe from vines almost 50 years of age. To learn more about the secrets and peculiarities of the wines and the Wonnegau region, simply listen closely to Wolfgang Peth when he's holding court at a tasting, tour or event.
Since 1998 visitors have also had the option of staying overnight. A guest house was created right above the pressing house, with holiday flats, cozy efficiencies and three double rooms with warm wood and hardy steel elements, granite marble floors and Mediterranean white plastering. The lodging is perfect for those times when visitors have enjoyed perhaps more than their share of the vinuous lead actors at "VinoPeth." And with that, a round of applause lowers the curtain, and a good night is bid unto you all.
Opening Time
By appointment
Varietals
Contact
Weingut Wolfgang & René Peth GbR

67592 Flörsheim-Dalsheim Rheinland-Pfalz Germany