Winzergenossenschaft Buchholz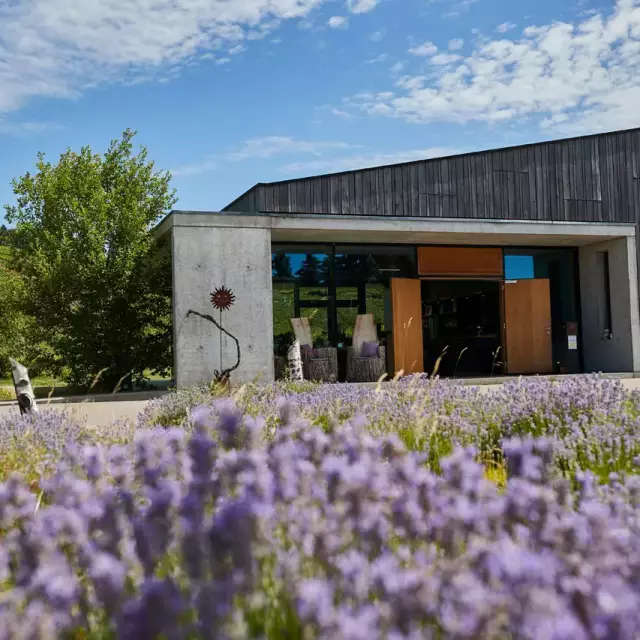 Outstanding Vinothek in Baden
Anyone who has such a view does not hide away in the wine cellar. In the middle of the vineyards of southern Baden, between Buchholz and Sexau, a little closer to Buchholz and in the middle of a lush green expanse, the 62 members of the winegrowers' cooperative from both communities have established their vinological centre: technical equipment, sales rooms, grape reception, offices and a true showpiece: a light, fine and elegant, multi-use vinothek that has already won six architectural awards.
A song of praise could now be sung for the foresight of the building owners, a second for the transparent wine shelves. One of the jury members justified their decision by pointing out that it is not common practice for winegrowers' cooperatives to implement visionary and cost-intensive projects so consistently. You have to imagine it: 62 wine growers who, surely, have more urgent and probably more pleasant things to do than talk about building materials and proportions and then finally agree on a common solution – yet here they have made it.
For the architects Cornell Fuchs and Michael Maucher from Waldkirch, the task was quite different. What was to be achieved was something like squaring the circle: optimal usability with maximum external impact, and both with an unusually small budget. Winegrowers don't tend to be big investors. "With such specifications, a project does not necessarily have to be worthy of an award," the builders proudly stated for the record, "but it can."
And how it can! A simple, rather plain building, clad with wood and a long gable roof; the first impression is: Aha, a functional agricultural building, maybe a warehouse. The refined architecture only reveals itself at second glance. When the eye realises that the boxlike structure at the end is in fact open on three sides, with the floor to ceiling glass distinctively framed and positioned sideways to the main building to reveal the vinothek, sales room, tasting area and pride of the winemakers.
The atmosphere inside is a harmonious combination of opposites: the need for warmth, familiarity and homeliness with that for openness and transparency. Wooden tables, counters and benches of simple elegance, in an almost intimate lighting. And then there are the transparent shelves: if such a view of the landscape can be enjoyed, you don't block it with closed walls.
Yet there are many products to display: Spätburgunder (Pinot Noir), Müller-Thurgau, Chardonnay, Sauvignon Blanc, different qualities and sites - that is the essence of a cooperative. The elegant and stunning solution: the room divider divides the room and opens it up at the same time. The view goes through the liquid treasures of the region to the vineyards on which they grew. And the sun glistens in the glass.
Opening Time
Monday - Friday: 9:00 am – 6:00 pm
Saturday: 9:00 am – 6:00 pm
Varietals
Contact
Winzergenossenschaft Buchholz/Sexau eG

79183 Waldkirch- Burgunderweg 1 Baden-Württemberg Germany