Weingut Rudolf Fürst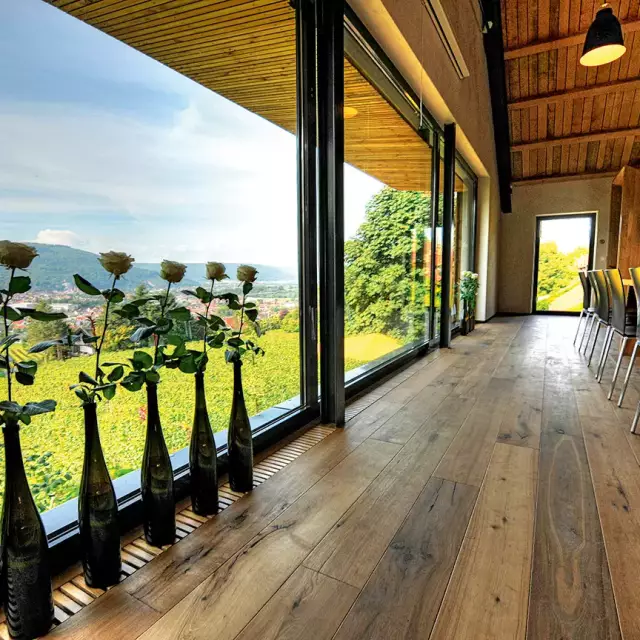 Weingut Rudolf Fürst - Outstanding Vinothek in Franken
Many visitors to this stretch of Lower Franconia proclaim it to be one of Bavaria's loveliest. 'Churfranken,' as it is called, is situated in the extreme northwest of the federal state, at the end of the 55-km Franconian Red Wine Trail. The intersection of Erf and Main falls at Bürgstadt. The 4000-inhabitant town is home to Weingut Rudolf Fürst.
The family has been making wine here for almost 400 years, but it wasn't until 1979 that Paul and Monika Fürst built the new winery buildings on Hohenlindenweg. Since 2007, Paul and his son Sebastian work side by side cultivating the vineyards of the Centgrafenberg, whose southern faces and steep sites benefit from the unusual microclimates of the Main Basin between Spessart and the Odenwald forest.
Riesling and Spätburgunder thrive in the weathered colored sandstone soils. Spätburgunder in particular has been cultivated in these iron-rich soils for centuries. The work in the vineyard focuses on low-impact methods, reduced yields, meticulous canopy management and staged selection passes. Those efforts, followed by gentle processing in the cellar and long maturation in wood, serve as a guarantor of the high quality of the wine. It's this type of commitment that earned the 2012 Schlossberg Spätburgunder special praise from the "Frankfurter Allgemeine Sonntagszeitung": 2014 Red Wine of the Year. And internationally renowned wine critic Stuart Pigott wrote in his assessment: "The 2012 Schlossberg stands out for its sensational silkiness; the grapes have achieved optimal ripeness so that the tremendous power of the wine is almost perfectly in the background." Jancis Robinson, writing in the "Financial Times" in 2011, commented: "Rudolf Fürst is an acknowledged Pinot sage in Germany, not just for Spätburgunder, but also for the earlier-ripening Frühburgunder."
The Frühburgunder, an old variety for the Main region, has in fact seen its share grow in the Weingut Fürst portfolio. The catalog is formed from typical dry Franken wines, primarily Reisling, Weißburgunder and Silvaner.
Like the wines, the vinothek shares a flair for the sensational and magical. The 60-square-meter building brings a modern sensibility to the traditional barn shape. Climb to the stylish wine loft with its large fireplace and broad panoramic windows to enjoy an enchanting view over and across the entire valley to Miltenberg. Excursions, walks and tours along the Red Wine Trail, through the vineyards and the grounds around the Fürst's estate can be arranged with local tour guide Melanie Krommer or Peter Meisenzahl. They work hard to ensure that you see the best of this furthermost — and perhaps loveliest — corner of Bavaria.
Opening Time
Daily from 9:00 am – noon and 2:00 – 6:00 pm
Saturday from 10:00 am – 3:00 pm
Varietals
Opening Time Daily from 9:00 am – noon and 2:00 – 6:00 pm Saturday from 10:00 am – 3:00 pm
Contact
Weingut Rudolf Fürst

63927 Bürgstadt am Main Hohenlindenweg 46 Germany