Mittelrhein Riesling Charter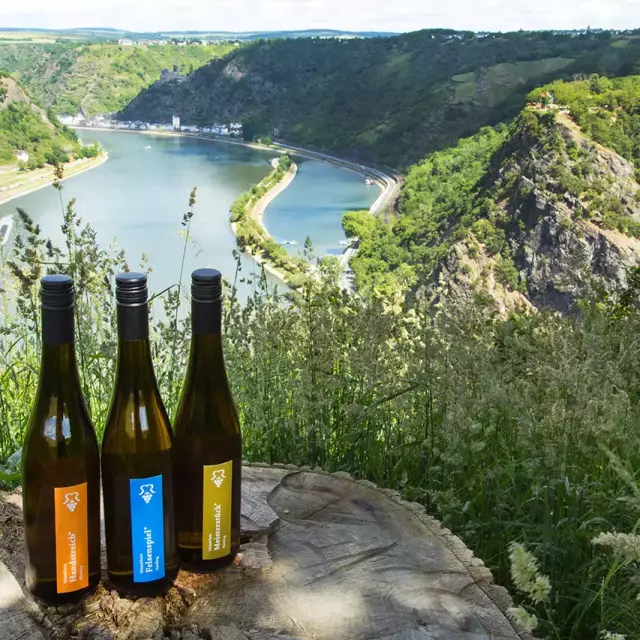 In the Mittelrhein region, Riesling is one of the highlights of its wine culture. It thrives on vertiginous steep slopes that demand everything from the winegrowers who have now joined forces to form the Mittelrhein Riesling Charta (MRC) – a commitment to mutually-agreed quality guidelines.
Three profile wines have been defined: Handstreich (coup de main), Felsenspiel (rock art) and Meisterstück (masterpiece), which demonstrate the high quality of the Mittelrhein Rieslings in all their nuances in varying gradations. The trio is somewhat reminiscent of the well-known profile wines of the Wachau in Austria (Steinfeder, Federspiel, Smaragd). Handstreich stands for the light, fruity type of Riesling for everyday moments. It wins hearts "with the stroke of a hand" from the very first sip! The Felsenspiel is characterised by the steep slope. Balanced, down-to-earth and full of character, it shows itself on the palate. In the Meisterstück, the full breadth of the terroir is revealed; the designation stands for an intense, complex Riesling, that deserves undivided attention in order to experience all the nuances. The Meisterstück Rieslings have the greatest potential. The seven quality criteria that the Charter winegrowers have set for themselves go beyond the usual obligations that quality associations impose on themselves. Hand-picking and harvesting only healthy, fully ripe grapes, careful grape selection and gentle vinification are a given, as is the fact that the wines must be bottled by the producer. The interplay of the elements fire (in the form of the sun's warmth), earth (the mineral slate), air (the mild, balanced Mittelrhein climate), water (the Rhine) and the winemaker (their dedication and work in the vineyard and cellar) should be tangible in the taste. The Riesling should be presented unadulterated, a pure Rhine wine, i.e. no other varieties are added and certain technical processes such as must concentration are not used. At the same time, the preservation of the world heritage region is also one of these criteria. This means, for example, the protection of biodiversity and the artfully built dry stone walls in the terraces. Each Charter winegrower contributes to a fund from which the cultural landscape is preserved. Currently, 18 winegrowers are members of the Charter. May they succeed in leading the Mittelrhein Riesling to its true splendour and prominence.